Gossip Girl Episode 2, titled "She's Having a Maybe" stops short of unleashing a huge scandal amongst New York's Elite but my word, it doesn't shy away from the drama.
The second instalment will have you on the edge of your seat the entire way through as Zoya *tries* to find her place in Constance Billard.
First of all, a huge 'yes' to Jessie Ware's Spotlight playing in the opening sequence. This show's soundtrack is carrying the original Gossip Girl's legacy of having the most perfect sounds and music.
Gossip Girl reveals the annual parent-teacher conference is about to take place, meaning the kids of Constance Billard are without parental supervision for the evening—what could possibly go wrong?
Newsweek has a full recap of Episode 2 of the Gossip Girl reboot.
There is so much to unpack in this episode: nothing major happens but it's fair to say, every small thing that occurs in this episode will make it one of the most nail-biting and heart-stopping episodes in the series, and I don't know if I can handle what is to come next.
To start, one of the show's major Easter eggs alluding to the original series must be addressed. There is a shout-out to Alec Baldwin: one of his children apparently attends Constance Billard, the "Last time Alec Baldwin confiscated my phone, I never got it back."
Now Alec Baldwin did not appear in the first series of Gossip Girl but his brother William Baldwin did. He played Dr. William van der Woodsen, the absent father of Serena (played by Blake Lively) and Eric van der Woodsen (Connor Paolo) in the third and fourth seasons of Gossip Girl.
Might be a loose connection but I know I've answered your question of "was Alec Baldwin in Gossip Girl?" You're welcome.
We are only one minute in and I am living for the cultural references being made in this show. Zoya (Whitney Peak) opens her phone to a Black Lives Matter post on Instagram.
Moments later, Monet (Savannah Lee Smith) reads out a list of hashtags for Julien's Instagram post "#thank you key workers" in reference to the coronavirus pandemic. Some may love to hate this reboot, but the little details are culturally relevant and make the world of Gossip Girl semi-relatable.
This episode is really taking us into the character's background stories after that explosive first episode. Turns out, Audrey's (Emily Alyn Lind) got a distant mother (very Blair Waldorf of her), who hasn't dealt with her recent divorce very well, and may or may not have a drinking problem.
At the end of the episode, she reveals to her daughter things are not looking so good with her business and she will be filing for bankruptcy. Ouch.
Elsewhere, rich kid Obi (Eli Brown) seems pretty lonely and Julien's (Jordan Alexander) dad is a former alcoholic. There's a lot of trauma to unpack from these rich kids for sure.
Thomas Doherty is back as Chuck Bass 2.0. I'll say it once and I'll say it again, Doherty has got his re-imagining of Chuck Bass down to a T. Dare I say he might even be on the same par as Ed Westwick?
If you didn't know already, in his first scene in this episode, Doherty's character Max pretty much establishes he is pansexual and it is done in the most effortless way. We love to see the acceptance of different sexual identities in the 21st century!
Max is into his teacher, who looks like he should have been part of a Twilight or Vampire Diaries cast (think Edward Cullen meets Damon Salvatore). The confidence of this boy. He does everything he can to make his teacher jealous and even kisses Audrey's boyfriend Aki (Evan Mock) at a male baths in doing so. Side note—Aki really enjoys the kiss, more on that later.
Throughout the episode, Max and his teacher have heated exchanges in their husky American accents, with his teacher insisting he does not sleep with his students and Max will have to wait until after graduation. Is it too early to predict a little ethical dilemma on the cards for Max?
As for Julien, you may have thought who knew her by the end of episode one as cold, self-centered, spoiled, and selfish. However, that may not be who she is at all. She seems complicated. A nice girl at heart who does not want to hurt anybody but will flip the other way if it threatens what she wants.
As the gang once again heads out for drinks at their private member's club, Julien is the only person in the room defending Zoya, until she sees a picture on Gossip Girl of her ex-boyfriend Obie and Zoya having a conversation outside her apartment on the Upper West Side.
Julien is low-key fuming after Obie lied to her, claiming he was going to bed. Her two friends, Luna La (Zión Moreno) and Monet known as the Julalliance (genius) take matters into their own hands in a bid to bring Julien back out on the top.
They repost an old photo of Julien and Obie together, making it seem like Obie is actually at the bar and not with Zoya, framing Gossip Girl as fake. Poor girl. When will Julien realise this is only pushing Obie away?
She takes matters into her own hand and tries to strike an arrangement with Gossip Girl: find some dirt on Zoya to make her leave Constance Billard for good. As expected, Gossip Girl (aka teacher Kate Keller, played by Tavi Gevinson) always delivers and drops Julien a video showcasing Zoya in a bad light.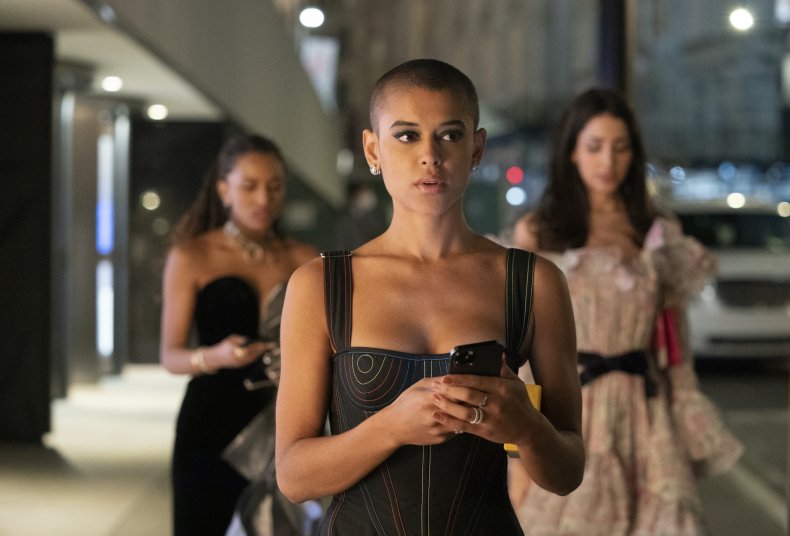 Frustratingly, we don't see the contents of the video. All we know is that it is bad and most likely explains why Zoya got kicked out of her old school. When that gets leaked, which if Gossip Girl is anything to go by it most definitely will, it may do some serious damage.
We are all rooting for Zobie to be together and they must be protected at all costs. Obie has no qualms about hiding his feelings for Zoya and even asks her out on a date. He promises to take her on a date where they can be totally alone and not have to worry about anybody spying on them.
He then decides to anonymously invite Zoya and her family to the school's fundraiser so he can spend time with her "hiding in plain sight". Sorry to break it to you Obie but you've just orchestrated one of the biggest showdowns in Gossip Girl history.
Popcorn at the ready folks, Zoya's dad Nick (Johnathan Fernandez) attends the fundraiser as does Julien's father Davis (Luke Kirby). The pair despise each other after Julien's mother left Davis behind for Nick. Long story short, the truth comes out and Julien has no choice but to admit to her father she arranged for Zoya to attend Constance Billard by awarding her the art scholarship that her father is in charge of.
While the reunion of the century is taking place, Obie and Zoya slip out to do some philanthropy work. They visit a shop, which has been opened especially for them (Obie has friends in high places) and they pack a basket full of stationery supplies to take to disadvantaged schools around the city.
As the song "Saturdays" by Twin Shadow and Haim plays in the background, Obie and Zoya share their first kiss, and it's great, it really is just great.
As the rest of the students sip martini's (the ridiculousness of this show), Julien is out on the warpath and has arranged for her father and Zoya's dad to meet them at the shop where Zoya and Obie are having the most adorable first date.
In a turn of events, Julien may not actually be as horrible as we are led to believe. She sees her ex-boyfriend and her half-sister looking like the two happiest people in the world. It is actually heart breaking because Julien knows she cannot relate to that feeling at all and worse, she knows she never experienced that with Obie.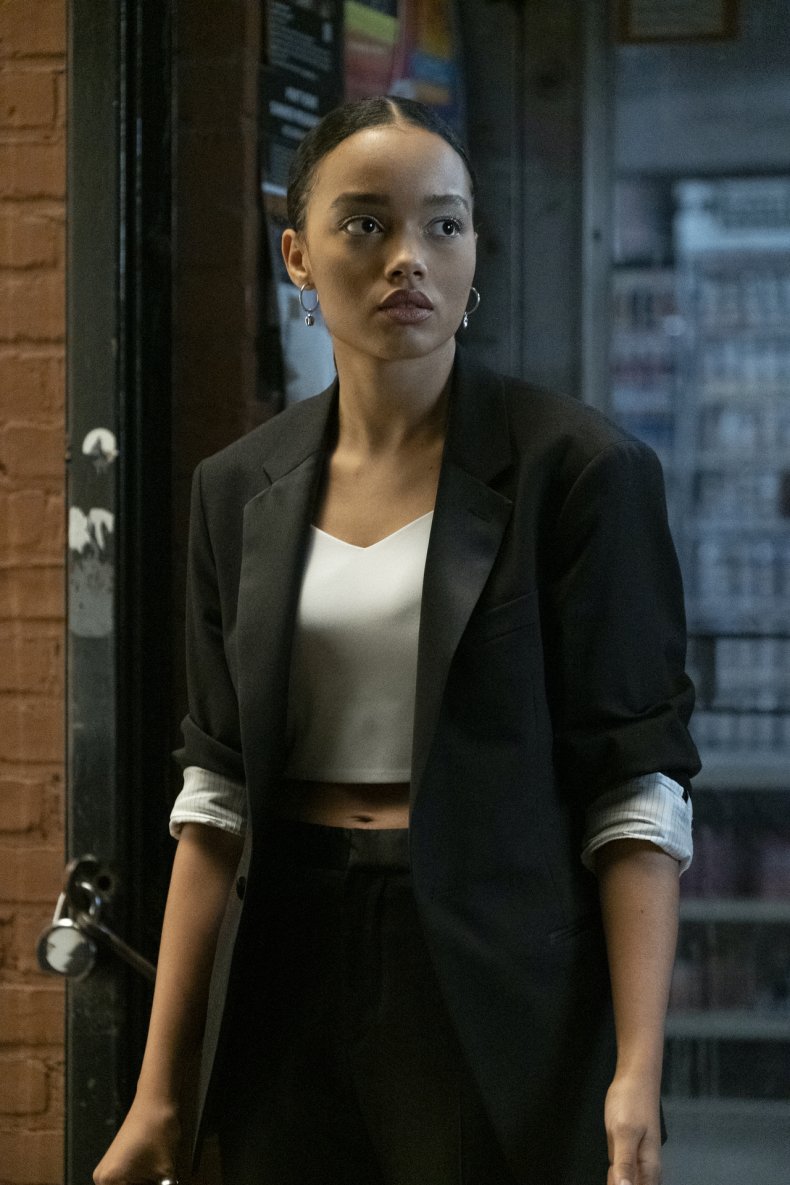 She backtracks from sabotaging Zoya and doesn't share (or watch) the mysterious footage Gossip Girl sent her with the rest of the world. She also reconnects with her father, who apologies for not letting his daughter and Zoya meet sooner than they did.
The following day, Julien, still on her streak of doing the right thing, stops Zoya from dropping out of Constance Billard, promising to never come between her and Obie. Zoya decides to stay on the condition she is allowed to be whoever she wants to be, but is Julien really going to embrace this soft side of hers or is it all just an act?
There was also one major twist at the end of the episode which we all saw coming, but not as soon as it did. Audrey and Aki didn't exactly break up, but they had an exchange of words over how different they are. "I need a partner, not a peacemaker"—well said Audrey, get that on my gravestone.
The following morning, Max is seen getting dressed after sleeping with Audrey. Here comes the throuple we have all been waiting for.
'Till next time
XOXO Gossip Girl
Gossip Girl airs Thursdays on HBO Max.