'Gossip Girl': When Will Part 2 of the Reboot Air?
The first six episodes of the Gossip Girl reboot have dropped on HBO Max and, like most television dramas, the show embarked on a midseason break. Thursdays have been a little different for a while, without the ever-evolving drama of the teens from Constance Billard on our screens but thankfully, there is plenty more Gossip Girl to come. Newsweek has everything you need to know about Gossip Girl Part 2.
When Will Part 2 of the 'Gossip Girl' Reboot Air?
HBO Max has finally confirmed when Gossip Girl Part 2 will return to screens and thankfully, fans do not have too long to wait.
Gossip Girl Episode 7 will premiere on Thanksgiving (November 25) on HBO Max, following the OG Gossip Girl's Thanksgiving episode tradition.
Whether the midseason premiere will be Thanksgiving themed remains unknown for now but if the trailer for Part 2 is anything to go by, fans can expect to see some serious drama in the upcoming six episodes.
Showrunner Joshua Safran addressed the show's hiatus on Twitter—and revealed his favourite monologue to date.
He wrote back in August 2021 ahead of the Part 1 finale: "Tomorrow's GOSSIP GIRL is the last one for a bit. It is huuuuggeeee and contains maybe my favorite monologue I've written for tv and that's saying a lot cause I write them a lot. Also, Malcolm McDowell as Aki's dad. Also Le CouCou. Also Karen O on the soundtrack!"
He added: "(By the way, the writer of this episode is the amazing Ashley Wigfield. I just added a soupçon of monologue!)"
What Happened in the Midseason Finale of 'Gossip Girl'?
There is a lot to unpack from the midseason finale of Gossip Girl, which was called "Parentsite." You read the full recap of Episode 6 here.
Aki (played by Evan Mock) and Obie (Eli Brown) both had a parent come to town—and Aki's father Rodger (Malcolm McDowell) and Obie's mother Helena (Lyne Renée) served as a catalyst for the drama that unfolded.
Rodger and Helena are behind the plan to build a multimillion-dollar apartment complex at the Brooklyn Navy Yard, which will involve the demolition of sheltered housing and the displacement of hundreds of people.
Obie, the richest kid in New York City, is opposed to the project but, much to the frustration of Zoya (Whitney Peak), has not been honest with his mother about his beliefs.
For weeks, Obie and Zoya's relationship has been strained and he turned for advice to Julien (Jordan Alexander), his ex-girlfriend and Zoya's half-sister. Julien pretty much told him to stop caring what everybody thinks.
The next day, Obie protested at the yard, against and in front of his own mother.
Proud of his actions, Zoya and Julien both ran to the dockyard to join him—which made for a deeply awkward encounter. Julien confessed that she was still in love with Obie and later, as she and Obie ran from the police, they shared a passionate kiss.
The love triangle between Obie, Zoya and Julien is sure to continue in Part 2 of Gossip Girl.
Elsewhere, Rodger, a media mogul, outed his son Aki as gay on live TV, after he was questioned about a lawsuit accusing his company of discrimination against the LGBTQ+ community.
Aki corrected his father, identifying himself as bisexual on live TV. It is the first time he has said those words aloud.
Max (Thomas Doherty) has also done some growing, calling off his affair with his classics teacher Rafa (Jason Gotay). Things got dirty when Rafa began blackmailing Max and even tried to date his father, leading Max to come clean to his father about his relationship with Rafa.
After meeting with his father, he sent Rafa a message that read: "Rafa, I'm done doing the right thing. You play dirty. Now so do I."
Max decided to send a video of him having sex with Rafa to Gossip Girl, not knowing that Rafa has access to the Gossip Girl account.
Rafa deleted the video, but not before the Gossip Girl herself, Kate Keller (Tavi Gevinson), and her minions saw the clip.
And finally, the threesome everybody has been waiting for. Aki, Max and Audrey (Emily Alyn Lind) addressed the sexual tension between them at last—and the consequences of their night of passion set up Part 2 nicely.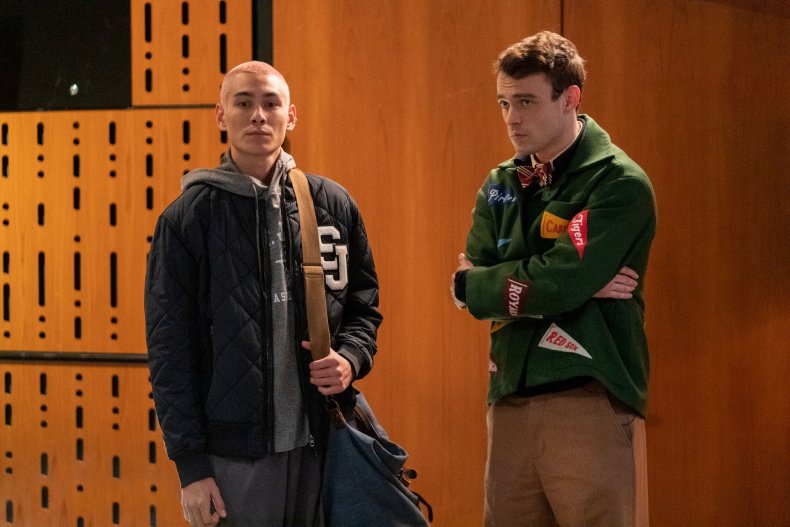 After watching the cliffhanger-heavy Episode 6, Gossip Girl fans took to Twitter to express their excitement about the reboot's return.
One viewer tweeted: "Okay so episode 6 of @gossipgirl is the best yet and I am gonna have to ask y'all to get on board because this show is CLEARLY going places in the back half."
Another fan tweeted Safran: "when is it gonna come back from break hello" alongside a crying face emoji.
A third Gossip Girl fan added: "more important question when you guys coming back?! Jesus! only 6 episodes not enough :(."
The first six episodes of the Gossip Girl reboot are on HBO Max now. Subscriptions start at $9.99 per month, after a 7-day free trial.