Gov. Abbott Directs 'Porn-Shielding' in Schools After Removal of Certain Books From Class
This week, Texas Governor Greg Abbott directed education officials in the state to develop standards to prevent "obscene" books from being taught in schools as Republicans aimed to ban a flurry of books from schools in the state.
In a letter sent to the heads of the Texas Education Agency, the Texas State Library and Archives Commission and the Texas State Board of Education, Abbott said, "a growing number of parents of Texas students are rightfully outraged about highly inappropriate books and other content in public school libraries."
"The most disturbing cases include material that is clearly pornographic, which has absolutely no place in the Texas public education system," Abbott wrote.
In the letter, the governor cited two specific books focusing on the LGBTQ+ community. He wrote that Keller Independent School District—located outside of Fort Worth—removed a book called Gender Queer: a Memoir by Maia Kobabe over complaints that it contained "pornographic drawings."
Another book, In the Dream House by Carmen Maria Machado, was removed from the Leander Independent School District in the Austin area because it allegedly "describes overtly sexual and pornographic acts," Abbott wrote.
The letter comes just one week after Abbott wrote a letter to the Texas Association of School Boards (TASB) asking them to remove "pornographic and inappropriate" content from schools. He accused them of washing their "hands clean of the issue by abdicating any and all responsibility in the matter."
The association wrote in a previous statement that they were "confused" about the letter, pointing out that they do not determine what students read or study.
Abbott, however, said he issued the new directive due to their alleged "negligence," he wrote.
"These standards must ensure transparency about the materials being taught in the classroom and offered in school libraries. They must also ensure that our schools have an appropriate and transparent process, which includes parents and community members, to vet school and library materials before they are used," he wrote.
In a statement sent to Newsweek on Tuesday, the association wrote they were "pleased" to see that Abbott sent his concerns to other school officials.
Texas Educational Commissioner Mike Morath and State Board of Education Chair Kevin Ellis told The Texas Tribune they would work with the governor to develop the standards.
Ellis agreed that families "should have the reassurance that their children are not at risk of being confronted with pornographic and obscene material when they are in school," the Tribune reported.
Texas has been at the forefront of a debate regarding what books and topics are appropriate to teach in schools. While many advocate for books promoting diversity regarding race and sexual orientation, others have raised concerns about whether or not they are age-appropriate for students.
State Representative Matt Krause, who chairs the Texas House Committee on General Investigating, has launched an inquiry about whether schools have copies of about 850 books after school districts faced backlash from parents over books with similar topics.
He has asked Texas schools to record any material that could make students feel "discomfort, guilt, anguish, or any other form of psychological distress because of their race or sex or convey that a student, by virtue of their race or sex, is inherently racist, sexist, or oppressive, whether consciously or unconsciously."
Newsweek reached out to Abbott's office for comment Tuesday morning.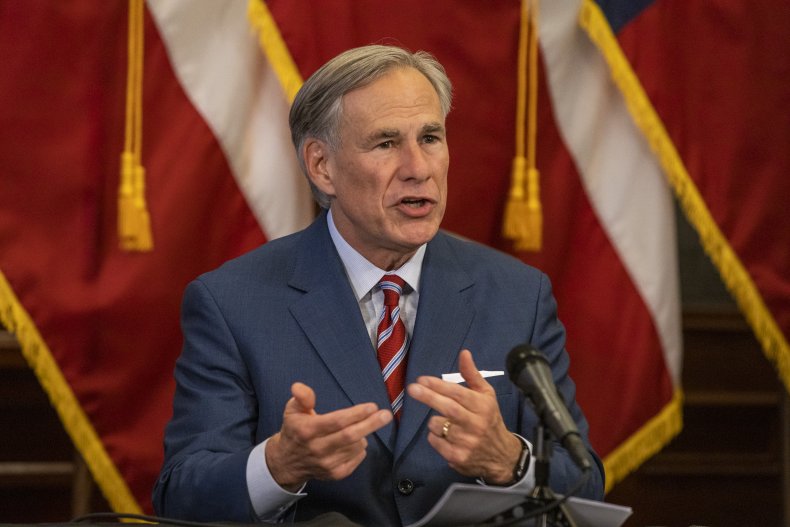 Update 11/9/21, 5:45 p.m. ET: This article has been updated with a statement from the Texas Association of School Boards.