Gov Abbott Ordered Price Gouge During Outages: Former Texas Energy Chief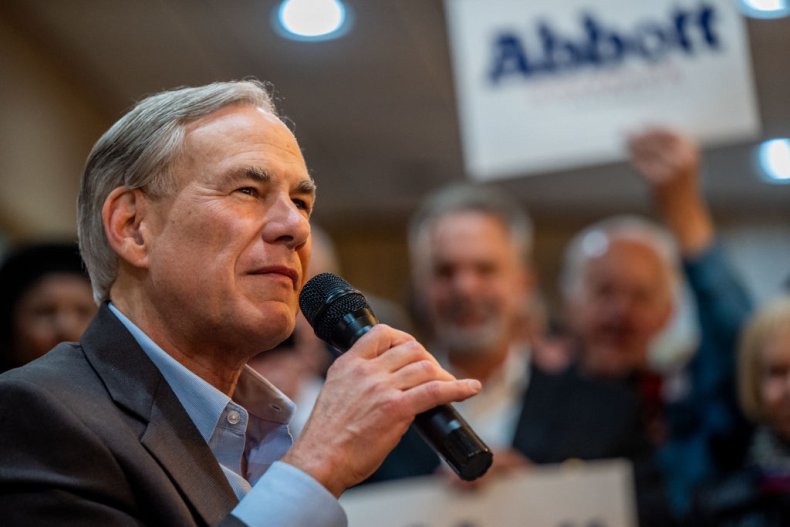 Texas Governor Greg Abbott allegedly pushed to charge residents sky-high energy prices amid the winter storm that paralyzed the state and caused mass blackouts last year, according to court testimony from the former head of his state's power grid.
Former Electric Reliability Council of Texas (ERCOT) CEO Bill Magness testified in court on Wednesday about the Republican governor's alleged role in allowing power prices to reach and remain at a maximum cap of $9,000 per megawatt hour, or 150 times the normal rate, according to the Houston Chronicle. More than 4.5 million Texans lost power during the February 2021 crisis, contributing to the deaths of at least 246 people.
Magness maintained that he was left with no choice but to go along with the rate increase, racking up huge profits for energy companies in the process, after Abbott allegedly told former Public Utility Commission (PUC) Chair DeAnn Walker to do anything it took to prevent more blackouts. The PUC ordered the maximum price on February 15 as part of the anti-blackout effort, with prices remaining at the cap until February 19.
"[Walker] told me the governor had conveyed to her if we emerged from rotating outages it was imperative they not resume," Magness reportedly said during his testimony. "We needed to do what we needed to do to make it happen."
Abbott's spokesperson Mark Miner insisted that the governor was not involved in the price increase "in any way" in comments last year, according to the Chronicle. In a statement obtained by Newsweek following Magness' testimony on Wednesday, Abbott campaign spokesperson Renae Eze reiterated that the governor was not involved in the increase.
"As Texans would expect, Governor Abbott instructed everyone involved that they must do what was needed to keep the power on and to prevent the loss of life," Eze said. "This is the same instruction Governor Abbott gave to the PUC and ERCOT earlier this year: do what needs to be done to keep the power on."
Magness testified as part of a bankruptcy trial for Brazos Electric Power Cooperative, which is arguing that the price increase was reckless and resulted in a $1.9 billion energy bill that forced it into bankruptcy.
Walker resigned, while Magness was fired in the aftermath of the blackout crisis. Abbott, who is running for re-election this year, praised the energy grid earlier this month for successfully maintaining power during a new winter storm, although experts expressed concerns that the grid remained vulnerable during cold snaps.
Democratic Texas gubernatorial candidate Beto O'Rourke, who is hoping to unseat Abbott in November, seized upon the news of Magness' testimony by arguing that it showed the governor had "screwed" Texans. He also described energy price increases under the Republican's leadership as an "Abbott Tax."
"Abbott screwed us, and he'll continue to screw us until we vote him out," O'Rourke said in a statement obtained by Newsweek. "He once again put the profits of his donors over the people of this state, which resulted in hundreds of Texans losing their lives and millions more losing their heat, electricity, and running water for days."
"We're still footing the bill for Abbott's betrayal as we all pay the Abbott Tax — an average increase of at least $50 a month on our energy bills for the coming decades," he added. "As governor, I will lower energy bills and always put people over profits."