Gov. Kemp Says Ga. Fraud Claims 'Have Left the Barn' After Trump Calls for His Resignation
Georgia Governor Brian Kemp continued to dispute unsubstantiated claims of election fraud in his state on Wednesday, just hours after President Donald Trump called for his resignation.
Speaking to reporters at the state Capitol about the presidential election, Kemp said, "There is a constitutional and legal process that is playing out, and I am very comfortable letting that process play out. But that horse has left the barn in Georgia, and it's headed to D.C. right now."
Kemp said he was focusing on the upcoming runoff elections in Georgia, where two Republican senators, Kelly Loeffler and David Perdue, are facing competitive races that will determine the control of the Senate.
"The next vote is going to be there, not here," the governor said. "So people need to be focused on the vote that is happening here, and that is right now in early voting and it will be on Tuesday."
Earlier on Wednesday, Trump called for Kemp's resignation. The president has been outspoken in his negative opinion of the governor since Kemp reaffirmed that there was no evidence of fraud in the presidential election, despite the baseless claims Trump and his allies have continued to make about the race.
"@BrianKempGA should resign from office," Trump tweeted. "He is an obstructionist who refuses to admit that we won Georgia, BIG! Also won the other Swing States."
Trump lost by 12,000 votes in Georgia, a result that remains unchanged despite multiple recounts and court challenges from the president's legal team.
President-elect Joe Biden won the state and its 16 Electoral College votes, making him the first Democratic presidential candidate to take the traditionally Republican state in nearly three decades.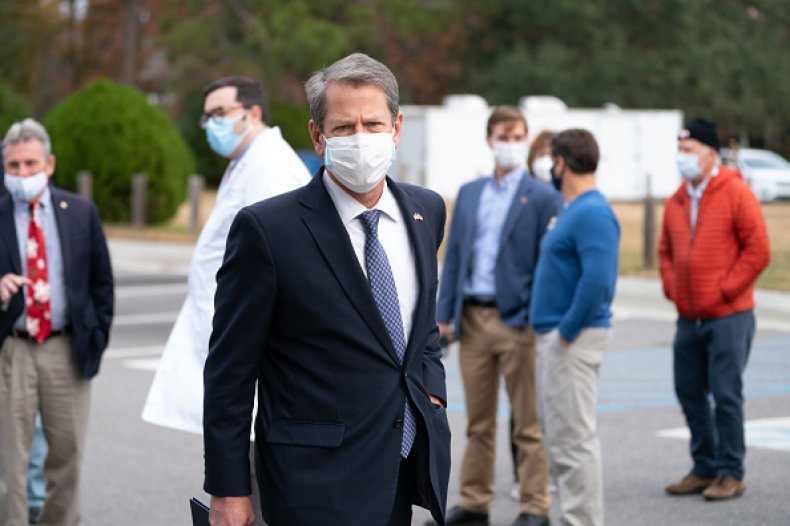 Although Kemp has been a longtime ally of Trump's, the president has rallied against him and Secretary of State Brad Raffensperger, accusing them of mismanaging the election in Georgia.
Loeffler and Perdue, who have both aligned themselves with Trump, called for Raffensperger's resignation last month but have not commented on the president's call for Kemp's resignation.
Kemp called the legal disputes over the results of the presidential election "a distraction" from the Georgia runoffs, which he referred to as "the most important" political matter at this moment.
"I've been focusing politically on the most important question that I believe we've seen in our state and the country in a long time, and that is sending Senator David Perdue and Kelly Loeffler back to the United States Senate to save this country from socialism and handing the keys to Pelosi, Schumer, AOC and Bernie Sanders," Kemp said on Wednesday.
"That is what everybody else should be doing," the governor added. "All of this other stuff is simply a distraction."
Newsweek reached out to Kemp's office for further comment but was referred to his remarks to reporters on Wednesday.