Gov. Kristi Noem Makes South Dakota 10th State with Transgender Athlete Ban
Gov. Kristi Noem made South Dakota the 10th state to have a transgender athlete ban.
Noem, a Republican, signed a bill into law on Thursday that prohibits transgender females from female school sports leagues, a video on Noem's Facebook page shows.
South Dakota's ban follows Idaho, Montana, Texas, Arkansas, Mississippi, Alabama, Tennessee, Florida, and West Virginia, according to the Movement Advancement Project (MAP). However, both Idaho's and West Virginia's bans on transgender athletes have been blocked by federal judges, The Associated Press reported. The South Dakota bill could face possible legal challenges.
"This bill's about fairness," Noem said during a press conference after the signing of the bill. "It's about allowing biological females in their sex to compete fairly on a level playing field that gives them opportunity for success."
The law mandates that K-12 and college students must play on teams that match their biological sex at birth. Should a student suffer harm due to a violation of the law, the student has a "private cause of action for injunctive relief and any other equitable relief available under law" against the school, school district, activities organization, or certain institutions of higher education. The law applies to state-accredited schools.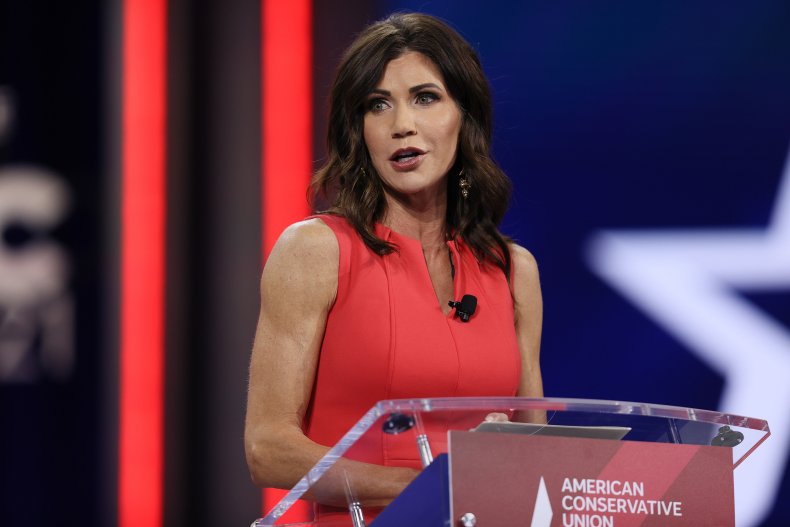 Cathryn Oakley, state legislative director and senior counsel for the Human Rights Campaign, said in a statement that Noem and "anti-LGBTQ+ state legislators continue their relentless, baseless, and patently discriminatory attacks against transgender kids," instead of working on "real issues" impacting South Dakotans.
"Transgender children are children. They deserve the ability to play with their friends," Oakley said in the statement. "This legislation isn't solving an actual problem that South Dakota was facing: it is discrimination, plain and simple."
Sam Ames, the director of advocacy and government affairs at the LGBTQ+ organization The Trevor Project, said the new law is "devastating," according to CBS News. He said it finds new ways to push out transgender youth.
"We will continue working with our partners and advocates on the ground to challenge these laws and ensure that all youth have the support they need to survive and thrive," Ames said, CBS News reported.
There was a similar ban in South Dakota that failed last year, according to the AP. Noem issued a "style and form veto" that killed the bill. She argued it had language that could have been potentially subject to litigation and retribution from the NCAA.
The new bill is set to take effect July 1, the AP reported. It is the first ban of its kind to be signed into law this year.