Government Shutdown 2019 Update: Pelosi, Schumer to Meet With Trump, but No End in Sight
Congressional leaders will head to the White House Wednesday to meet with President Donald Trump to discuss hashing out a spending deal to end the partial government shutdown that's now in its 12th day.
The top two Republicans and Democrats from both the House and Senate will be in attendance, according to presumptive incoming Speaker of the House Nancy Pelosi's deputy chief of staff, Drew Hammill.
That includes Pelosi, House Minority Leader Chuck Schumer, and incoming House members Majority Leader Steny Hoyer, Minority Leader Kevin McCarthy, and Minority Whip Steve Scalise, as well as Senate Minority Whip Dick Durbin, Senate Majority Leader Mitch McConnell and Senate GOP Conference Chair John Thune.
The meeting will be at 3 p.m. in the Situation Room and will be closed to the press, according to the White House.
The bipartisan meeting will seek to find a solution to end the government shutdown, which continues to affect some 800,000 federal employees who've been forced to temporarily forgo paychecks. White House press secretary Sarah Huckabee Sanders said the congressional leaders attending will receive a "border security briefing from senior Department of Homeland Security officials."
Despite the renewed talks with the president, there remains no end in sight. Since the government shut down on December 21, negotiations between Capitol Hill and the White House have stalled. Both sides essentially threw in the towel and flew home to their districts, realizing that a deal was unlikely to be made until the new session of Congress convenes Thursday.
The president, with the support of congressional Republicans, has continued to demand $5 billion for border wall funding. Democrats, who will take control of the House on Thursday, have said they will not support any spending bill that provides funding for the wall but would support allocating additional money for other border security measures.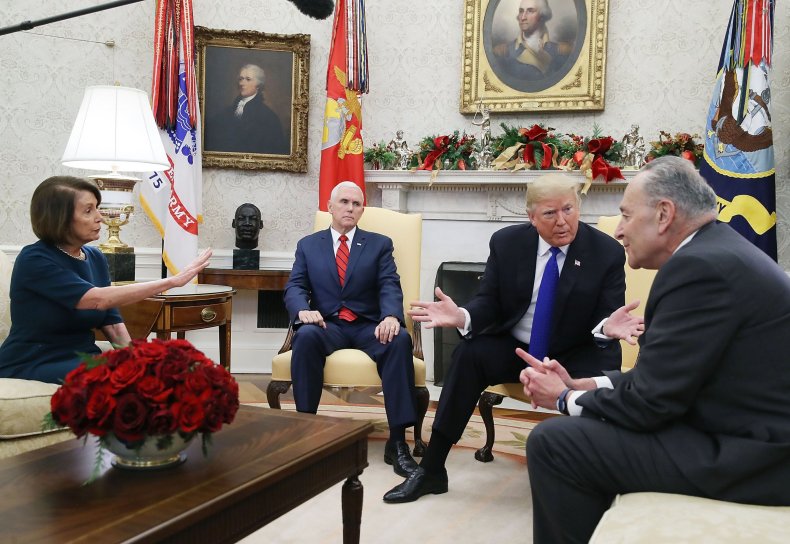 In a letter to her Democratic colleagues on Tuesday, Pelosi said the House will vote to fully fund the government agencies currently closed through the fiscal year ending September 30, with the exception of the Department of Homeland Security. The spending package would only fund DHS through February 8 and provide no additional money for the wall. The GOP-controlled Senate passed the same spending measure (funding DHS through February 8 with no wall funding) prior to the shutdown and prior to Trump's $5 billion demand for wall funding.
"Senate Republicans have already supported this legislation, and if they reject it now, they will be fully complicit in chaos and destruction of the president's third shutdown of his term," Pelosi said.
Sanders called the proposal a "nonstarter," that, "puts the needs of other countries above the needs of our own citizens."
"Speaker Designate Nancy Pelosi released a plan that will not re-open the government because it fails to secure the border and puts the needs of other countries above the needs of our own citizens," Sanders said in a statement. "The Pelosi plan is a nonstarter because it does not fund our Homeland Security or keep American families safe from human trafficking, drugs and crime."
Government Shutdown 2019 Update: Pelosi, Schumer to Meet With Trump, but No End in Sight | U.S.