Government Shutdown 2018 Update: Trump Suggests There's No End in Sight as Congress Returns
The Senate and House gavelled back into session briefly Thursday at 4 p.m. as the partial government shutdown continued into its sixth day. But nothing came of the short sessions as negotiations remain stalled and neither side is backing down from their previous demands, making it more likely that action won't be taken until the new session of Congress convenes January 3.
Few lawmakers made an appearance on Capitol Hill, considering no votes were scheduled and no legislative business was conducted. The halls of Congress were all but empty throughout the day, with GOP Senator Pat Roberts of Kansas being the lone senator to appear as he went to and from gavelling the Senate into the minutes-long session.
"I think it's obvious that until the president's decided we can sign something or something is presented to him, we are where we are," Roberts told reporters, signaling there had been no progress made on negotiations in recent days. "I hope that we can come up with something that can get this solved."
The House and Senate adjourned until Monday morning, when they'll have a brief pro forma session with no legislative business before again adjourning until Wednesday afternoon. The move all but assures the shutdown will last through the new year and into the new Congress.
The office of House Majority Whip Steve Scalise, the Republican from Louisiana, said in a statement earlier in the day that members were "advised that no votes are expected in the House this week."
Deputy chief of staff for presumptive incoming House Speaker Nancy Pelosi, Drew Hammill, told Newsweek in an email there was "no update," when asked if the House minority leader has had any further talks with the White House or Republicans since last week.
A spokesman for Senate Minority Leader Chuck Schumer, Justin Goodman, said in a late-afternoon statement that, "For the White House to try and blame anyone but the President for this shutdown doesn't pass the laugh test."
President Donald Trump in recent days has not backed down from his previous demand for $5 billion in border-wall funding. The Senate last week passed a clean short-term spending bill that would fund the government through February 8 and provide zero border-wall funding. The House then passed the spending bill, only after amending it to include more than $5.7 billion in wall funding, resulting in a stalemate in the Senate and a partial government shutdown that commenced Friday at midnight.
Thursday morning, Trump claimed in a tweet, without evidence, that, "most of the people not getting paid are Democrats." He continued to signal there's no imminent end in sight for the shutdown, telling reporters on Wednesday during his surprise visit to troops stationed in Iraq that he will do, "whatever it takes" to get "a wall," when asked how long he thought the shutdown could last. The president claimed that Pelosi was, "calling the shots."
"We need safety for our country…we need border security," Trump said. "The Democrats all agreed we needed a wall until I wanted it. Once I wanted it, then didn't agree."
Trump has continued to try to pin the shutdown blame on Democrats, despite previously telling Pelosi and Schumer that he'd be "proud" to shut down the government over the border wall. On Christmas morning, Trump claimed in a call with U.S. troops stationed abroad that the nearly 800,000 federal employees forgoing paychecks this holiday season don't mind because they "want the wall."
Mick Mulvaney, the president's incoming chief of staff and director of the Office of Management and Budget, told the Sunday news programs it was "very possible," the shutdown will last into the new Congress. Mulvaney, along with Vice President Mike Pence and Trump son-in-law and senior adviser Jared Kushner, have been the three intermediaries for negotiations between the White House and congressional Democrats.
Kushner and his wife, Ivanka Trump, who is also a senior White House adviser and Trump's daughter, were photographed at the family's south Florida Mar-a-Lago resort on Christmas day.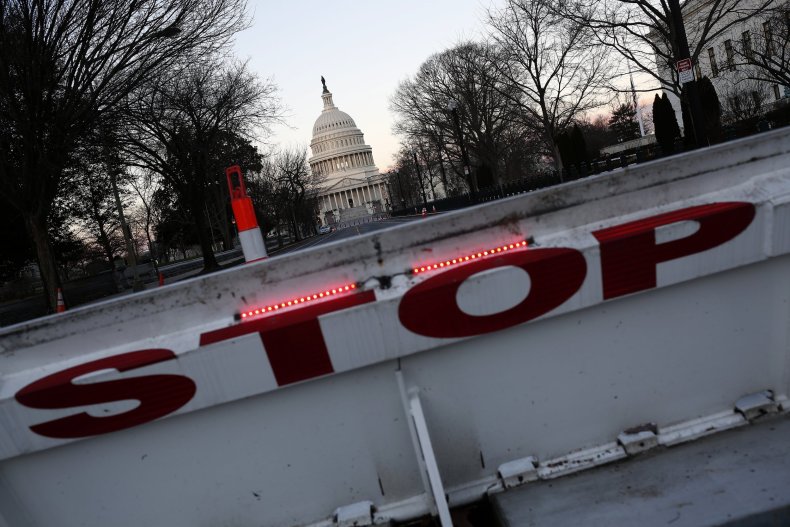 Democratic leaders have also been silent on the matter since a joint statement from Schumer and Pelosi on Monday, signaling they, too, are not willing to back down from their demands for a clean spending bill that does not include border-wall funding. They have said they would support border security funding, however, ranging somewhere between $1.3 billion to $1.6 billion.
"Different people from the same White House are saying different things about what the president would accept or not accept to end his Trump Shutdown, making it impossible to know where they stand at any given moment," the two Democrats said in their statement. "The president wanted the shutdown, but he seems not to know how to get himself out of it. As long as the president is guided by the House Freedom Caucus, it's hard to see how he can come up with a solution that can pass both the House and Senate and end his Trump Shutdown."
Schumer and Pelosi added on Christmas Eve the claim that Trump was "plunging the country into chaos," after the stock market tanked hundreds of points as a result of Trump tweeting his disapproval of Federal Reserve Chairman Jerome Powell, worrying some investors he may attempt to fire Powell, and after his ouster of Secretary of Defense James Mattis months ahead of his scheduled departure.
Update: This story has been updated to include statements from the offices of Steve Scalise and Chuck Schumer, in addition to comments made by Pat Roberts.