Who Is Patrick Shanahan? Trump Forces James Mattis Out Early Amid Frustration Over Resignation
Amid reports that he was angry over the abrupt resignation of Defense Secretary James Mattis last week and the following news coverage, President Donald Trump announced Sunday via Twitter that Deputy Secretary of Defense Patrick Shanahan would become acting secretary of defense on January 1, pushing Mattis out two months early.
"I am pleased to announce that our very talented Deputy Secretary of Defense, Patrick Shanahan, will assume the title of Acting Secretary of Defense starting January 1, 2019," Trump tweeted.
In his resignation letter, Mattis said he would serve through the end of February in order to "ensure stability within the Department" and a "smooth transition."
Mattis's sudden resignation was, in part, driven by the president's surprise decision to withdraw U.S. troops from Syria, a move condemned by both Republicans and Democrats. "Because you have the right to have a Secretary of Defense whose views are better aligned with yours on these and other subjects," Mattis said in his resignation letter, "I believe it is right for me to step down from my position."
Brett McGurk, a diplomat serving as U.S. envoy to the coalition fighting the Islamic State (ISIS) since 2015, also resigned in the wake of Trump's move to pull out of Syria. As a result, the president tweeted to criticize McGurk and label him a, "grandstander" whom he "[did] not know."
The military decision was not supported by Secretary of State Mike Pompeo, according to a conversation GOP Senator Lindsey Graham described with Pompeo.
Newsweek contacted Mattis for comment, but he did not immediately reply.
Shanahan had been a Boeing executive since 1986 before joining the Defense Department in July 2017. Boeing is one of the largest government defense contractors in the country.
Two Defense Department officials, speaking on the condition of anonymity because they were not authorized to speak to the media, told Newsweek that while Shanahan, especially given his executive experience at Boeing, would be "great" for the military industrial complex, he was not a strategic thinker.
"While no one person is irreplaceable, this feels more like a case of who is going to have the last word rather than anything else," one official said.
A second Defense Department source told Newsweek, "The removal of Defense Secretary Mattis well ahead of his exit date didn't come as a surprise."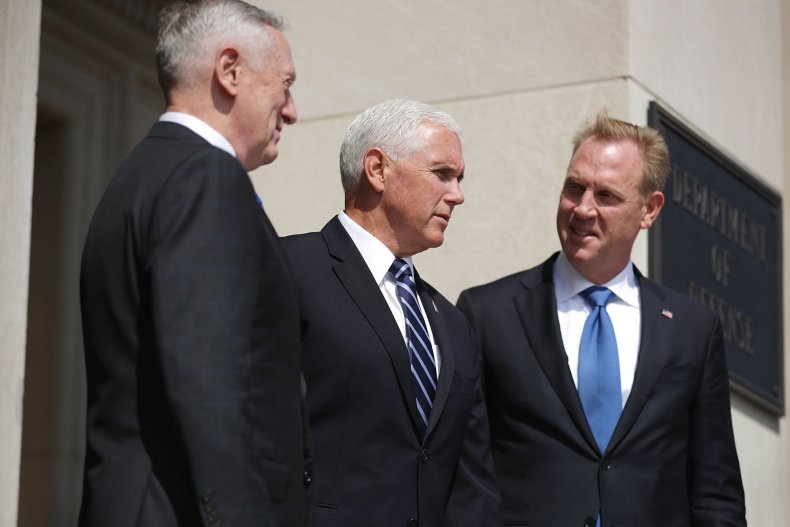 The official said that Shanahan, despite more than 30 years at Boeing, "has no policy or strategic background."
"I expect 2019 will be a very good year for Boeing. Fifteen-plus years of Iraq and Afghanistan has left the U.S. Air Force and the U.S. Navy frustrated, and now we're having a 1976 moment where we turn away from messy irregular wars and focus on the 'big' enemy. It was USSR and now it's China, hence the new orders for aircraft carriers and F-35s."
Shanahan's technology mindset "is supposed to save the day," the official added. "But the problem is that war is no longer fought this way."
The official suggested the Pentagon was entering a "strategic lacuna," a void created by having a "strategist" like Shanahan.
In a statement, Defense Department spokesman Rob Manning said, "The secretary of defense serves at the pleasure of the president" and that the department remained "focused on national security."
This story has been updated to include that Brett McGurk also resigned because of Trump's decision to withdraw U.S. troops from Syria.