Governor Admits NYC Crime Is Concerning, Launches $5 Million Camera Project
New York Governor Kathy Hochul said on Tuesday that crime in the city is concerning and announced a $5 million plan to install security cameras in mass transit systems.
"My number one priority as governor is keeping New Yorkers safe," Hochul said. "I am proud that we will be installing cameras on all Subway cars—expanding our security capabilities, deterring crime, and providing our law enforcement with support. As we continue welcoming riders back to the transit system, we will continue doing everything in our power to keep riders safe."
Hochul continued during a press conference on Tuesday: "People are still concerned about transit crime....It's real. And that's why we're leaning into finding strategies and technologies."
The announcement by Hochul comes as New York City has seen a rise in crimes over the past few months. According to data from the New York Police Department (NYPD), the number of homicides over the past year has declined slightly, but a number of other crimes, such as rape, robbery, felony assault, burglary and grand larceny, have increased.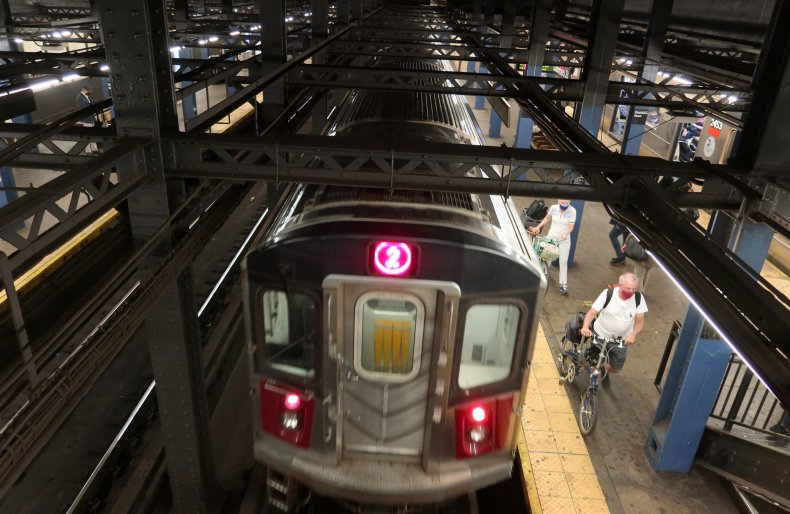 Data from the Major Cities Chiefs Association also shows that while homicides have decreased over the past year, robbery and aggravated assaults have increased more than 2,000.
In a statement announcing the new camera plan, Hochul's office said that a $2 million funding award from the Urban Area Security Initiative federal grant program "will enable the purchase of 5,400 cameras to be installed on 2,700 New York City Transit subway cars, two per car."
According to Hochul's office, the total funding to complete the entire operation is more than $5.5 million and will cover camera installation on 6,355 subway cars, "supplementing an existing camera pilot program that includes 200 cameras in 100 subway cars."
"Additionally, funding from the Subway Action Plan totaling $3.5 million will enable the purchase of 7,310 cameras on 3,655 cars, two per car," Hochul's office said.
Hochul noted in her announcement that prior to the plan this week, her office previously signed legislation to combat crime against transit workers by extending criminal charges to those who commit violations.
Following the announcement, Hochul was applauded by numerous New York City officials, including Mayor Eric Adams and Metropolitan Transit Authority (MTA) Chair and CEO Janno Lieber.
"As I've said many times before, those who commit crimes in the transit system will be identified and brought to justice," Lieber said. "Riders should know we've got their back for their entire journey and this significant upgrade—made possible by new dollars from Governor Hochul—is a great step towards reinforcing New Yorkers' confidence in mass transit safety."
Newsweek reached out to Hochul's office for further comment.