Man Who Reportedly Found Frank James Couldn't Sleep After Brooklyn Shooting
The 21-year-old security camera installer who reportedly helped police find Frank James, the suspect in the Brooklyn subway shooting, says he couldn't sleep after learning about Tuesday's incident that left 10 people with gunshot wounds and another 19 injured.
During an impromptu press conference on the corner of 1st Avenue where James was arrested on Wednesday, Zack Tahhan told bystanders and members of the press that he couldn't sleep or focus on work after hearing that a gunman opened fire at the 36th Street stop in Sunset Park on morning commuters during rush-hour.
"I see him from the cameras, so I thought 'Oh s***, this guy, let me call the police,'" Tahhan said. "And I call him and we catch him."
After a more than 24-hour manhunt, New York City police officers arrested James on the corner of St. Marks Place and 1st Avenue in Manhattan's East Village neighborhood.
Authorities said that the NYPD received a tip from the Crimestoppers line that James was at the nearby McDonald's, where officers responded but were unable to find him.
"They start driving around the neighborhood looking for him. They see him on the corner of St. Marks and 1st and they take him into custody," officials said during a press conference.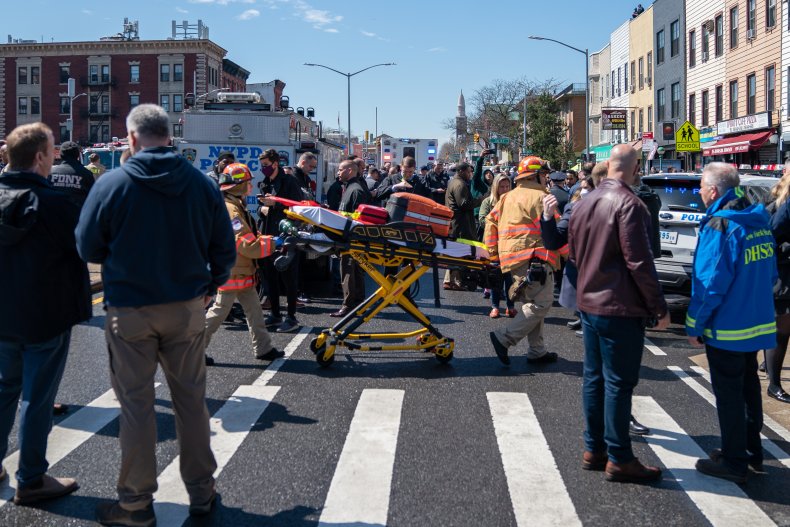 On Wednesday, Tahhan, who is from Syria, described seeing James walking on the sidewalk with a bag and warning others to keep away from him.
"People think I'm crazy, like nobody tries to believe me," he said. "I told them, 'Guys, trust me. This guy—this is the guy."
Tahhan was later seen being driven away in a police cruiser, waving at the crowd and telling people to "be safe."
At the time of James' arrest, there was a $50,000 reward being offered in exchange for information leading to his apprehension.
"Transit workers and straphangers acted heroically yesterday morning in rapid response to the attack in the subway to save lives. And today, Zack [Tahhan], a 21 year-old security camera technician, found the alleged shooter," New York state senator Julia Salazar tweeted. "We keep each other safe."
"The subway shooter literally walked *right past* uniformed NYPD officers," Democratic strategist Max Burns wrote. "If not for Zack the Security Camera Guy, the shooter would likely have just carried on walking without any police intervention."
James has been charged by federal prosecutors in Brooklyn with terror-related offenses.
On Tuesday, he boarded a train at the 36th Street stop and allegedly detonated two smoke canisters before pulling out a handgun and firing 33 rounds. Police said the gun jammed, which is believed to have saved lives.
According to police, James then fled the scene, boarding an R train that pulled into the station and traveling one stop before getting off and evading police.
Update 04/13/21 1:44 p.m. ET: An earlier version of this story misspelt Tahhan's name.