Governor Says Texas Has 'Massive' Outbreak As New Cases Again Exceed 5,000
Texas is struggling to control what its governor said Wednesday is a "massive" outbreak of new coronavirus cases.
"There is a massive outbreak of COVID-19 across the state of Texas," Governor Greg Abbott, a Republican, told KFDA, a television station based in the Texas panhandle.
The governor said health officials were expected on Wednesday to report more than 5,000 new cases for the second day in a row. Tuesday was the first day since the pandemic began that Texas reported an increase of more than 5,000 new cases.
The number of COVID-19 hospitalizations was also expected to remain above 4,000 on Wednesday, the governor told the station. In Houston, which has been hit particularly hard by the pandemic, city leaders said beds within city hospitals' intensive care units were already filled to 97 percent capacity. More than a quarter of the residents filling those beds were COVID-19 patients, according to a report by the Texas Medical Center.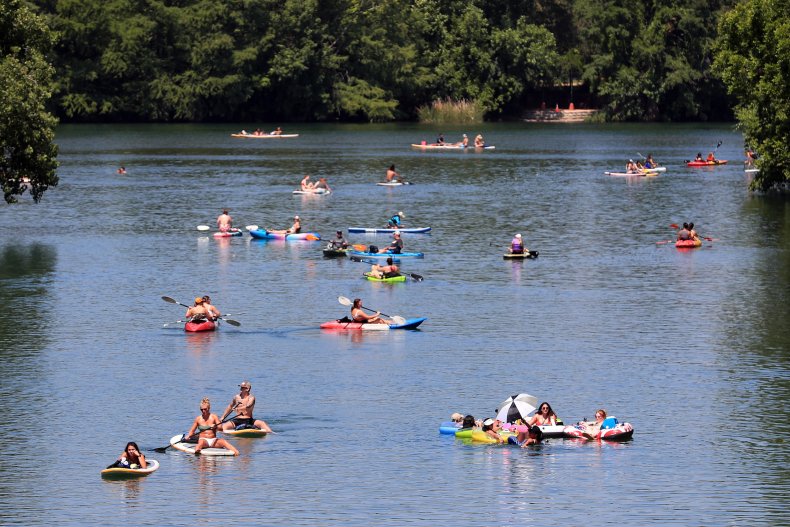 Later Wednesday, the Texas Department of State Health Services confirmed Abbott's earlier statements by reporting 5,551 new cases and 29 additional COVID-19 deaths, bringing the state's total number of cases to 125,921 and 2,249 deaths. According to DSHS data published online, a total of 4,389 people were being treated for COVID-19 in hospitals throughout the state.
The DSHS did not respond to Newsweek's request for further comment in time for publication.
Abbott announced Wednesday all residents who are tested for the virus at a state-run testing site will be given four masks to take home with them beginning Thursday. The governor has encouraged Texans to wear masks and other facial coverings to slow the spread of the virus as the state's case count continued ticking upward in recent days.
"I continue to advise Texans to do their part by taking necessary precautions that will reduce the spread of COVID-19 throughout our state," Abbott said in a news release announcing mask distribution.
In addition to providing residents with access to free masks, Abbott said he and other local leaders were considering reintroducing restrictions in the state in response to the surge in new cases. After the state's temporary stay-at-home order expired on April 30, restaurants, retail stores and other businesses were able to begin reopening. It was likely some of the potential new restrictions would target specific areas within Texas, Abbott said.
"There are some regions in the state of Texas that are running tight on hospital capacity that may necessitate a localized strategy to make sure hospital beds will be available," Abbott said. "There are other strategies that we're taking across the state."
Though Abbott said placing new restrictions on businesses like tattoo parlors and nail salons were unlikely, bars and restaurants that were violating social distancing guidelines were a different matter.
"There are some bars in the state of Texas that have now had their licenses removed from being able to sell alcohol because they were not in compliance with the standards," Abbott told KFDA. "They were getting too crowded and they were allowing people to gather in settings that were allowing the possible transmission of COVID-19.
"We are making sure that the rules are enforced so we are going to be able to better contain the spread of COVID-19," the governor said.