Governors Weigh in on Andrew Cuomo as He Says 'There's No Way I Resign'
State leaders across the U.S. responded to calls for New York Governor Andrew Cuomo's resignation on Sunday, as he told reporters "there's no way" he will step down despite the growing number of sexual misconduct allegations against him.
Five women have now accused Cuomo of sexual harassment and inappropriate behavior. Their allegations compounded the controversy already surrounding New York's governor after reports indicated that he intentionally undercounted COVID-19 deaths among residents of long-term care facilities during the earlier part of the pandemic.
More than two dozen federal and state lawmakers have publicly called for Cuomo's resignation on Sunday, while New York Attorney General Letitia James' office pursues an independent investigation into the misconduct claims.
In addition to leading New York's state government, Cuomo serves as chair of the National Governor's Association. Some of his colleagues, both Democratic and Republican, weighed in on resignation requests during televised interviews over the weekend. While many did not hesitate to emphasize the gravity of the allegations that Cuomo currently faces, only West Virginia Governor Jim Justice, a Republican, suggested that he resign outright.
"I think it's terrible," Justice said, referencing the detailed accounts of Cuomo's inappropriate behavior that former female staff members have shared, during an appearance on CBS News' Face the Nation Sunday morning.
"And I truly believe, you know, that he has a dog's mess on his hands. And with all this, where it stands, it's not going to do anything except get worse," Justice told host Margaret Brennan. "And I would say, he needs to resign."
Earlier, New Jersey Governor Phil Murphy, a Democrat, called allegations against Cuomo "deeply troubling" and "deeply concerning," and reiterated his support for an independent investigation into his alleged behavior. He declined to comment on whether Cuomo should resign.
Republican Governor Kristi Noem, of South Dakota, did not explicitly share her stance on Cuomo's future as an elected official when she discussed the allegations with Fox News' Jeanine Pirro during an interview Saturday—but said "the American people deserve better [than Cuomo]."
"We need to get to the bottom of it. We need the facts," Noem continued. "But this kind of leadership is extremely detrimental to the promise of this country."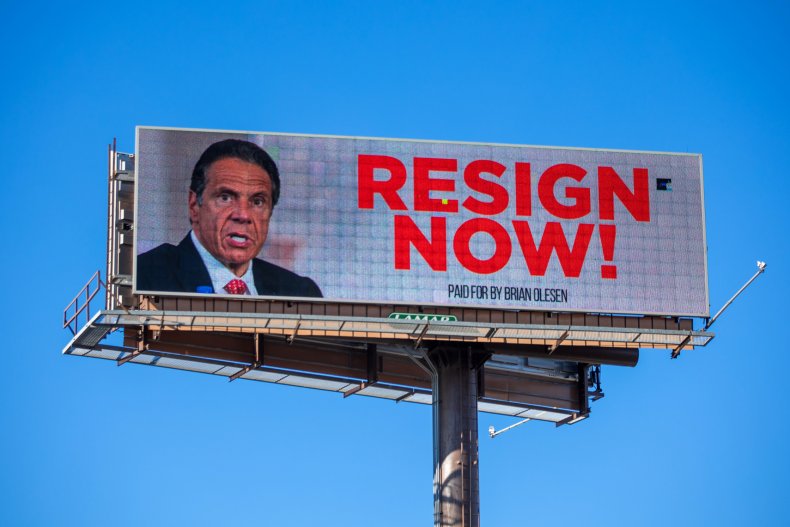 Michigan Governor Gretchen Whitmer, a sexual assault survivor who has become an advocate for others with similar experiences, underscored the seriousness of accusations against Cuomo during an appearance on CNN's State of the Union.
"I think these are serious allegations. And if accurate and true, I think we have to take action. But we also need to make sure that there is that thorough investigation," Whitmer told host Jake Tapper.
Specifically responding to CBS News' recent interview with Charlotte Bennett, one of Cuomo's former aides who is accusing him of sexual harassment, Whitmer added: "I think that there are a lot of American women who have felt how she felt. And I think that's something that resonates, and why we need to take this seriously and why there needs to be a full investigation."
The Democratic Michigan governor noted that "whatever is appropriate, in terms of accountability, should follow."
Newsweek reached out to Cuomo's office for comment, but did not receive a reply in time for publication.