Goya Foods CEO Robert Unanue Lauds Trump as 'Real' and 'Legitimate' President at CPAC
Robert Unanue, the chief executive officer at Goya Foods, Inc., continued to praise Donald Trump and align himself with the former president's false voter fraud allegations during a speech at the Conservative Political Action Conference (CPAC) on Sunday.
Although Trump's term in the White House ended with President Joe Biden's January 20 inauguration—after which point Trump continued to sow divisiveness and vehemently defend past actions amid a historic post-office impeachment trial—Unanue referred to him as "the real, the legitimate, and the still actual" chief of the executive branch while delivering Sunday's remarks.
The Goya Foods CEO has faced ongoing backlash for comments endorsing Trump over the past year.
"My biggest honor today is that, I think, we're going to be on the same stage as, in my opinion, the real, the legitimate, and the still actual president of the United States, Donald J. Trump," said Unanue, addressing a crowd of attendees at the morning's CPAC event in Orlando, Florida.
The CEO then reiterated unfounded claims related to illegitimate election proceedings, which Trump and his followers promoted after November's general contest. The claims are widely discredited.
"I received, I think, as many people I know, and many of you, unsolicited ballots," Unanue told CPAC attendees. "So, I mean, as a citizen of the United States, I think I'm allowed to vote once. Once. Not twice."
Unanue emerged as a staunch Trump supporter last summer, when he lauded the former president during a visit to the White House. He was invited to witness Trump signing an Executive Order on the White House Hispanic Prosperity Initiative. Unanue's praise gave way to strong public pushback and a movement to boycott Goya Foods products, as many pointed to Trump's record of racist remarks and policies targeting Latino communities.
Trump is scheduled to deliver remarks at CPAC around 3:30 p.m. ET on Sunday afternoon, with a speech that is expected to touch on his political plans moving forward. After pushing unsubstantiated claims about fraud and election "rigging" in unsuccessful efforts to overturn his November loss to Biden, all the while refusing to concede, Trump became the only president ever impeached twice following the January 6 Capitol attack.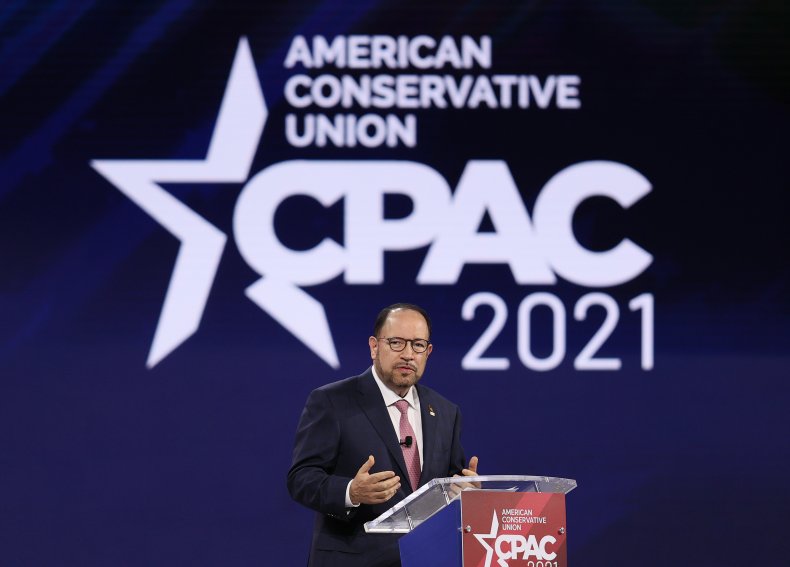 Members of the House of Representatives moved to impeach him for "incitement of insurrection," alleging his rhetoric surrounding the election emboldened rioters to storm the federal complex during a violent siege. Trump was acquitted of the charge during his Senate impeachment trial earlier this month, and went on to suggest that he still intends to run for office during the 2024 election season in a statement issued later.
Unanue garnered renewed criticism for his response to the Capitol riot and widespread condemnation it provoked. During an interview with Fox & Friends, the CEO suggests that "Big Media" and "Big Tech" want to "cancel" God, free speech and the nation's history.
Newsweek reached out to Goya Foods for comment, but did not receive a reply in time for publication.