What the 'Grace and Frankie' Cast Has Said About the Show Ending
Grace and Frankie Season 7 is releasing its final episodes this Friday, which will bring the comedy to an end after 94 episodes.
Jane Fonda and Lily Tomlin, who play the leads of the show, have paid tribute to the Netflix series in a number of recent interviews – and have also given details on why exactly it is ending, and what we can expect from Dolly Parton's long-awaited cameo.
The Netflix stars have also revealed what they will be doing next – including two movies they have made since filming wrapped on the final episode of the series.
What the Grace and Frankie Stars Have Said About the Final Season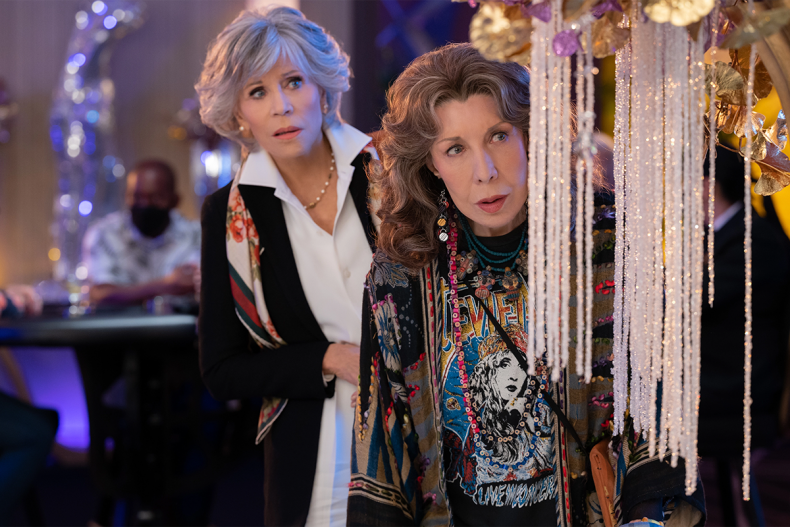 In a Good Morning America interview, Tomlin described the show ending as a "bittersweet little sadness," but in a Vulture profile said that it felt right to end the show when they did. Tomlin also remarked: "It was time. Things have their life and then things come to replace it."
Fonda added in an Entertainment Tonight piece that "we both miss it and we've talked about how we miss it."
Previously, the show's creator, Marta Kaufmann, had said that it was Netflix's decision to end the show when it did. She told The Los Angeles Times: "Netflix isn't doing long-term series anymore. And we are really lucky that we got the seventh season. I think when we started, we imagined seven seasons. But, really, this is the kind of decision that comes from Netflix. But as sad as I am that it's ending, there's something that makes sense about it."
Despite the show's fairly long run (the longest of any Netflix show), the show's stars have spoken about missing the series. Fonda, for example, shared with GMA a conversation she had had with Tomlin: "Just out of the blue, too, a couple of days ago, Lily said, 'I miss Grace and Frankie,' and I knew what she meant."
In an interview with SheKnows, actor Brooklyn Decker, who plays Mallory Hanson in the series, teased what fans could expect from the final episodes: "I think every storyline in the series tied up beautifully. Some are tender and a little sad, some are triumphant and happy."
Though the exact details of the finale will be under wraps until it comes to Netflix on Friday, we do know that Dolly Parton's long-awaited on-screen reunion with her former 9 to 5 co-stars will be in the last ever episode of the show.
"She's on the last episode. And that was one of our favorite episodes," Tomlin told People magazine. "We really loved doing that and having Dolly there."
Asked by Entertainment Tonight about Parton's cameo, Fonda actor described it as "beyond perfect," adding: "It's not just the fact that Dolly shows up. It's how she shows up. What the story is that brings her on. It's just beyond perfect. We were both just so moved when she turned that chair around and there she was."
Though Fonda and Tomlin are done with Grace and Frankie, fans will soon be able to see them on screen together again. The pair have made two films together – 80 for Brady, which sees them star alongside Sally Field and Rita Moreno in a story about a Super Bowl road trip, and Moving On, which sees them as two friends who decide to enact revenge on a widower who wronged them.
Grace and Frankie Season 7, Part 2 will stream beginning Friday on Netflix. The first six seasons are streaming now.