Graduates With Greater Student Loans More Likely To Regret College Choices
Americans who took out student loans to afford their education are more likely to regret their college choices than those who didn't.
Research by online learning platform Study.com showed that those with regrets paid an average of $678 per month towards their loans compared to $402 on average a month by those with no regrets.
Student debt in the U.S. hit $1.75 trillion in 2022, with the average borrower taking out $28,950 in student loans to afford education. President Joe Biden has now announced mass cuts to student debt for up to 40 million graduates.
The Department of Education estimated that 27 million borrowers will be eligible for $20,000 in relief for their student loans, with applications for borrowers expected to open in the coming weeks.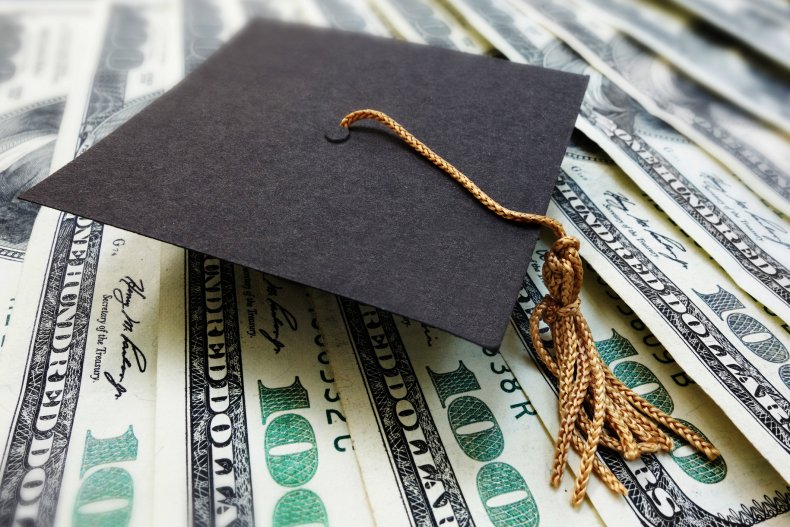 More than a third of Americans surveyed said they regretted their college choices, compared to a quarter who reported having no regrets.
Some 31 percent of respondents said their choice of major was their biggest regret from college, with 28 percent regretting taking on student debt to fund their education. One in five regretted dropping out of college.
According to the research, starting income directly correlates with how much a graduate uses their degree in their careers.
Respondents who used their college degree made 40 percent more than those who didn't.
Some 57 percent of those with degrees surveyed said they used what they learned during their time in education in their careers after graduation.
Those who used their degree in their careers were found to be earning over $15,000 more per year than those who said they don't.
Annual earnings for those who used their college major in their jobs were on average $52,653, compared to $37,179 for those who don't work in the same field.
The salary differences between those who regret their college choices is also significant. Average salaries for those who used their degree and had no regrets topped $58,162 on average, compared to $50,685 for those who used their majors but felt regrets for their time in education.
Those who didn't regret their college choices but don't use their major in their careers earn an average of $38,633 per year, compared to those who don't use their major and regret their choice, who earn around $35,771 per year.
Brooke Gabbert, a spokesperson for Study.com, told Newsweek students need to do the research and ensure they are taking the right major.
She said: "The return on investment of college is often the most significant issue. We learned that the less someone paid per month towards their student loans, the less likely they were to regret their college decisions.
"Beyond the financial burden of loans, college debt is often emotionally taxing, which can lead to feelings of regret and doubt as it relates to one's college choices and overall satisfaction with the experience."
How do I know my college major is right for me?
Gabbert said it's important students take the time and ensure they feel confident in their college decisions.
"Students should consider their interests, skills, and abilities to help identify what career they pursue, given any of the majors they are interested in. A passion for a specific field can make the whole college experience more manageable and result in a more fulfilling career.
"Once students narrow down a few options, they should research what the short and long-term career opportunities within the field. They should also understand that just because they chose a major at the beginning of college doesn't mean they are stuck with it.
"Another option is to enter college with an undeclared major, take classes in different fields, and see what interests them most. They need to know they have time to decide."
Gabbert added that students shouldn't feel locked into a decision, and that it's OK to change your major if you find someone more suitable at a later date.
She said: "Most colleges require prerequisite classes prior to their major courses, so this is a time to try out different things and see where their interests lie. They need to know they aren't locked into that major if they don't like it.
"Students need to be very thoughtful about these choices. They should collect data on their options and how it will impact their future and be willing to adapt their path as they learn about different career options."
She added that students should also reach out to their college or school if they are unsure of their options and what it could mean for them once they graduate, but Gabbert suggested schools could be doing more to support their students making these life-changing decisions.
Gabbert added: "While most colleges offer some sort of career development service, it's typically not required for students to use it.
"Schools should make it a top priority for seniors to use or even make it a required course in order to graduate, so these students are prepared with full resumes, cover letters and interview skills upon graduation."