The Most Ridiculous 'Album of the Year' Winners in Grammy History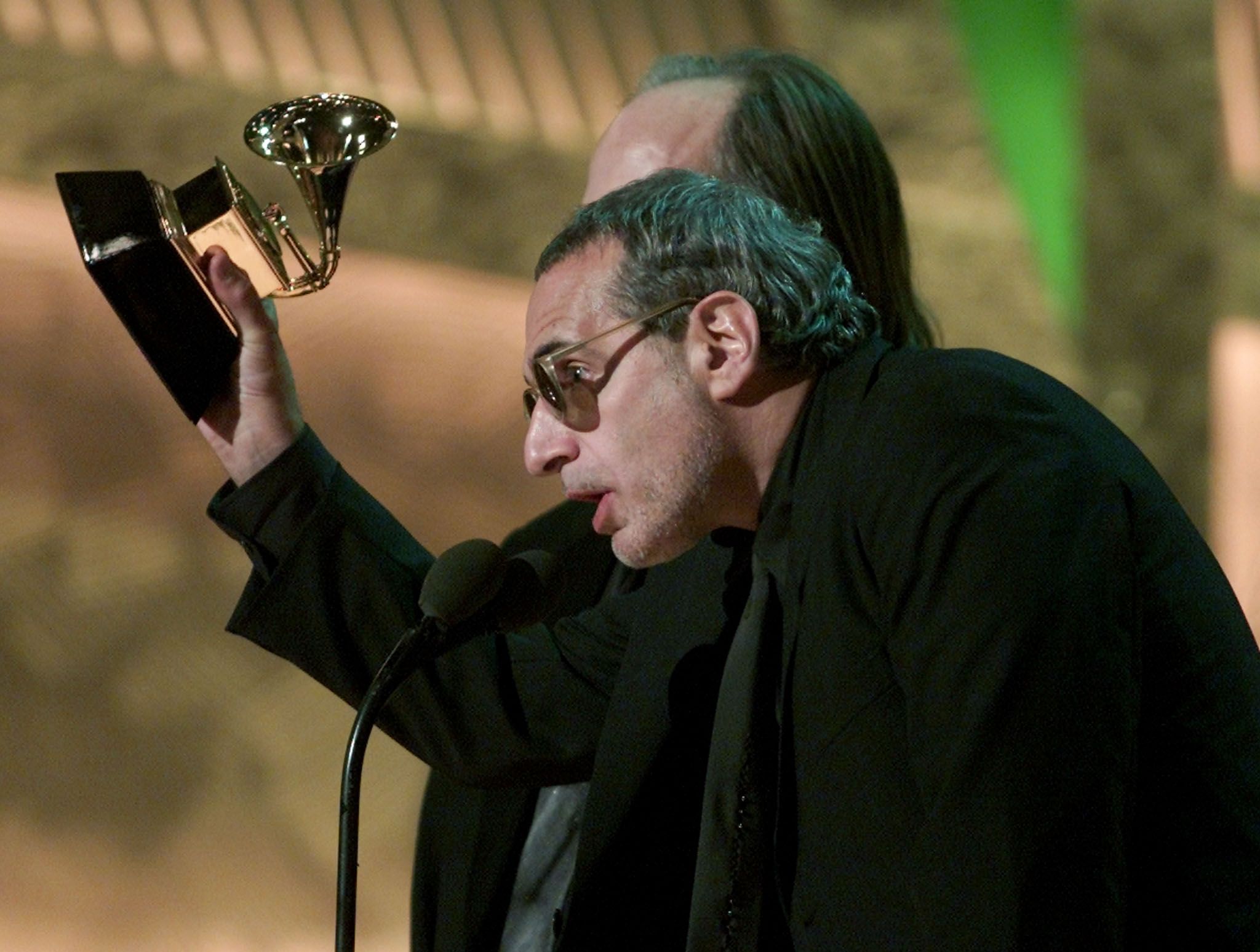 The Grammys don't always get it right.
Since the category was introduced in 1959, the Album of the Year award has been littered with misfires, mistakes and choices that seem baffling at best even half a decade later. The voters, who belong to the National Academy of Recording Arts and Sciences (NARAS), routinely snub newer genres in favor of aging favorites from decades past. The Grammys have tended to prize conservatism over innovation, which makes the fact that this year's crop of nominees is so current a genuine surprise.
As Alabama Shakes, Kendrick Lamar, Chris Stapleton, Taylor Swift and The Weeknd vie for the big award during Monday night's ceremony, we take a look at the most confounding Album of the Year winners in Grammy history.
1961
Winner: Bob Newhart, The Button-Down Mind of Bob Newhart
Why it won: Back then, the Grammys weren't above snubbing music entirely—The Button-Down Mind of Bob Newhart was one of two spoken-word comedy albums that took Album of the Year in the early 1960s.
What should have won: It wasn't nominated, but Etta James's 1960 debut At Last! would have been a great choice.
1963
Winner: Vaughn Meader, The First Family
Why it won: See above. The academy chose a spoken-word parody of President John F. Kennedy's family over musical performances by Ray Charles and Stan Getz, among others. The decision hasn't aged well.
What should have won: Pretty much any other nominee.
1967
Winner: Frank Sinatra, A Man and His Music
Why it won: In 1967, Grammy voters hadn't really discovered rock music yet. The Beatles were the first rock band to land an Album of the Year nomination (for Help!) and win (for Sgt. Pepper's Lonely Hearts Club Band), competing with offerings like the Sound of Music soundtrack and Barbra Streisand's latest. Remarkably, the award for Best Rock Album was not introduced until the 1990s.
What should have won: It seems fair to say the Beatles' Revolver changed the course of popular music more than a two-disc Sinatra retrospective set. (The Beach Boys' Pet Sounds, released that same summer, was not nominated.)
1981
Winner: Christopher Cross, Christopher Cross
Why it won: Evidently, NARAS members believed the world would remember who Christopher Cross was. The soft-rock sensation won five Grammys for his 1979 debut. (Plus, fellow nominees Sinatra and Streisand had already won their fair share of awards.)
What should have won: Two double-LP masterpieces finished off the punk era in style: Pink Floyd's The Wall, which was nominated, and The Clash's London Calling, which was not. (The latter was inducted into the Grammy Hall of Fame in 2007.)
1985
Winner: Lionel Richie, Can't Slow Down
Why it won: Can't Slow Down was an enormously successful and acclaimed R&B record, and it didn't make parents nervous the way Prince did. This choice is only questionable given what else was nominated.
What should have won: With all respect to Richie (baby, you're a star), this was the year Prince's Purple Rain opus was nominated. (1984 was a fabulous year for music across genres. Although it's hardly shocking that the Grammys weren't paying attention to indie-underground masterpieces from The Minutemen, The Replacements and Cocteau Twins.)
1993
Winner: Eric Clapton, Unplugged
Why it won: Grammy voters tend to be two decades behind, so they turned their attention to a classic-rock guitarist during the height of the grunge explosion. (Clapton's tribute to his late son, "Tears in Heaven," made for a particularly moving tribute.)
What should have won: Of the nominees, U2's 1991 reinvention Achtung Baby holds up well.
1997
Winner: Celine Dion, Falling Into You
Why it won: Despite being written off by critics as formulaic schmaltz, Dion was an unstoppable force. Falling Into You sold 32 million copies worldwide.
What should have won: Take your pick from the other nominees: Beck's Odelay (too weird for Grammy voters), Smashing Pumpkins' Mellon Collie and the Infinite Sadness (too messy for Grammy voters) and The Fugees' The Score (too... hip hop, a genre which wouldn't take Album of the Year until Lauryn Hill won in 1999).
2001
Winner: Steely Dan, Two Against Nature
Why it won: Grammy voters tend to be old, white and male. Steely Dan members also tend to be old, white and male. Plus, the Grammys tend to reward legacy acts long past their prime to make up for past snubs; Steely Dan's great Aja (1977) and Gaucho (1980) were previously nominated and lost in this category.
What should have won: Radiohead's groundbreaking Kid A—an album that reset the course of Radiohead's career and, arguably, rock music.
2006
Winner: U2, How To Dismantle an Atomic Bomb
Why it won: Grammy voters love U2, but this one's a stretch. Though commercially successful thanks to "Vertigo," Atomic Bomb was the first U2 album that sounded like just another U2 album. (This wasn't really a case of overcompensating for past snubs, either—U2 had deservedly won the award for 1987's The Joshua Tree.)
What should have won: Kanye West's Late Registration, the rapper's gorgeously orchestrated 2005 masterpiece and his second nomination in a row. (And, though it wasn't nominated, Sleater-Kinney's The Woods could have demolished every record that was.)
2009
Winner: Robert Plant & Alison Krauss, Raising Sand
Why it won: See: Steely Dan explanation. The Grammys ignored Led Zeppelin during the band's actual career, so they made it up to Robert Plant by slapping Zeppelin with a Lifetime Achievement Award in 2005 and then handing this award to one of the singer's more conservative endeavors.
What should have won: Radiohead's In Rainbows, the British band's third nomination and third snub. (If patterns hold, Radiohead will finally win in about 2021.)
2013
Winner: Mumford & Sons, Babel
Why it won: Banjos? Beards? A rustic, manufactured sort of nostalgia? This London band could have been concocted for Grammy voters in a lab somewhere.
What should have won: Hard to say. Frank Ocean's Channel Orange was the obvious critics' choice, though I'll admit my favorite albums of 2012 came from artists the Grammys wouldn't touch with a gold-plated pole (Swans, Heems, Metz).