How to Watch Grammy Awards 2021: Live Stream, Pre-Shows and More
"Music's Biggest Night" is finally upon us: The 63rd Annual Grammy Awards are happening on Sunday, after being postponed from its originally scheduled date of January 31, because of the coronavirus pandemic. But even with the pandemic still going on, the ceremony and performances are scheduled to take place tonight at the Grammys' usual home, the Los Angeles Staples Center. Obviously, though, viewers won't be seeing the usual sort of telecast.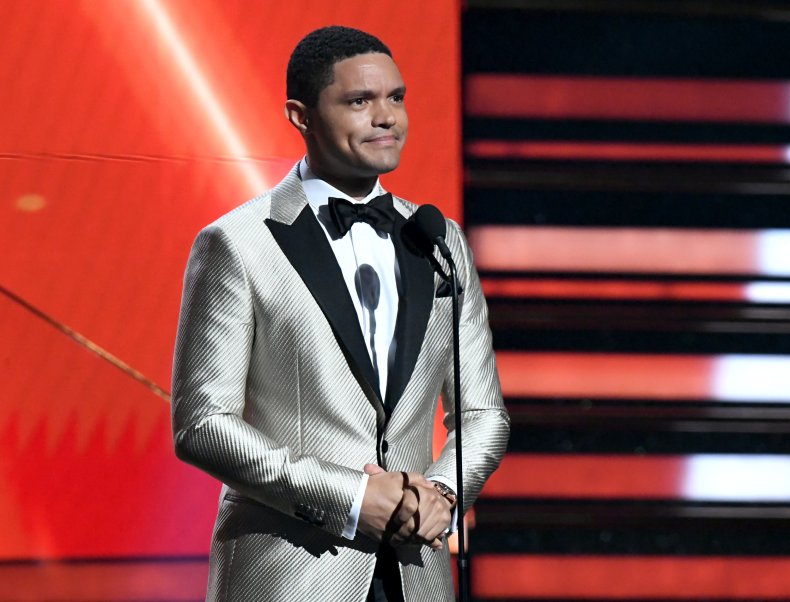 The ceremony kicks off on CBS at 8 p.m. ET. Viewers without access to television can still watch the show on any smart device by tuning into CBS' live stream, on the network's website or on the all new Paramount+ streaming service. Additionally, the show will be available on any number of services that host CBS, including Hulu + Live, Apple TV, YouTube TV, Amazon Fire, Roku and FuboTV.
The Recording Academy has already described the ceremony—like every awards show of the pandemic era—as being different from any before it. That means many of the nominees will appear virtually, while those actually in attendance will be spread safely apart. Really, though, the Grammys won't be all that different from this year's Golden Globes. But whereas the Globes featured Amy Poehler and Tina Fey hosting on opposite coasts in front of first responders and essential workers, the Grammys will be emceed by The Daily Show's Trevor Noah with an audience made up of the night's performers.
Before the Grammys officially start, Grammy.com and YouTube are hosting the Premiere Ceremony at 3 p.m. ET. Current three-time nominee Jhené Aiko hosts this presentation, which will feature performances from nominees like Burna Boy, Terri Lyne Carrington + Social Science, Igor Levit, Lido Pimienta, Rufus Wainwright and others. The Premiere Ceremony will also announce the winners of more than 70 Grammy categories across such diverse genres as classical, jazz and R&B.
E! will also air its own 2021 Grammy Awards "red carpet coverage" starting at 4 p.m. ET, and running until the telecast at 8 p.m. Though there will be no actual red carpet, expect to see interviews with various nominees, as well as E! hosts and talking heads giving their picks for the night's big winners.
At 8 p.m., Harry Styles will kick off the actual show, which will feature performances taking place both indoors at the Staples Center and in nearby spots outdoors. Among the many stars who will be playing live are Taylor Swift; BTS; Billie Eilish; Cardi B; Megan Thee Stallion; Bad Bunny; Dua Lipa; Chris Martin; and Bruno Mars and Anderson Paak (as Silk Sonic), among others.
Beyoncé leads this year's nominees with nine nods. Swift, Dua Lipa and Roddy Ricch each enter the night with six nominations apiece.
The show will also pay tribute to independent music venues that were affected by the pandemic this past year. Employees of venerated establishments—namely, the Troubadour and The Hotel Café in Los Angeles, New York's Apollo Theater, and Nashville's The Station Inn—will present awards.