On Monday evening, a grand juror in the case of Breonna Taylor—a Black 26-year-old medic shot to death by police in Louisville, Kentucky—asked the court to release the grand jury transcript and records connected to last week's decision to charge only one of the four Louisville Metro Police Department (LMPD) officers involved her shooting.
The court filing also seeks to allow other Grand jurors to publicly discuss the case in the name of transparency, according to The Courier-Journal.
"Truth being of paramount importance to all affected parties and the community as a whole, justice demands a full public release of the grand jury proceedings," the filing said. The individual who filed the request has remained anonymous.
The filing specifically names Kentucky Attorney General Daniel Cameron, alleging that his comments following the announcement of indictments implied that "the grand jury alone made the decision on who and what to charge based solely on the evidence presented to them."
As such, the filing seeks to disclose what evidence was presented to the jurors.
On September 25, Taylor family attorneys Ben Crump and Lonita Baker also called for the release of the grand jury transcripts, mentioning Cameron by name.
"Did [Cameron] present any evidence on Breonna Taylor's behalf, or did he make a unilateral decision to put his thumb on the scales of justice to help try to exonerate and justify (the killing) by these police officers?" Crump asked at a press briefing last Friday.
Baker accused Cameron of refusing to answer questions about whether he presented any charges relating to Taylor's death to the grand jury. She added that the family is still seeking state-level manslaughter or murder charges against the officers involved, according to KCTV.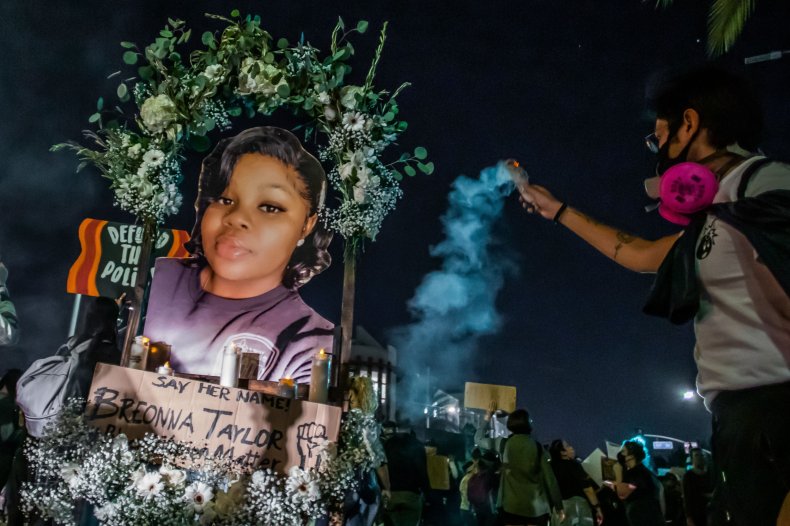 On September 23, the state announced three Grand Jury indictments against former officer Brett Hankison, an officer involved in Taylor's death, for wanton endangerment in the first degree. He was the only of the three LMPD officers criminally implicated for their roles in Taylor's death and was also the only officer fired.
The indictments against him didn't pertain to Taylor's death, but rather his bullets that traveled through walls into nearby apartments during the raid which killed Taylor. His bond was set at $15,000, which was posted soon afterward.
In May, the FBI said it was also conducting its own investigation. The agency said it would continue to look at the evidence and interview witnesses "beyond the state charges announced" last week.