Almost 200 days after Breonna Taylor was fatally shot by Louisville police who entered her apartment on a no-knock search warrant, former officer Brett Hankison, was indicted on three counts of wanton endangerment in the first degree.
The Jefferson County grand jury presented the indictment on Wednesday afternoon.
Hankison is one of three Louisville Metro Police Department (LMPD) officers involved in the shooting. Sgt. Johnathan Mattingly and officer Myles Cosgrove have not been criminally implicated for their roles in Taylor's death. Hankison, who fired 10 bullets in Taylor's apartment, some of which traveled through the walls into adjacent apartments, was also the only officer fired from LMPD in June. The grand jury's indictments pertain to bullets Hankison fired into those residences during the raid that preceded her passing, but no charges related to her death. His bond is set at $15,000.
Kentucky Attorney General Daniel Cameron shared more details about investigations, conducted by his office and the FBI, into Taylor's death after Wednesday's grand jury decision. He said Hankison was not indicted for the bullets fired into Taylor's apartment, including through a glass patio door and window, but instead for those that traveled into her neighbor's apartment during the raid. Cameron told the public "there is no conclusive evidence" Hankison's bullets reached Taylor.
The investigations suggested one of the 20 bullets shot into Taylor's residence killed her, and FBI analysis confirmed it was fired by Cosgrove. Still, neither Mattingly nor Cosgrove will face charges. Cameron said the two officers' use of force was "justified" because Taylor's partner, Kenneth Walker, fired his own gun upon their unexpected entry. Walker previously explained that the circumstances led him to assume someone was breaking into the apartment.
Cameron recognized "not everyone will be satisfied with the charges reported" on Wednesday and noted his office is prepared to prosecute those against Hankison during an upcoming trial.
Hankinson's indictment followed widespread calls for Kentucky lawmakers to hold the officers criminally accountable. Demonstrations that took place in Kentucky immediately following Taylor's death in March resurfaced alongside recent protests seeking justice for George Floyd, Ahmaud Arbery and others who died during interactions with law enforcement. Public figures have also called for disciplinary action against officers involved in the shooting at Taylor's apartment.
In June, Beyoncé released a letter urging Cameron to arrest Mattingly, Cosgrove and Hankison on criminal charges, additionally noting that none had been fired from their positions with the LMPD at that time. LMPD sent Cameron the results of its internal investigation into Taylor's death in May.
As protests continued throughout the summer, and public demands for justice persisted, the attorney general repeatedly said he intended to "apply the law fairly and equally" in determining further proceedings.
"We recognize the importance of getting information out there to citizens here in the Commonwealth and particularly to the folks in Louisville," Cameron told Spectrum News 1 during an interview on June 6. "I've said since taking the oath of Attorney General while I was campaigning, that I'm going to apply the law fairly and equally. I think that's what the folks expect of this office and that's what I'm certainly going to do."
Cameron confirmed his office received the FBI's ballistics report, which he said was "critical" to pushing the investigation forward, at the end of August. Reports that Cameron would soon present findings from the extended inquiry before a grand jury began to circulate several weeks later. On Monday, LMPD canceled all officers' requested days off and announced a state of emergency within the department in preparation for a possible grand jury decision regarding Taylor's case. Louisville Mayor Greg Fischer declared a state of emergency the following day, "due to the potential for civil unrest" following Wednesday's expected ruling from the grand jury.
Taylor, a 26-year-old emergency room technician, was asleep when plainclothed LMPD officers entered her apartment unannounced at about 12:40 a.m. on March 13, according to corroborating testimonies from Walker, and several neighbors. Walker, thinking a home invasion was taking place, shot Mattingly in the leg. Officers returned fire, shooting Taylor at least eight times. Walker was arrested shortly after on charges of first-degree assault and attempted murder of a police officer.
On Wednesday, Cameron said investigations concluded the officers "knocked and announced their presence" before using force to enter. He referenced a witness testimony that corroborated this.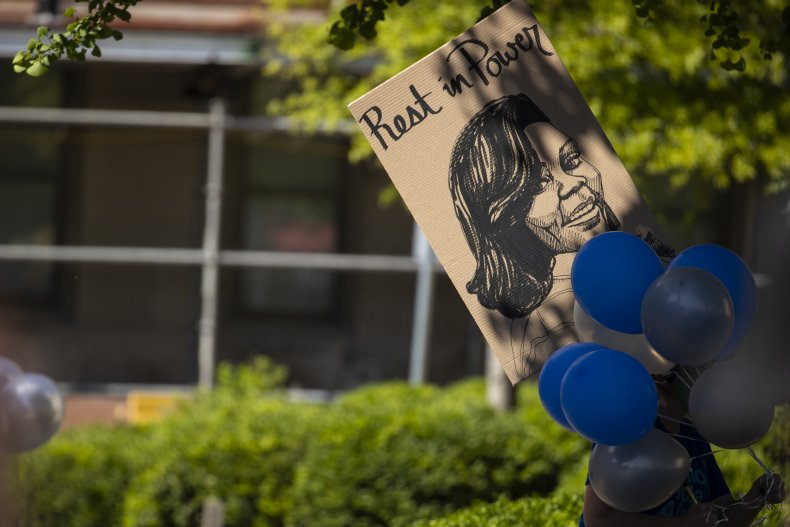 LMPD served the no-knock warrant, which allowed officers to enter Taylor's apartment without disclosing themselves, as part of an ongoing narcotics investigation. No substances were present at her residence, and many have questioned why Taylor's name was attached to the warrant at all. A wrongful death lawsuit filed by her mother in April alleged LMPD had already apprehended the true suspect at a different location before arriving at Taylor's home.
During a June 10 press conference, acting Louisville Police Chief Robert Schroeder said Detective Joshua Jaynes, who requested the warrant, was placed on administrative leave amid the ongoing FBI investigation. Soon after, Louisville's city council unanimously voted to ban no-knock warrants from further use, under a new piece of legislation called "Breonna's Law." Louisville Mayor Greg Fischer signed the bill into law the next day.
Newsweek reached out to Attorney General Cameron's office but did not receive a reply in time for publication.
This story was updated at 2:38 p.m. to include information from Cameron's Wednesday announcement.
Correction: The headline for this story originally stated Hankison shot Taylor 10 times. According to the Attorney General, the shot that killed Taylor was fired by another officer, not Hankison. The headline has been revised.