Grandma Sneaks Meat to 'Vegetarian' Dish in Hilarious Clip: 'Doesn't Count'
A grandmother's comments that a little bit of meat in a supposedly vegetarian meal "doesn't count" has divided opinion on the social media platform TikTok.
TikTok user mynonnafina shared the hilarious clip on Wednesday, April 27, which featured the well-meaning grandma explaining why adding a couple of slices of prosciutto to a cannelloni did not mean it was no longer a vegetarian meal.
The clip, which can be viewed here, quickly went viral and has attracted some 2.6 million views and 236,000 likes as of Thursday, April 28.
According to a 2018 Gallup poll, 5 percent of U.S. adults consider themselves vegetarian.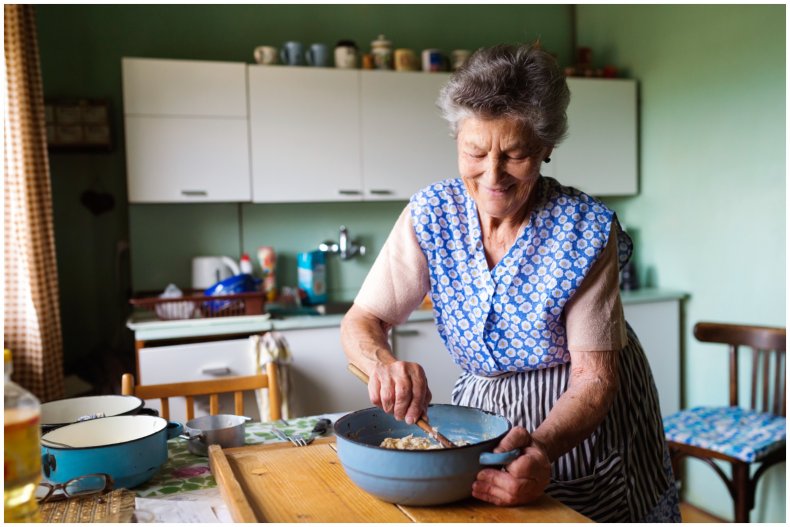 The poll also found vegetarianism is less prevalent among older Americans aged 55 and over, 2 percent of whom say they follow the diet. This is much lower than 8 percent of 18 to 34-year-olds and 7 percent of 35 to 54-year-olds.
In the clip, TikTok user Maddie asks her grandmother: "Did you say this was vegetarian?"
The grandmother appeared pleased with the food she had made and proudly exclaimed: "Yeah."
But seconds later, Maddie, who later stated she is not vegetarian, showed a piece of meat on a spoon and asked: "How come there's prosciutto in it?"
In response, the grandmother said: "It's not much, two slices of prosciutto in 12 cannelloni."
And when asked if a little bit of meat in the meal stopped it from being vegetarian, the grandma responded: "Doesn't count, no."
While the enduring moment appeared to come about as part of a misunderstanding of what vegetarianism is, the video split opinion online.
One TikTok user said: "This is an actual problem though. The amount of times I've been served fish or chicken in my food because people don't understand the concept."
Another added: "I would never forgive her."
A third commented: "We must protect that nonna at all costs."
But other commenters shared their experiences of having relatives who did not understand what vegetarianism is.
One commenter said: "My Italian dad once said the meat he put in the soup doesn't count because the soup is blended. I could see in his eyes he truly believed this."
Newsweek has contacted user mynonnafina for comment.
Enduring moments with grandparents have been widely shared on TikTok with many going viral.
Earlier this year, a woman's video of her night out with her grandmother went viral and was viewed more than nine million times on TikTok.
At times in the clip, the grandmother was joined by other people in the club and, at one point, she had the attention of a large group of fellow clubbers. Once, someone picked her up and twirled her around.