Grandmother of Girl Mauled to Death by Dog Charged With Murder
The grandmother of a 7-year-old girl mauled to death by a dog has been charged with the child's murder.
Other relatives—including little Olivia Floyd's parents—are also facing charges connected to the youngster's death in Waynesboro, Virginia.
Grandmother Penny Lee Bashlor, 64, and her husband Stephen Christopher Kachmar, 60, who was the girl's step-grandfather, were both told they faced a string of charges, including murder, on Friday, May 13, according to local police.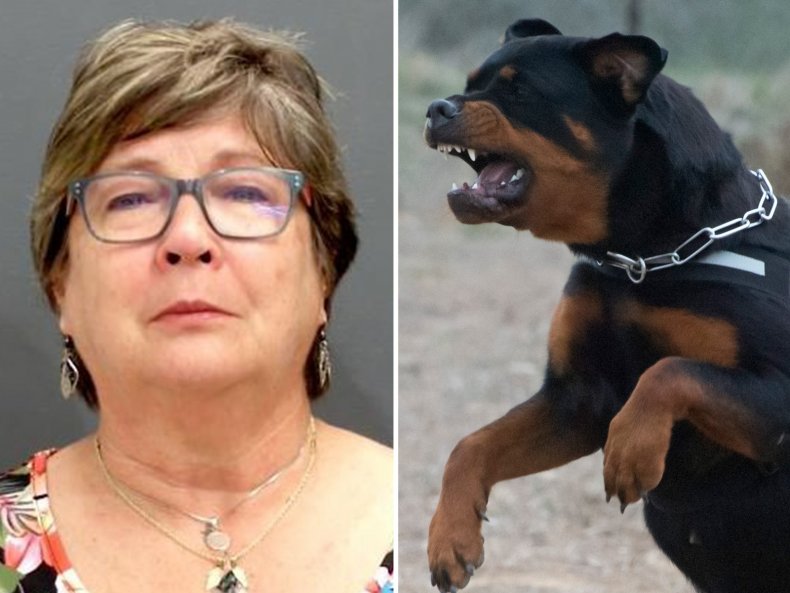 The child was allegedly attacked by the couple's 4-year-old Rottweiler on January 29 in the 200 block of Parker Heights Road. She was rushed to Augusta Health but medics were unable to save her and she died from her injuries.
The Rottweiler was seized by officers from Waynesboro Police Department and was later euthanized. An unnamed woman was also injured in the attack, according to local news station WHSV. She was reportedly treated for her injuries at the hospital.
A joint statement released by Waynesboro PD and the Waynesboro Commonwealth's Attorney's Office revealed that a special Waynesboro Circuit Court Grand Jury had issued five charges each to the couple, including non-capital murder.
The pair were also charged with involuntary manslaughter, child abuse/injury, child cruelty/injury, and owning a vicious dog.
The couple are currently being held without bond in Middle River Regional Jail. The offenses they have been accused with carry prison sentences of up to 70 years.
The girl's parents were also charged in connection with the case. Brooks Floyd, 39, and Alicia Floyd, 37, both of Augusta County, were charged with child cruelty/injury.
Brooks Floyd was also being held in Middle River Regional Jail, while Alicia Floyd was released on bond on Friday. The offense they have each been accused of carries a potential sentence of up to five years.
A GoFundMe fundraising drive was set up to help the family the day after the tragedy, WHSV reported. The page, which raised more than $29,000, states it was set up to "alleviate the financial burden of the funeral arrangements."
It reads: "It is with a heavy heart that [we] reach out on behalf of Brooks and Alicia Floyd. Yesterday, (January 29th) they tragically lost their sweet, 7 year old daughter Olivia Grace. We are asking that you keep this precious family in your thoughts and prayers over the next few weeks and months...We are thanking you in advance for every single prayer, message sent, out pouring of love shown and donation given to this family during this unfathomable time."
An update on February 1, closing the fundraiser, said that "we surpassed our goal in just a few hours, thanks to this wonderful community, we more than doubled what we originally asked for."
Newsweek has reached out to the Waynesboro Commonwealth Attorney's Office for further information.
Figures from the Centers for Disease Control and Prevention show that more than 4.5 million people are bitten by dogs every year in the United States. In roughly one in five of these cases, the bites require medical attention.