Monster Great White Shark Filmed Off Cape Cod: 'That Thing Is Enormous'
An Iowa family got more than they bargained for after what appeared to be a great white shark swam by their boat this week.
Footage of the huge shark was shared by Billingsgate Charters, a Massachusetts company that takes customers on fishing trips. In a video posted to the company's Facebook page on Tuesday, the shark can briefly be seen moving slowly below the surface of the water from a boat before passing out of sight.
"Holy smokes!" says the ship's first mate. "That thing is huge, dude! That's like 15 feet! Holy cow. That thing is enormous."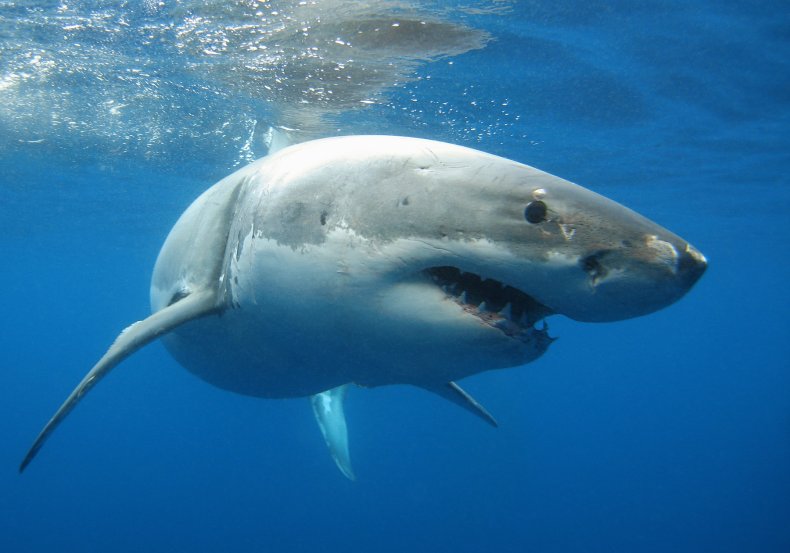 David Stamatis, the owner of Billingsgate Charters, told Boston 25 News that the animal, described as a white shark, was seen about four miles off the coast of Wellfleet in Cape Cod Bay on Monday. While shark encounters do occur every so often on these boat trips, this is the first one he's had this season.
Stamatis added that he has seen an increase in so-called "buoy bites," when a shark confuses a lobster buoy for food. He was about to pull up a lobster trap when the shark was sighted. Although one great white is something to behold, earlier this month there were multiple sightings in Cape Cod waters.
Two great white shark sightings happened on the morning of June 5, with one of the predators seen eating a seal. There were also reports of two dead white sharks seen on Cape Cod beaches, Boston.com reported.
Shark sightings can be expected off the east coast of the U.S. The animals travel up and down North America each year as the temperatures change, traveling south towards the Gulf of Mexico in the winter and then up north to food-rich areas near Canada during the summer.
An online ocean tracker operated by Ocearch allows anyone to follow certain tagged sharks as they make this annual migration, giving clues about their behavior. Location trackers fitted to the animals send a signal whenever the sharks break the surface of the water, though sometimes several days can pass between these signals.
The great white shark, also known simply as the white shark, is the largest predatory fish in the world. They can grow to between 16 and 20 feet in length according to the World Wildlife Fund, and reach weights of between 4,000 and 7,000 pounds.
The Florida Museum's International Shark Attack File says that the species is responsible for more confirmed unprovoked attacks around the world than any other type of shark—though the museum adds that the numbers may be skewed by the fact that the species is easily identified.