Greek Crisis Is Undermining the Philosophy of a United Europe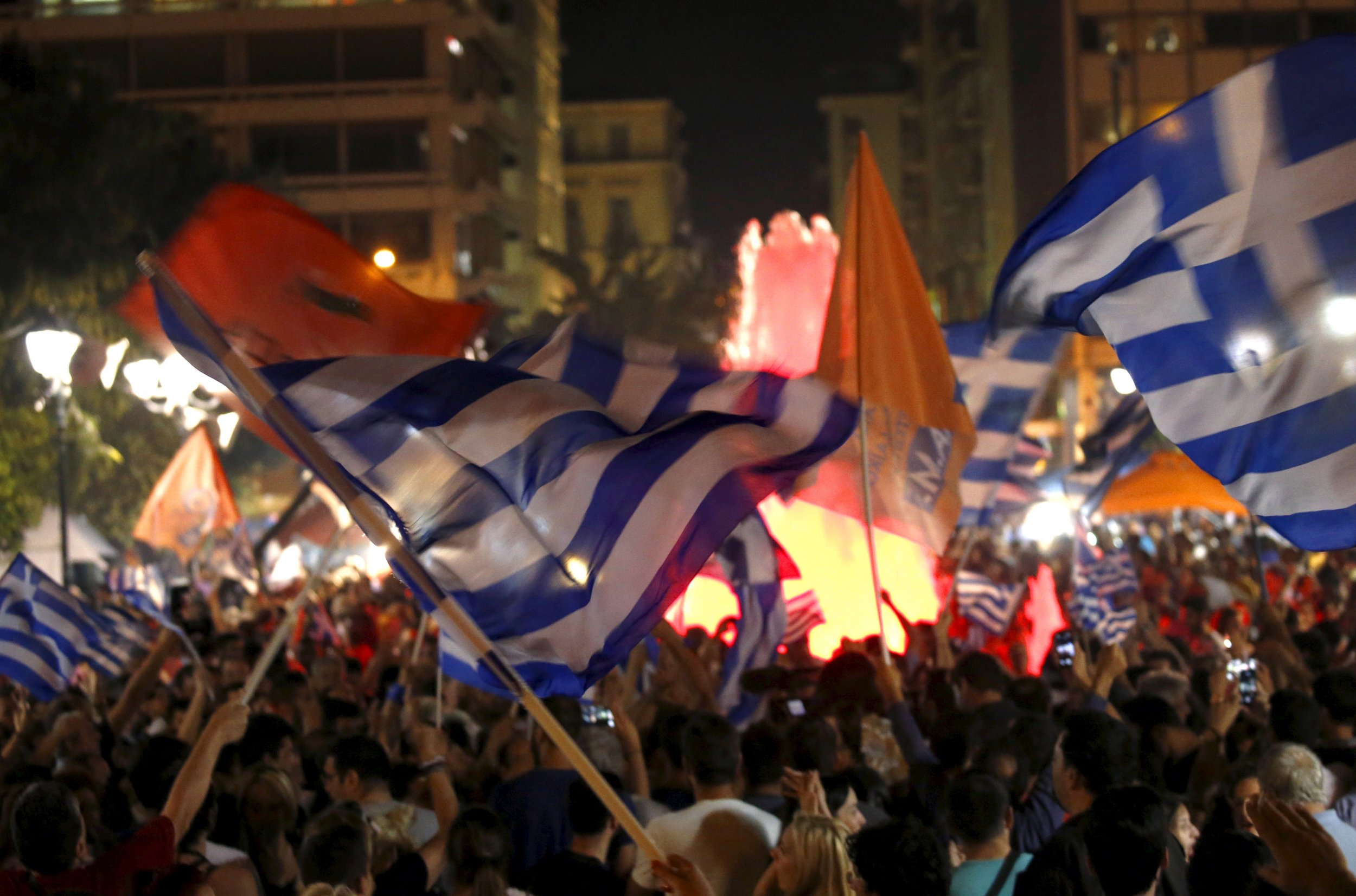 In 1984, German Chancellor Helmut Kohl and President François Mitterrand of France stood silently, holding hands, in the Douaumont cemetery beside France's Verdun battlefield—where 800,000 soldiers from both nations had mercilessly butchered each other during World War I—cementing their commitment to a friendship that would seek to put war permanently behind Europe's historic rivals and embark on an era of peace, sealed by economic integration.
Grinding through the end of the Cold War, overseeing German reunification and building the European Union to include nations that once had been bitter foes—such as Germany and France, who became its key leaders—was not easy, but today the EU represents 28 nations and has grown to be the largest trading block on earth. After the U.S. dollar, the EU also boasts the dominant global reserve currency, the euro, which has been adopted by 19 of its members.
So crucial was the adoption of a single currency to the broader mission of the EU that, like the Hotel California, nations that joined the eurozone were free to keep their sovereignty if they liked, but they could never leave. Or at least, there was no precedent or mechanism for them doing so.
Now Greece might be the first. The Hellenic Republic represents only 2 percent of the EU's economic output, but its loans, according to an internal analysis released last week by the International Monetary Fund (IMF), come to 300 billion euros, presenting Greece with "debt dynamics," the IMF said, that are now "unsustainable" without delaying Greece's payments or forgiving its debts.
Just days earlier, Greece's debt crisis had made it the first developed nation ever to default on an IMF loan, which totaled 1.55 billion euros. And, at the same time, Greece temporarily shuttered the nation's banks to keep them from running out of cash, imposing crippling capital controls that limited cash-machine withdrawals to just 60 euros a day.
Greece now runs the risk of defaulting on even more debt in July, including a loan of more than 2 billion euros to the European Central Bank (ECB), which would effectively lock it out of any further external aid from its international creditors. As Greece is effectively bankrupt, this would be catastrophic for the country and its 11 million people, who are already struggling with shortages of cash and vital goods. (Greece imports much of its medicine, food, fuel and other items, so the capital controls have stemmed the flow of critical remedies and supplies.)
The situation came to a head when Greek Prime Minister Alexis Tsipras, elected in January, denounced the bailout package offered by eurozone leaders and asked the Greeks themselves to weigh in on a national referendum. They did, rejecting the bailout on Sunday with a stunning landslide vote of 61.31 percent.
Tsipras has repeatedly stated that Greece does not wish to abandon the euro, in what financial experts have dubbed a "Grexit." Speaking in a televised address in response to the vote, Tsipras praised Greek citizens for making "a very brave choice" and promised to do his best to keep Greece in the euro.
Jens Bastian, a German economic consultant for Macropolis, based in Athens, says that, inside the country, political theater has taken a backseat to simply maintaining survival and that balancing the two has not been easy. "You have to maintain liquidity and ration your expenditure," he says. "In my case, you also have dinner table conversations with your 18-year-old daughter, who's voting for the first time about making a very personal choice concerning the future of her country."
The vote stunned observers around the world but had Greeks dancing in the street, even as their banks teetered on the brink of collapse.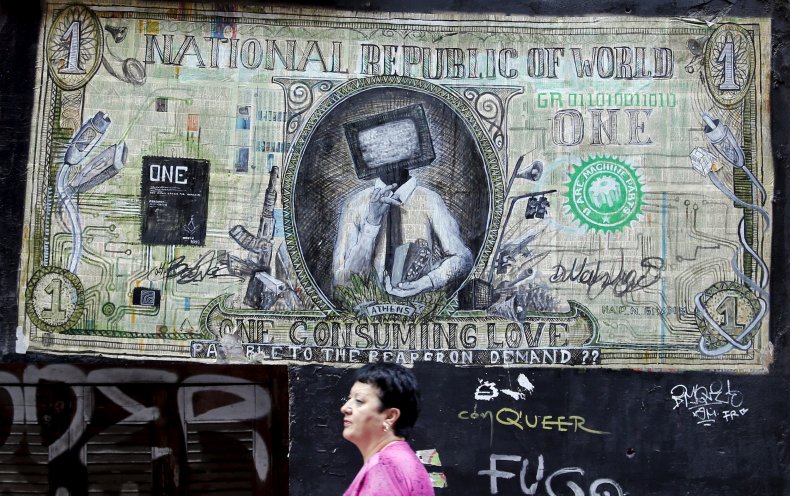 In Focus
The day before a historic vote, the country is torn between supporters and dissenters of the referendum.
Launch Slideshow

12 PHOTOS
The results immediately cleared the way for a renegotiation with Greece's eurozone creditors, setting up another showdown between Tsipras and the country's so-called troika of international lenders—the IMF, the ECB and the European Commission, which have made clear any more bailout money must come with harsh financial reforms for Greece attached. As Tsipras was elected on an anti-austerity platform, this has proven a sticking point in the negotiations, with eurozone creditors, who have pushed for tough reforms, asking for more austerity and Greece opposing structural reform that slows near-term growth.
"In every sense of the word, it's a failure of leadership for Greece and for Europe," Bastian says. "There is a strong feeling that the Greeks deserved better from all sides—from their government and from their international creditors."
While Greek defaults stretch back as far as the fourth century B.C., when Greek city states failed to pay back some funds borrowed from the Temple of Delos, this debt crisis is unique. Although it may be an exaggeration to call the euro a failed currency (in fact, the euro's value has remained impressively stable throughout this latest kerfuffle), it does represent a failure of eurozone leaders to prevent what has been an embarrassing standoff with one of its most economically weak member countries.
In particular, Germany, which holds the most Greek debt, has come under fire. German Chancellor Angela Merkel is accused of fueling the financial crisis through rigid policies of austerity—the notion that a nation can save its way out of an economic mess—without sufficient near-term investment and stimulus. Many economists counter this theory, saying that in a shrinking economy the debt-to-GDP ratio rises, not falls. For a country already in trouble, like Greece, the economy then runs the risk of descending into a depression—or, in Greece's case this month, insolvency.
Following the Greek referendum on Sunday, Merkel stated through spokesman Steffen Seibert that it is up to Greece to present a new plan to eurozone leaders addressing its financial troubles that will allow it to remain in the euro. For his part, Tsipras struck a more conciliatory tone than the financial "terrorism" rhetoric flogged by his Syriza party ahead of the referendum. Greece's government also confirmed that Tsipras and Merkel had spoken by telephone Monday and Tsipras agreed to provide new debt proposals at a meeting of eurozone leaders in Brussels on Tuesday.
At present, Greece has unemployment of more than 25 percent and youth unemployment of a staggering 60 percent. In exit polls following the referendum, many of Greece's younger voters said they voted against the bailout because of its austerity measures, saying they had little left to lose after months of economic turmoil.
As recently as the end of 2014, Greece was running a primary surplus of 1.7 percent of gross domestic product (primary surplus omits interest payments owed to the IMF), but it is now slipping back into recession and running out of cash—a problem Greece blames on the eurozone's scorched-earth austerity measures and that many of the eurozone creditors blame on Tsipras's policies.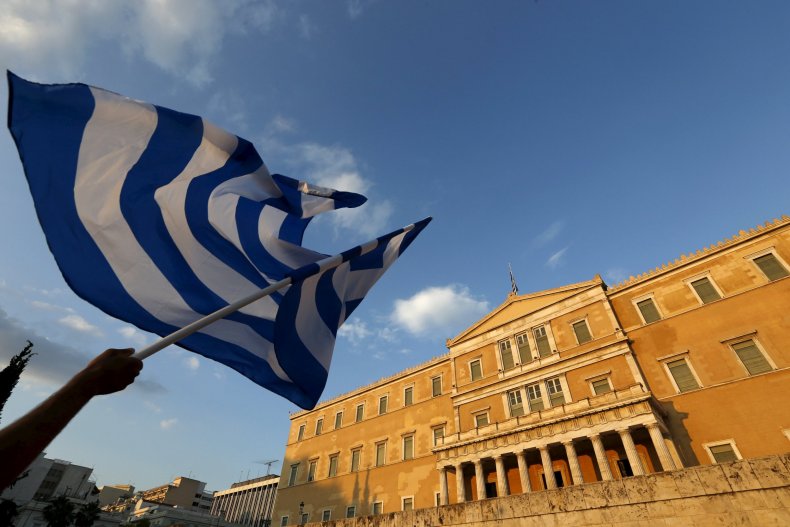 Alexander Macridis, the Yale-educated chief executive of Athens-based Chryssafidis, which supplies pipes, valves and other distribution systems to construction companies, flew back to Greece last week to vote in favor of the bailout in the Greek referendum because he did not want to see further financial collapse for Greece. But he also disagrees with the eurozone's approach.
"The latest proposals focus too much on anti-growth taxation and not enough on reducing certain public expenses that are superfluous," he tells Newsweek. "It seems that the private sector is being repeatedly asked to foot the bill in order to support a bloated and highly inefficient public sector. We are in the process of killing the goose. If we want to reduce unemployment and grow the government's tax revenues, we should channel precious resources to activities that stimulate private sector growth."
The public sector, he says, needs to be made "more accountable and meritocratic."
With the EU accounting for nearly 16 percent of the world's trade in goods, compared with less than 13 percent for the U.S., and possessing four times as many trading partners, in particular many emerging market countries, the importance of the eurozone's stability cannot be overstated. The EU also ranks first in both inbound and outbound international investments, according to the European Commission.
Observing what a "Grexit" would mean for Europe, analysts from Deutsche Bank recently cited the mounting political risks in a research note: "Grexit would be a political mistake," they warned. Indeed, Greece's dalliance with leaving the eurozone holds greater significance than the fate of just one country. It threatens the entire economic firmament that is the EU and raises the possibility that other countries with charismatic leaders like Tsipras might ride a wave of anti-austerity sentiment and potentially upend the euro. (Spain's Podemos, a leftist party in the mold of Tsipras's Syriza party, has the EU worried too.)
With Tsipras reshuffling his leadership and heading back into negotiations with Greece's international lenders after the referendum, much still hangs in the balance, says Dimitri A. Sotiropoulos, associate professor of political science at the University of Athens. The good news, he notes, is that surveys consistently show "Greeks support staying in the euro and only a minority want to leave."
He adds that the European Union and the euro were never intended to rest on the whims of passing government leaders or economic vicissitudes. How the eurozone creditors proceed in their negotiations with Greece—and Greece's commitment to the euro—will be paramount in upholding the model of peace and prosperity the EU set out to achieve decades ago.