Greece To Shut Down Overcrowded Refugee Camps And Replace Them With 'Detention Centers'
The Greek government has announced plans to close at least three of its most overcrowded refugee camps and replace them with facilities described by immigration advocates as "detention centers."
According to Médecins Sans Frontières, the Greek government has announced that it plans to move migrants, asylum seekers and refugees at camps on three islands, Lesbos, Samos and Chios, to closed "detention center"-like facilities.
In a separate statement sent to Newsweek, MSF spokesperson Tommaso Santo said that while change was "urgently needed," detaining migrants, asylum seekers and refugees in closed facilities is not the right solution.
Already, he said, "the current policy of containing people on the Greek islands has created a system of chaos, neglect and immeasurable harm."
"If these announcements are confirmed, we don't see how converting the centers into prisons represents a solution," Santo said.
According to British newspaper The Guardian, migrants, asylum seekers and refugees at camps on the three islands will be moved to closed complexes.
The government has vowed to relocate as many as 20,000 asylum-seekers to Greece's mainland by early 2020.
"Decongesting the islands is a priority at this stage," Alkiviadis Stefanis, Greece's deputy defence minister, said in a statement.
It is unclear whether children currently living at the refugee camps will be detained with their families or separately.
It is also unclear how the government plans to accommodate all of the people living across the three islands, with more than 13,000 people estimated to be living at Lesbos' Moria refugee camp alone as of early last month, despite the space being designed to accommodate roughly 3,000 people.
Recently, riots broke out across the camp after a fire claimed the life of a woman who had been living at Moria.
"When you put 13,000 people in a space designed for 3,000, just the fact that people are sleeping on top of each other creates a lot of tension," Santo said at the time.
For years, MSF has been one of many organizations to repeatedly sound the alarm that island refugee camps in Greece, and in particular the Moria refugee camp in Lesbos, have been suffering from severe overcrowding.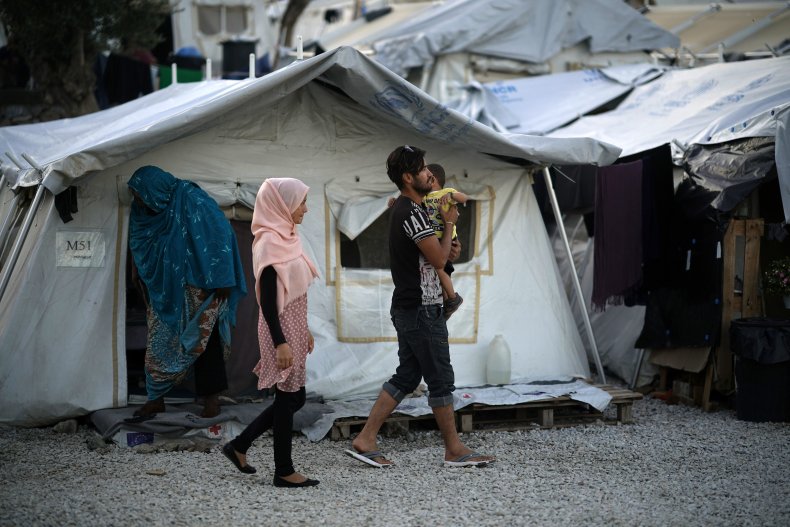 While people living at the camps currently have the ability to move freely in and out of the camps, with people living at Moria, for example, regularly traveling into town each day, under the new plan, migrants, asylum seekers and refugees will reportedly be locked up until they either granted permission to stay in Greece, relocated or rejected and deported out of the country.
"While change is urgently needed, we want to be clear that this change should be aimed at increasing the humanitarian assistance and protection of people, not at restricting this access or detaining people for the mere fact of seeking safety," Santo said.
"This announcement and...recent changes in the Greek law are certainly not changes that are moving in the right direction," he added.
The bid to shut down Greece's overcrowded camps comes as the country's new conservative government, which took power in July, seeks to enforce new immigration rules, including stricter asylum requirements.
In addition to tightening access to asylum, the Greek government is also expected to crack down on non-profit groups currently working to support migrants, asylum seekers and refugees in Greece.
"Only those that meet the requirements will stay and continue to operate in the country," Stefanis said, according to The Guardian.