Lesbos Refugee Camp Fire: Children Must Be Moved From Notoriously Dangerous Camp, MSF Says
For years, refugee advocacy groups have been calling on the international community to step in to address the severe overcrowding and "appalling" conditions at Greece's Moria refugee camp, one of the most notorious refugee camps in Europe.
Now, those demands are coming to a head, as riots break out across the camp after a fire claimed the life of a woman living at the overcrowded camp, while unconfirmed reports suggest a child may also have died in the blaze that left dozens of others injured.
"When you put 13,000 people in a space designed for 3,000, just the fact that people are sleeping on top of each other creates a lot of tension," Médecins Sans Frontières Head Of Mission in Greece Tommaso Santo told Newsweek.
With more demonstrations expected to take place on Tuesday, Santo said that MSF is calling for the international community to step in and help facilitate "emergency relocation of the most vulnerable" living at the camp.
The lives of thousands of refugees, including many children living at the camp, are at risk, he said.
"The danger that they feel at the camps...it's really tangible," Santo said. And, right now, he explained, "the situation is tense."
After protests broke out across the camp in response to the fire, which started in a shipping container housing refugees and spread to at least six other containers, leaving at least 30 people injured, police fired teargas into the crowds, according to Santo.
Their treatment of protesters, who have accused firefighters and first responders of being too slow to respond to the blaze, have only further stoked outrage among those living at Moria, with more demonstrations planned for Tuesday.
Tensions at Moria have flared in recent months, with "people arriving more and more."
"Just this year, there have been 41,000 from the beginning of the year," he said.
Part of that influx, is a recent resurgence of arrivals of refugees and migrants from neighboring Turkey.
While the camp was designed to house around 3,000 people, it has seen its population soar well beyond 10,000, with more than 12,000 people believed to be living at the overcrowded site.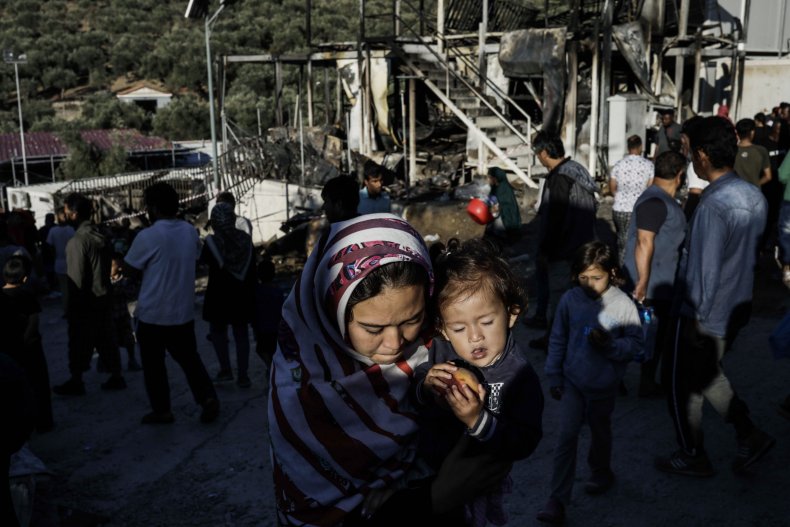 Last year, Newsweek reported on conditions at the camp, where those forced to live at Moria complained of inadequate access to sanitation and fears for their safety, particularly while sleeping at night.
"This is not for humans, you are animals," one Palestinian refugee, a 26-year-old psychology teacher who said he had been living at the site for six months after fleeing Gaza, told Newsweek at the time.
Complaining of "little food" and "no toilets," the teacher described Moria as "just one big problem."
"We were obliged to do an emergency intervention of the water and sanitation," said Santo, who told Newsweek that 40 new toilets and 40 new showers needed to be installed at the overcrowded camp to help ease congestion.
While inadequate access to sanitation poses serious health concerns for refugees at Moria, advocates have also repeatedly sounded the alarm over concerns around violence, sexual abuse and lack of access to support for medical and mental health issues at the camp.
"We had one child that was stabbed and murdered four weeks ago," Santo said.
Meanwhile, Newsweek has previously reported on a surge in reports of sexual abuse at the camp, as well as a rise in incidents of self-harm and suicide attempts.
With Greece struggling to keep up with the influx of arrivals at the country's borders, refugee advocates have been calling for the European Union and other members of the international community to step in.
"I think there should be more engagement from the government and from [European Union] members to at least relocate the most vulnerable people to the mainland in Greece," Santo said.