Greek Island Cut in Half by Raging Wildfire After Country's Worst Heat Wave in Decades
Several large wildfires raged throughout Greece on Saturday, with some threatening whole towns and large swaths of forest, while another cut the country's second-largest island, Evia, in half.
More than 100 wildfires broke out across Greece in the past few days, forcing thousands of residents and tourists to evacuate as the country experienced its strongest heat wave in decades. While most of the smaller blazes have been contained, Greece's Civil Protection chief Nikos Hardalias said Saturday that first responders are still combating at least 55 active fires.
Among the largest fires is the one on Evia, as well as two located in Greece's southern Peloponnese peninsula.
On Saturday morning, ferries evacuated 1,153 people from Evia, in an apocalyptic scene that people on social media likened to disaster movies. Video footage showed a number of people crowded together on a ship after being evacuated from burning lake shores, with some clutching babies or helping elderly adults reach safety as smoke and flames bellowed in the distance.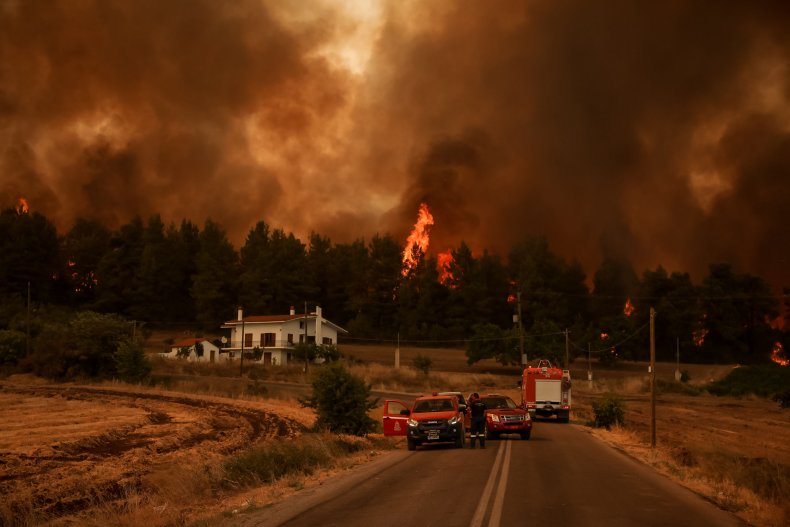 In the Mani region of the Peloponnese, a local official said that the wildfire there had destroyed around 70 percent of her area.
"It's a biblical catastrophe. We're talking about three-quarters of the municipality," East Mani Deputy Mayor Eleni Drakoulakou told state broadcaster ERT, while pleading for more water-dropping aircraft.
So far, one volunteer firefighter died fighting the blazes while 20 have been treated in hospitals over the last week. Greek Prime Minister Kyriakos Mitsotakis visited the fire department's headquarters in Athens on Saturday and expressed his "deep sadness" for the firefighter's death.
Mitsotakis said securing aid for everyone affected by the wildfires will be "my first political priority," and promised that all burnt areas would be reforested, according to the Associated Press.
"When this nightmarish summer has passed, we will turn all our attention to repairing the damage as fast as possible, and in restoring our natural environment again," Mitsotakis said.
The country has requested help through the European Union's emergency support system, and first responders and aircraft were sent from France, Spain, Ukraine, Cyprus, Croatia, Sweden, Israel, Romania and Switzerland.
While some of the fires are under investigation for being human-caused, many Greek and European officials have blamed climate change for the large number of fires that have burned throughout southern Europe, Greece and Turkey this summer. Temperatures in Greece soared to 113 degrees this week in the most intense heat wave in 30 years.
In Turkey, at least eight people were killed after more than 100 fires burned across 35 cities late last month and into August. Turkey's top forestry official said most of the fires have been brought under control since July 28, but responders still worked Saturday to tame six fires in two provinces, according to the AP.
Meanwhile, the U.S. is currently experiencing 107 active wildfires that have so far burned over 2 million acres of land in 14 states.
California is seeing some of the most devastating fires in the state's history. The Dixie Fire, which sparked on July 14 and has already burned 432,800 acres, is only 35 percent contained by Saturday.