One of Only Four Green Sand Beaches in World 'Desecrated' by Tourists
Papakōlea Beach in Hawaii, one of the world's four beaches that feature green sand, has been "desecrated" and "exploited" by tourists.
The destination is accessible only by foot, so tourists on Hawaii's Big Island must hike for several miles to reach the unique olive-colored beach. But in recent years, visitors have illegally created their own dirt paths and roads, carving up the sacred nearby landscape, according to SFGate, a San Francisco-based news outlet.
"This sacred and treasured place for the people of Kau has been desecrated and exploited by off-road enthusiasts, thoughtless actions of visitors, and sports fishermen despite the presence of iwi kupuna [ancestral bones and burials] and sacred sites," the Department of Hawaiian Home Lands (DHHL) said in a 2016 resources management plan describing the problem.
"The people of Kau are pleading to 'let the land heal' so that what is left of this fragile ecosystem can be shared with future generations," the plan said.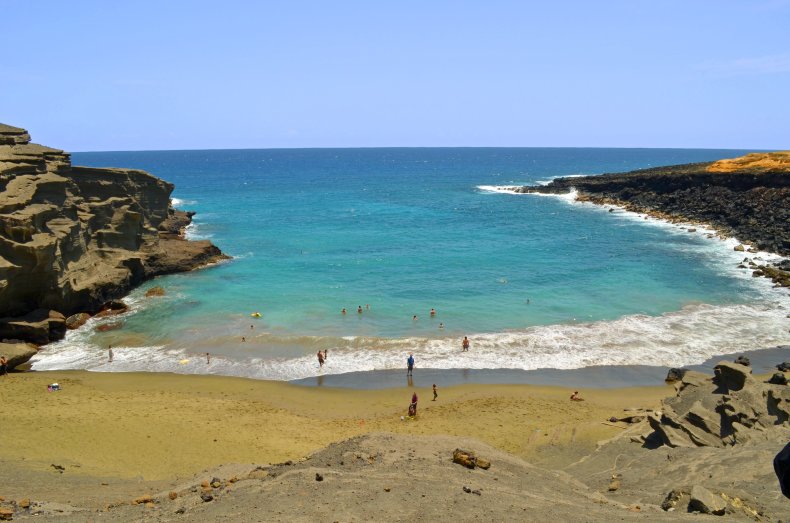 The world's other three green beaches are Talofofo Beach in Guam, Punta Cormorant on an Ecuadorian Galapagos Island called Floreana, and Hornindalsvatnet in Norway. Unlike Hawaii's Papakōlea, all three are not yet at risk of destruction from visitors destroying the local landscape.
The Hawaiian beach was formed around 50,000 years ago, at the site of a volcanic eruption. "[The green color] is from the mineral olivine, which primarily occurs in basalt rocks, often around volcanoes," Minik Thorleif Rosing, a geobiology professor at the University of Copenhagen, told Newsweek.
"This mineral is highly unstable at surface conditions and weathers fast," he said. "Normal white beaches consist of grains of quartz, which is one of the most sturdy and weathering-resistant minerals. Therefore, quartz sand beaches are common, and olivine beaches are rare."
"People are free to do as they wish, and our cultural sites have been desecrated," Nohea Kaawa, a Native Hawaiian cultural practitioner and lifelong resident of the Kau district, told SFGate. "Roads are created where they are not supposed to be, and when big rains occur, water floods and follows these roads that lead to sites, thus contributing to erosion at a faster pace."
At Papakōlea, locals offer lifts to tourists for payment, driving them along dirt paths to visit the beach illegally.
"Any off-roading is illegal unless they are using the county dirt road down to Kaulana Boat Ramp," Cedric Duarte, a DHHL spokesman, told SFGate.
But most visitors have no idea that this practice is against the law, according to SFGate.
The Hawaiian beach isn't the only place where unique and often sacred sites have been damaged by tourists. Others are England's Stonehenge and Cambodia's Angkor Wat.
Peru's Machu Picchu in particular has been so badly damaged by tourist footfall and littering that a 2,500 daily visitor limit was set by the country and UNESCO in 2011. In 2020, six tourists were arrested after human feces were found inside the sacred Temple of the Sun.