Mystery Disease Is Making Sea Turtle Shells Melt Exposing Bone Beneath
Australia Zoo Wildlife Hospital has seen a surge of green sea turtles needing treatment for a mysterious disease that appears to "melt" their shells, causing lesions and open wounds on their shells and flippers.
Green sea turtles are one of the largest sea turtles, and are classified as endangered. The infected turtles' wounds often show the bone underneath, and they are often found floating offshore or on the beach, debilitated.
"The green sea turtles tend to have ulcerated open wounds on their shells and flippers which often lead to the exposure of the underlying bone. Dr. Emily Kay and the rest of our team is working towards determining the cause of these wounds and the associated systemic infection," Dr. Ludo Valenza, veterinarian and hospital supervisor at the Australia Zoo Wildlife Hospital near Queensland's Sunshine Coast, said in a statement.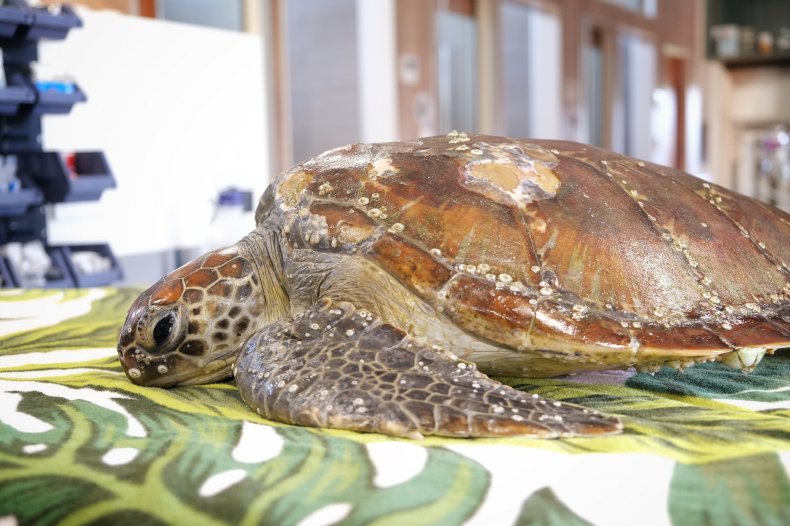 "So far, 26 turtles are currently undergoing treatment, one turtle has been released back into the wild following a full recovery, and 22 turtles were humanely euthanized due to the severity of this disease."
The majority of the affected turtles came to the Wildlife Hospital from the Hervey Bay area, near Fraser Island, however, one turtle named Lucky was rescued from a different location on the Sunshine Coast.
"Although we are still investigating the cause of this illness, we believe that it is linked to diminishing sea grass availability for the turtles which has been exacerbated, but not solely caused by, the recent flooding events. We suspect that due to low food supply, the turtles are forced to eat a source of food that generally only contributes to a small part of their diet, and could be causing them to get sick. The shell disease is only what we see on the outside. Unfortunately, the turtles have been presenting with very severe gastrointestinal issues," Valenza said.
Green sea turtles already face a huge number of threats in the wild. Hundreds of thousands of sea turtles are killed each year as fishing bycatch, having been accidentally caught in trawl nets or on hooks and not being able to return to the surface to breathe. Their natural nesting grounds are usually beaches, and human activity like coastal development and traffic has disrupted their egg-laying across the globe. These eggs are also harvested for human consumption and trade, and fully-grown turtles are hunted for use in alternative medicines.
"Female green sea turtles only breed every three or so years, and with only one in 1,000 hatchlings surviving to a mature age where they can breed. Every turtle is vital to the survival of this endangered species," said Valenza. "The cascading effect of this disease on the population of green sea turtles could be catastrophic."
The Australia Zoo Wildlife Hospital is working with the Australia Department of Environment and Science to investigate the cause of this unknown condition and to help treat the affected turtles.
"The Department of Environment and Science will continue to work with leading wildlife experts in veterinary science and turtle rehabilitation to investigate reports of this ulcerative skin disease in green turtles and try to determine the underlying causes so we can respond directly," Marine Parks Principal Ranger Steve Hoseck said in the statement.
"Although there have been no conclusive answers as to what is causing this disease at this stage, DES will continue to collaborate with organizations including Australia Zoo Wildlife Hospital to support the rehabilitation of affected turtles."