Fisherman Charged after Horrific Video Shows Octopus Being Torn Apart Alive
A Florida Keys commercial fisherman has been charged with animal cruelty after footage of him allegedly tearing apart a live octopus was circulated online.
Florida Fish and Wildlife Conservation Commission (FWC) officers arrested Charles Mora, 30, on animal cruelty charges.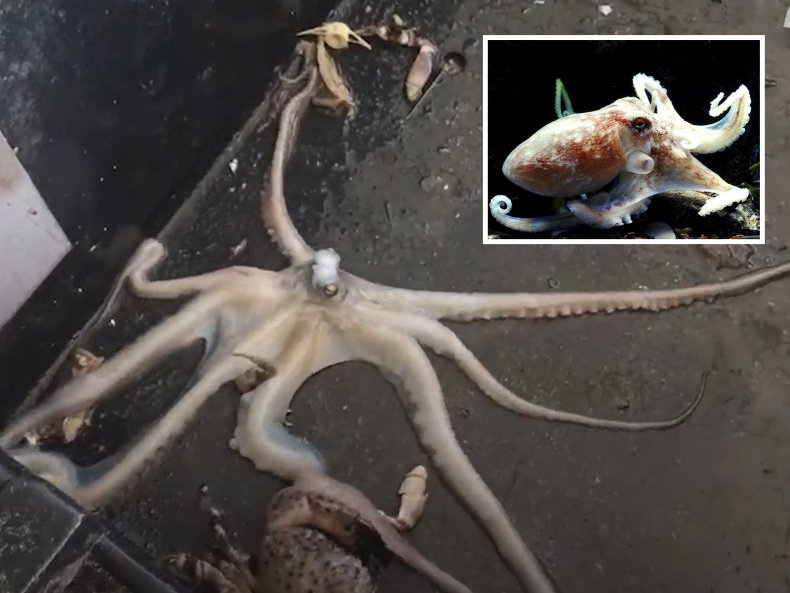 The video, which was recorded in November last year, also shows a second fisherman slamming a shark against the back of the boat, although nobody has yet been arrested for this act. On Monday, FWC spokesperson Jason Rafter said there are more arrests currently pending.
PETA released the video on Facebook, which appears to show Mora ripping the head off a live octopus. The head, or mantle, contains the animal's critical organs.
Octopuses are one of the most neurologically developed and complicated invertebrates, and are now thought to be capable of feeling negative emotional states when confronted with pain in much the same way mammals do. Octopuses are also very intelligent creatures, possessing a larger brain to body size ratio than all other animals except birds and mammals, and are capable of high-order cognitive behavior such as including tool use and problem-solving.
They have even been observed carrying around coconut shell halves to assemble into a shelter when needed.
In a PETA press release, PETA Foundation general counsel for animal law Jared Goodman said: "Octopuses feel agonizing pain when they're ripped apart, and Florida law prohibits such abuse, just as it prohibits mutilating a dog or cat."
According to the FWC arrest report, a woman who was on the fishing trip off the coast of Marathon, Florida, was the one who recorded the footage.
"Mora grabbed the octopus and while using a violent and ripping motion removed the head and guts," she said, according to the report. "Mora then throws the octopus into a dark-colored bin. The octopus is still alive and moving in the bin with its guts and head removed. Mr. Mora went about his way [and] continued work."
Florida Keys Commercial Fishermen's Association executive director Bill Kelly condemned Mora's behavior.
"Properly handling bycatch is the issue here, because there is bycatch in any and every fishery. For an industry that prides itself on sustainability and responsible harvesting methods, it is disturbing to see this kind of activity, and I can assure you this is not standard practice," he said in a statement.
Mora was arrested on a charge of felony conservation violation of causing the cruel death, pain and suffering of an animal. If convicted and found guilty, he could face a $10,000 fine.
Newsweek has contacted Mora's attorney Hal Schuhmaker for comment.