Greene 'Tired' of Candidates Like Mandel Who 'Learned to Speak MAGA'
Republican Representative Marjorie Taylor Greene of Georgia criticized former state treasurer Josh Mandel Saturday while touting his opponent J.D. Vance as a better Ohio Republican Senate candidate ahead of the state's primary election on Tuesday.
"For Josh Mandel, I didn't see the sincerity there. I didn't see the authenticity. I just saw someone that learned to speak MAGA and just repeat it over and over. I'm tired of those candidates. We don't want those people serving in Congress. We don't want those people in Washington. And so that's why I endorsed J.D. [Vance]," Greene said as she stood next to Vance during a campaign rally for him in Newark, Ohio.
GOP Representative Matt Gaetz of Florida, who was also at the campaign to back Vance, jumped in after the congresswoman's remarks and said: "I watched the debates and Josh Mandel sort of looks like if you asked Matt Dolan to read talking points written by Jim Jordan. All the words are right, but something just doesn't look correct."
Vance then laughed and agreed with his comments.
In a Saturday interview with Fox News, the Florida congressman further praised Vance and said that the Senate candidate "put on a clinic in the debates, in the primaries."
"Donald Trump saw those debates. He saw the way J.D. was aggressive and assertive, and he had vision and energy....This is the type of leadership we need. This is the type of leadership that Marjorie and I seek in Washington, DC," Gaetz added.
Meanwhile, former President Donald Trump showed his support to the Ohio candidate in a video posted by Vance's press team on Sunday morning.
"It was my great honor and distinction to endorse J.D. Vance for the U.S. Senate. He will be strong. He will be conservative. He will do what you want and he's not going to let you down. He was a warrior. He was a great student. He loves your state, and that's why I went for him. So on May 3rd, go out and vote for J.D. Vance. He's going to be terrific," Trump said, addressing voters in Ohio.
The former president has endorsed Vance, even though he was a past critic of his, and recently encouraged his supporters to back the venture capitalist and Hillbilly Elegy author.
Vance's poll numbers improved after Trump's endorsement, according to a recent poll presentation for Protect Ohio Values, a super PAC that backs Vance.
The survey revealed that 25 percent of 800 likely Republican voters were now supporting Vance, compared to only 18 percent in March, followed by Mandel with 18 percent. More voters backed Vance once they knew of Trump's endorsement.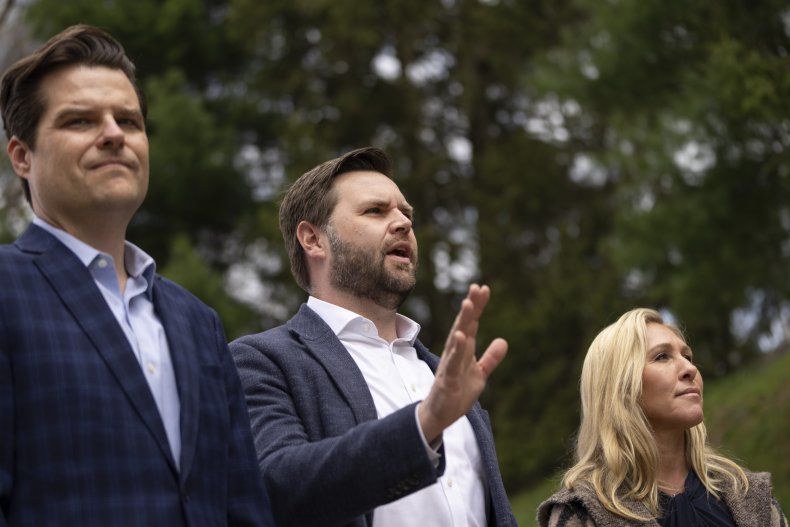 Meanwhile, Mandel held a rally at Solid Rock Church Saturday in Lebanon, Ohio, which GOP Texas Senator Ted Cruz attended to endorse him for the upcoming election, The Cincinnati Enquirer reported.
The rally targeted "Trump warriors," who believe in fighting for honest elections, Judeo-Christian values, and a "Trump America First" agenda, according to the news outlet.
Newsweek reached out to Greene's press team for comment.