As Trump Makes Peace With J.D. Vance Here's What Ohio GOP Primary Polls Say
J.D. Vance's fortunes have been boosted since former president Donald Trump endorsed him in Ohio's competitive Republican Senate primary.
Trump urged his supporters to back Vance, a venture capitalist and the author of Hillbilly Elegy, at a rally in Delaware, Ohio, describing him as "the man with by far the best chance to defeat the radical Democrat nominee for the U.S. Senate this November."
Opponents had used Vance's past sharp criticism of Trump to attack him. But Trump joked at Saturday's rally that he would not have anyone to endorse if he refused to support people who had criticized him.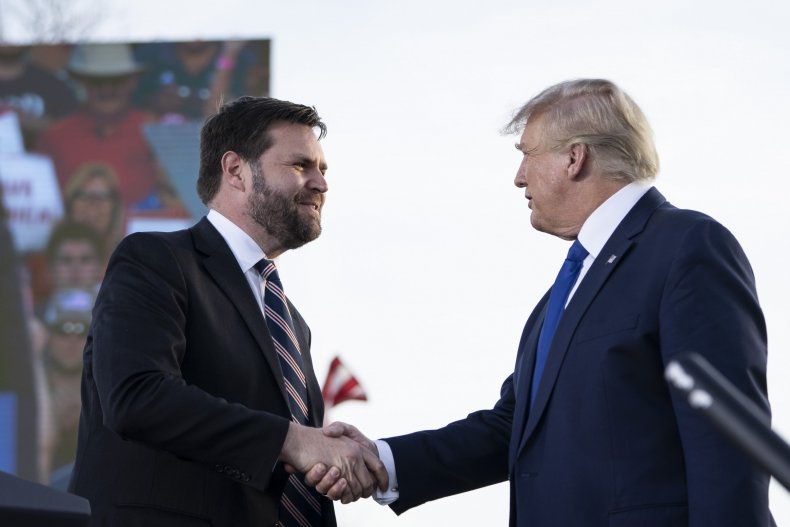 "He's a guy that said some bad sh*t about me... but you know what? Every one of the others did also," Trump said. "In fact, if I went by that standard, I don't think I would have ever endorsed anyone in the country. Ultimately, I put that aside."
Trump added: "I have to do what I have to do. We have to pick somebody that can win."
Vance has long been lagging in the polls behind former state treasurer Josh Mandel and Cleveland banker Mike Gibbons.
But Trump's backing has led to a surge in support, according to recent polling conducted on behalf of Protect Ohio Values, a super PAC supporting Vance, which was cited by Cleveland.com political reporter Andrew Tobias and Politico.
The survey of 800 likely Republican voters found 25 percent were now backing Vance, up from 18 percent in March, followed by Mandel with 18 percent and Gibbons with 13 percent.
According to the poll, once voters were informed of Trump's endorsement, Vance's vote share climbed to 37 percent, followed by Mandel with 14 percent.
No other polls have been released since Trump's endorsement, but most had put Mandel or Gibbons in the lead, according to a tracker at RealClearPoltics.
Its average of pre-endorsement polls—the most recent of which by Trafalgar surveyed voters between April 13-14—put Mandel at 21 percent, Gibbons at 19.3 percent, and Vance at 14 percent.
Meanwhile, Trump has faced backlash from some Republicans over his endorsement of Vance, many of them taking issue with the latter's past remarks about the former president.
Ohio Value Voters, a conservative group that has endorsed Mandel, urged supporters to boycott Trump's rally, saying Trump had made a "terrible decision" and calling on those who did attend to boo Vance when he was introduced.
In 2016, Vance said he was a "Never Trump" conservative and called the former president an "idiot."
He reportedly also sent a private message to a friend warning that Trump could be "America's Hitler" and that the GOP "has only itself to blame" for Trump's rise.
Jordan Wiggins, Vance's campaign manager, previously told Newsweek that Trump clearly "trusts that JD is a genuine convert, as out of all the Republican candidates running, he endorsed JD and concluded that he is the strongest America First conservative in the race."