Greene Uses McConnell's Lack of Bulletproof Vest to Question Ukraine Aid
Representative Marjorie Taylor Greene used Senate Minority Leader Mitch McConnell not wearing a bulletproof vest in Kyiv to question the need for aid to Ukraine.
McConnell led a delegations of senators to Ukraine's capital city on Saturday as the country continues to fight back against Russia's invasion. It's the latest sign of solidarity from United States leaders, who have overwhelmingly consolidated support around Ukraine.
The U.S. Embassy in Kyiv shared a video of the delegation, which included Republican Senators John Barrasso, Susan Collins and John Cornyn meeting with Ukrainian President Volodymyr Zelensky. The meeting comes as a $40 billion aid package for Ukraine is currently delayed in the Senate.
Greene, a Georgia Republican, appeared to question why the aid was necessary since the senators were not wearing safety equipment including bulletproof vests or helmets while meeting with Zelensky.
"Notice U.S. elected politicians like @SpeakerPelosi and @LeaderMcConnell can go visit Zelensky in Ukraine without bullet proof vests/helmets or any fear from dangers of war, while they eagerly give billions to fund their proxy war w/ Russia," she tweeted Saturday.
She continued: "2. If the conditions in Ukraine were so grave to warrant the U.S. sending $54 billion, then our highest ranking leaders would not be able to go."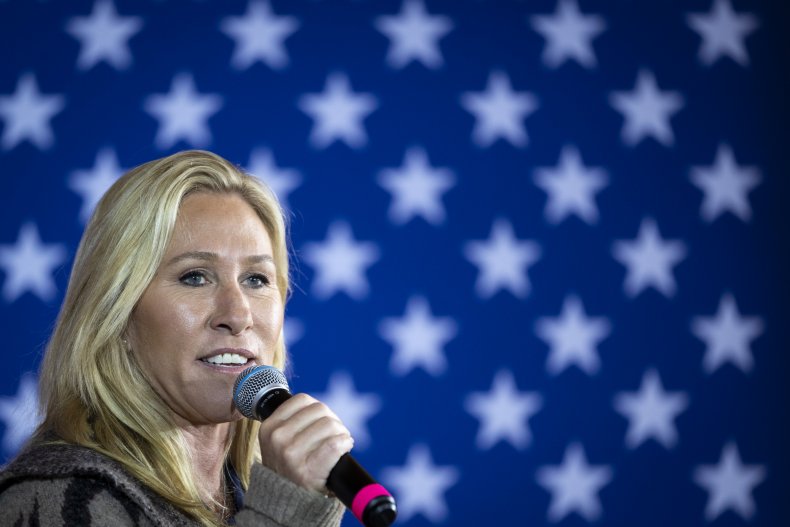 However, some were quick to point out the senators are likely not wearing protective gear because they met with Zelensky in Kyiv, which is no longer where the fighting is concentrated.
"First, some geography lessons. A similar risk would happen if Savannah, Georgia was under attack and they visited Atlanta. They were over 250 miles from the front lines.
And yes, America has a heart. When we deal with refugees, we feed their children. Got a problem with that?" one Twitter user @MichaelVSmith7 wrote.
When reached by Newsweek, a spokesperson for Greene dismissed criticism as coming from anonymous social media profiles.
Earlier in the war, the area around Kyiv was the site of some heavy fighting, which included attacks on civilians. However, the Russian military's failure to make substantial gains in taking the capital city forced them to retreat. Fighting is now concentrated in the eastern part of Ukraine, including the Donbas region, which Russia said it wants to "liberate."
Intense fighting still continues along Ukraine's eastern border, prompting many U.S. leaders to call for more military aid to help the country continue its defense. The aid passed the House of Representatives, even though 57 Republicans, including Greene, voted against it.
The aid would include $9 billion to restock U.S. equipment sent to Ukraine, $900 million for refugee assistance and $54 million for medial support. However, Senator Rand Paul, a Kentucky Republican, blocked the passage of the aid on Thursday, raising concerns about the impact it would have on the economy.
He objected to unanimous consent, which means a vote will be delayed until a later date, possibly at some point next week, when it will likely pass the Senate.