In what can only be described as the mid-August story we all need and deserve, President Donald Trump reportedly inquired about purchasing Greenland, the autonomous Danish territory located just north of Canada and Iceland.
The president is allegedly interested in Greenland because of the world's largest island's strategic location and its wealth of untapped natural resources. The New York Times reported yesterday that the president asked numerous advisers on multiple occasions about buying the land.
Believe it or not, the president's inquiries aren't completely unfounded. The U.S. military operates the Thule Air Base in northern Greenland and Trump's administration has been watching the arctic region closely as tensions between Russia and China heat up over the area, and climate change opens up potential new shipping routes.
Thule's positioning allows its radars to achieve 240 degree coverage, a good way to track intercontinental ballistic missiles and satellites. China has also recognized the island's strategic benefits. In 2016, China attempted to buy an old military base in Greenland before Denmark stepped in. Officials anonymously told reporters at the time that they denied access as a favor to the U.S. In 2018, a Chinese company unsuccessfully bid to build an airport near Thule.
In May, U.S. Secretary of State Mike Pompeo called the area an "arena of global power and competition." Trump is likely not the only one eyeing the territory as a possible strategic stronghold.
But on Friday, leaders around the globe said "thanks, but no thanks" to the idea. "Greenland is rich in valuable resources such as minerals, the purest water and ice, fish stocks, seafood, renewable energy and is a new frontier for adventure tourism. We're open for business, not for sale," tweeted Greenland's Minister of Foreign Affairs, Ane Lone Bagger.
Denmark, which supplies about two thirds of Greenland's budget as well as military protection to the territory also said it wasn't happening.
"It has to be an April Fool's joke. Totally out of season," tweeted former Denmark prime minister Lars Lokke Rasmussen.
The foreign affairs spokesman for the Danish People's Party, Soren Espersen, had harsh words for Trump. "If he is truly contemplating this, then this is the final proof that he has gone mad," he told broadcaster DR. "The thought of Denmark selling 50,000 citizens to the United States is completely ridiculous," he said.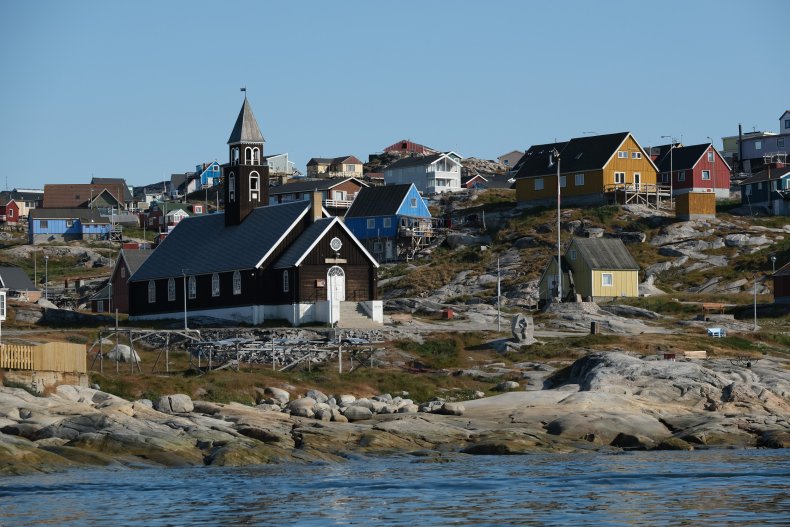 Politicians from Greenland said that they would rather be associated with Denmark than the U.S. "I am sure a majority in Greenland believes it is better to have a relation to Denmark than the United States, in the long term," said Aaja Chemnitz Larsen, a member of the Danish parliament from Greenland's second-largest party Inuit Ataqatigiit, to Reuters. "My immediate thought is 'No, thank you'," she said.
But the latest news could make for an awkward meeting next month when the president plans to meet with the leaders of Denmark and Greenland during a visit to Copenhagen. It really doesn't seem like any parties will be selling or buying any real estate, but who knows. A golf resort in Nuuk probably wouldn't work anyway.