Greg Abbott Backs Immigrant School Policy That Helped Turn California Blue
In 2001, then-Governor Rick Perry, a Republican, signed what was known as the Texas DREAM Act, providing in-state tuition rates to young undocumented students as long as they were state residents for three years, graduated from a Texas high school, and promised to apply for permanent residency.
Two decades later, immigration politics in Texas have been completely transformed. Governor Greg Abbott is now calling for the Supreme Court to strike down the 1982 Plyler v. Doe ruling that forces states to pay for the education of undocumented children.
Speaking on a conservative radio show, Abbott said Texas already sued the federal government long ago over having to incur the costs of the education program.
"And the Supreme Court ruled against us on the issue," Abbott said. "I think we will resurrect that case and challenge this issue again, because the expenses are extraordinary and the times are different than when Plyler v. Doe was issued many decades ago."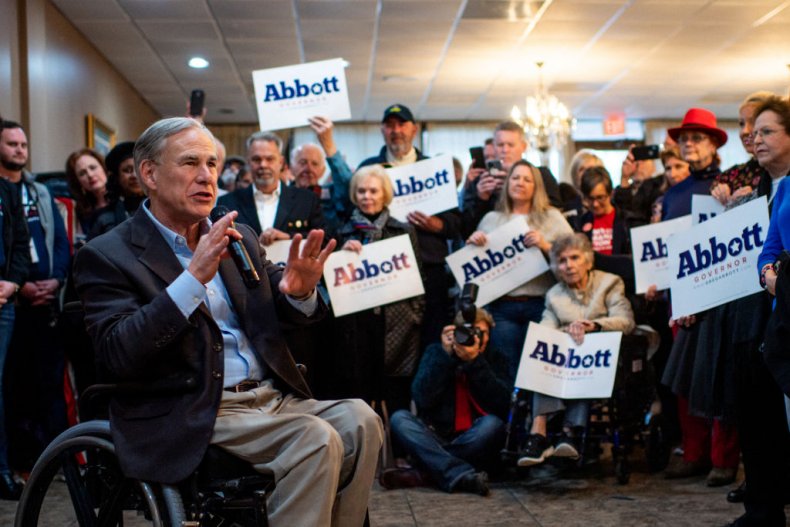 In light of the report that the Supreme Court is set to strike down Roe v. Wade and reverse long-enshrined federal abortion protections, Democrats and activists privately worry that efforts like Abbott's are not the fantasy they would have seemed just six months ago, but could actually become reality in the near future.
But they argue Abbott's gambit could backfire, as a similar campaign did after the passage of California's infamous Proposition 187 in 1994 signed by then-Governor Pete Wilson, a Republican, which denied public services to undocumented immigrants, including public education.
After all, "Prop 187," which only survived five years, had unintended consequences. Not only did it fail in discouraging immigrants from seeking services, it also helped to create a mobilized Latino electorate that proved to be a major factor in turning California blue.
Mike Madrid, a longtime Republican strategist, worked in California GOP politics and considers Wilson a friend. But he says the fallout from Prop 187 could serve as a warning for Texas Republicans.
"The legacy of 187 was to create a generational voting bloc of Latinos against the Republican Party that would not normally happen," Madrid said, adding that California was then experiencing the rightward shift Texas is experiencing now. "That changed substantially because of these attacks on the community. Once attacked, Latinos rally."
In California, the Latino share of the electorate nearly doubled at the time and support for Republicans crumbled, a far cry from the 1980s, when Ronald Reagan garnered 48% of the Hispanic vote. When Bob Dole ran in 1996, he received a paltry 6% of the Latino vote.
Julissa Arce, an activist and author of the new book "You Sound Like a White Girl: The Case for Rejecting Assimilation," told Newsweek she was once an undocumented student in Texas when she lived in the state from age 11 to 21.
"Thank God no one was questioning how I got there," she said. But fear was always present. "I never wanted to go talk to my counselor, afraid they might look at my documents."
Abbott's rhetoric creates an environment of fear, Arce said, particularly in a state where nearly 53% of public school students are Hispanic.
The end of the state educating undocumented kids would likely include echoes of the chaos of Prop 187, with school administrators having to ask children about the immigration status of their parents, and parents who have both undocumented and U.S.-citizen children pulling their kids from school.
Abbott has tacked to the right during his reelection campaign in an effort to energize his primary voters, often around issues concerning immigration and education. He sent buses of migrants to Washington DC, a message to the Biden administration to deal with a problem he feels it has made worse.
Last week, Abbott slammed the Biden administration for providing baby formula to immigrants in holding facilities, "as American parents scramble amid a nationwide shortage of the product."
John Wittman, Abbott's former communications director, told Newsweek the Texas governor widely publicized moves are an effort to draw attention to the federal government's shortcomings.
"I think the governor's point is the federal government continues to fail in its responsibility of dealing with immigration, and Congress has failed for decades, so as a result states have had to deal with the fiscal responsibility of the issue," he said. "The border and illegal immigration is something Texas has picked up the tab on."
Arce called Abbott's announcements "anti-immigrant sentiment and rhetoric" for a reelection campaign, but acknowledged "it feels different because he could really turn this into action as we've seen with Roe v. Wade, and this relitigation of things we thought had been settled."
Texas' change on immigration has mirrored the Republican Party's embrace of nationalism and more restrictive federal policy.
In the fall of 2011, a decade after Perry passed the Texas DREAM Act, he was skewered by rivals at the Republican debate in Orlando, Florida when he said those who opposed it don't "have a heart."
His main opponent at the time, eventual Republican nominee Mitt Romney, hit back hard afterwards.
"I fundamentally believe that it doesn't make a lot of sense for American taxpayers to pay for the college education of illegal aliens," Romney told a radio host afterwards, "particularly at a time when American taxpayers are having a hard time financing education for their own children."
Ed Espinoza, the executive director of Progress Texas, who worked for the California Democratic Party at the time of Prop 187, recalled "the hatefulness of it and the fear it instilled."
His father, an immigrant from Peru who had lived in the U.S. for almost 30 years at the time of its passage, had always been a green card holder. But Espinoza said that Prop 187 kickstarted his father's push to get citizenship.
"I don't know what my neighbors are going to say about me or do to me," Espinoza's father told him.
Still, he said that while Abbott's rhetoric and policies are "always a step too far, the question is, 'Is it a step too far for Texas'?"
Midterm elections are all about getting out the base, and Espinoza argues that Abbott has a Republican base that doesn't care for him, so he is constantly trying to give them reasons not to abandon him.
"That's why it's a new stunt every week," he said, noting that the stunts are usually only good for a seven-day news cycle.
He then zeroed in on Abbott's policies, including targeting gender-affirming care for transgender kids as child abuse and going after "inappropriate" books.
"What is his problem with kids?" Espinoza asked. "Trans kids, what they are teaching kids in schools, book banning, not wanting to educate undocumented kids."
But Espinoza noted that the difference between California and Texas is that "California did not have suppressive voter laws, California does not have very low turnout."
But a 1998 CNN piece entitled "How The California G.O.P. Got A Spanish Lesson" painted a different picture, explaining how California Republicans ditched their opposition to bilingual education because of the Prop 187 furor. It offers a window into what happens when low-turnout voters suddenly start paying attention.
"In 1994, conventional wisdom in the Golden State held that Latinos didn't vote," the article stated, "and that taking on immigrants, especially Latino immigrants, was a political gold mine."
Wilson, like Abbott now, had grand plans that included a possible presidential run, but then the electorate flipped on him.
"Governor Pete Wilson won re-election with ads showing grainy figures scurrying across the southern border," the article recalled, "and some suspected that he could ride the issue all the way to the White House."