Greg Abbott Silent After Promising to Pardon Black Lives Matter Killer
Texas Republican Gov. Greg Abbott has remained silent about the life sentence given to Daniel Perry, having advocated for the gunman to be pardoned.
Perry, an army sergeant, was in a vehicle passing a Black Lives Matter (BLM) protest in Austin on July 25, 2020, when he shot with a handgun 28-year-old Garrett Foster, who was legally carrying a rifle. Perry told police it was "self-defense," saying Foster had pointed his rifle at him. Both Perry and Foster are white.
In April, a Travis County jury found Perry guilty of murder—a charge that can carry a life sentence. Three days after the jury's verdict, on April 8, Abbott tweeted that he wished to pardon Perry. He shared that he had asked the Board of Pardons and Paroles to consider his request.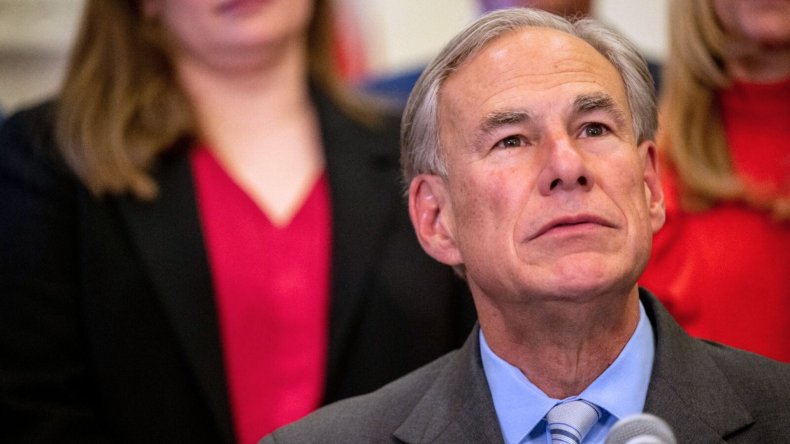 "Daniel Perry is a racist monster who could not have been clearer in his intentions," Ike Hajinazarian, Texas Democratic Party spokesperson, told Newsweek. "We quite literally have his deranged desires to commit murder at a Black Lives Matter protest in writing: this case was, by definition, premeditated murder. Daniel Perry brought shame upon Texas—as have the Republicans who have called for his pardon, including the Republican state party chair, who just amplified a call for his pardon last night."
About the Republican governor, Hajinazarian said: "As for Governor Abbott and the political fallout he's had to endure because of this, all we can say is that there are consequences to pandering to the most extreme fringes of society—play stupid games, win stupid prizes."
Abbott had tweeted on April 8: "I am working as swiftly as Texas law allows regarding the pardon of Sgt. Perry. Texas has one of the strongest 'Stand Your Ground' laws of self-defense that cannot be nullified by a jury or a progressive District Attorney," he said of Travis County District Attorney José Garza.
Garza said that Abbott's intervention in the case was "deeply troubling," adding that, "in our legal system, a jury gets to decide whether a defendant is guilty or innocent—not the Governor."
After Perry was given a 25-year sentence last week, Abbott has remained silent about his efforts to pardon the gunman and the man's fate. Newsweek has contacted Abbott's office for comment by email, but has not received a timely response.
Pressure has been growing on Abbott to reverse his pledge to pardon Perry. Unsealed court documents revealed that the 35-year-old man had compared BLM to "a zoo full of monkeys." Perry called the movement "racist against white people."
Texas Democrats' harsh condemnation of Perry is likely to heighten pressure on Abbott to talk about the case and his intention to pardon Perry.