Greg Abbott Insists There Is 'Plenty of Power' as 400,000 Suffer Outage
Texas Governor Greg Abbott has insisted that there is enough energy in the electrical grid in the state, after a deadly ice storm hit the southern United States, causing road accidents, power outages and travel disruption.
As of 7:58 a.m. ET, more than 400,000 homes out of 13 million in Texas were without power, according to data aggregator PowerOutage. The vast proportion were located in central and western parts of the state, under the Austin Energy and Oncor providers, though other grid operators were affected.
In a tweet, Abbott said: "This graph shows that there has been plenty of power available on the grid all day today," referencing data from the Electric Reliability Council of Texas (ERCOT), which showed demand of over 63,000 megawatts compared with an electrical capacity of 71,000 megawatts.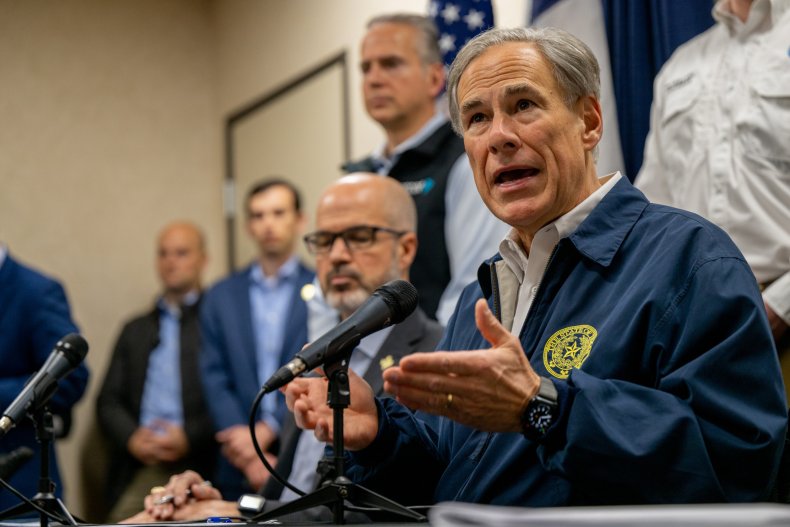 Earlier, the lone star state's governor had said that tree limbs were falling across the state, adding: "Many of them hit power lines and cause power to go out at the local level."
"Your local power provider is working to restore the power lines," he wrote. "The power grid has maintained ample power supply for the entire state the entire time."
The National Weather Service (NWS) has kept a winter storm warning in place until 9 a.m. ET on February 2, with "significant" ice accumulation of a tenth of an inch over northwestern and central Texas, including San Antonio and Austin. It said that over 12 million are under ice storm warnings in the mid-south.
The NWS "strongly" discouraged travelling. Treacherous driving conditions have resulted in at least eight deaths since Monday due to slick road surfaces, according to the Associated Press—seven in Texas and one in neighboring Arkansas.
School systems in Dallas and Austin, plus many in Arkansas and Memphis, Tennessee, planned to close on Thursday due to the storm.
According to FlightAware, a flight tracker, on Thursday 333 flights in and out of Texan airports had been cancelled, with others delayed. Thousands of cancellations and delays have occurred since Monday.
Pablo Vegas, who heads ERCOT, vowed the state's electrical grid would hold, the Associated Press reported, and that there would not be a repeat of the blackouts in February 2021, when the state faced its worst energy infrastructure failure.
During that storm, more than 240 Texans died after over 4.5 million homes and businesses lost power for days.
In December 2022, infrastructure in Texas and other states across the U.S. was disrupted by a cold snap. Abbott faced criticism as tens of thousands of homes were left without power.
Austin Energy wrote in a statement on Wednesday: "Due to challenging icing conditions, Austin Energy is reporting that power may be out in some areas until Friday. This situation is fluid and we expect that there will be more icing through tonight that could impact restoration activities."
It noted that "restoration efforts have been slow due to consistently freezing temperatures and accumulating ice."
Oncor tweeted on Thursday morning that "personnel worked through the night and continue restoring power this morning for customers."
Update 2/2/23 9:30 a.m. EST: This article was updated with later information.