Greg Abbott's Response to El Paso Mall Shooting Sparks Anger
Texas Governor Greg Abbott is facing criticism for his response to a shooting at a mall on Wednesday in El Paso, Texas, that left one person dead and two others injured.
Some social media users responded with anger to a tweet the governor sent in reaction to the shooting, where he pledged support for local officials.
"I spoke to Mayor [Oscar] Leeser about the shooting tonight in El Paso. l offered the full support of the State of Texas, including the assistance of the Texas Department of Public Safety and Texas Division of Emergency Management to help the city of El Paso respond to this tragic event," Abbott wrote.
He also thanked "all law enforcement and first responders who quickly went into action to protect their fellow Texans."
Those comments were quickly met with criticism as some social media users pointed to the governor's handling of a shooting at Robb Elementary School in Uvalde, Texas, last year.
Reshma Gopaldas, head of video at She Knows, responded to the governor's tweet, saying: "Remember last time when you said you spoke to 'the mayor' and you thanked law enforcement because it could have been much 'worse.' And then you claimed they lied to you. Why don't you just say nothing. It will seem more genuine."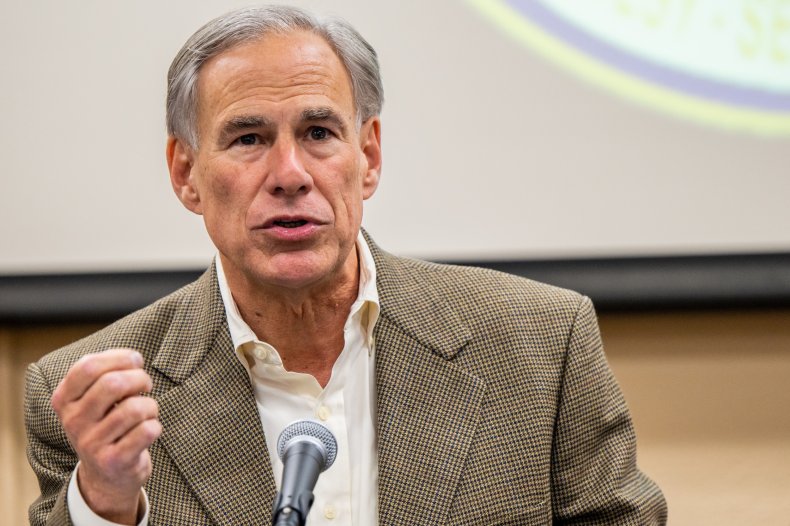 Newsweek has contacted Greg Abbott's team for comment.
Abbott, a Republican, has received significant criticism for his response to the Uvalde shooting and in particular his initial praise of law enforcement.
The governor later said he had been "misled" about the handling of the incident as it emerged police officers had waited for more than an hour before entering the classroom where the shooter was located.
"This pendejo signed permitless carry after the last shooting in El Paso. Not only is he doing jack s*** to make us safer, he's actively making it easier for criminals and untrained idiots to walk around with guns in Texas. Take a seat," tweeted Gaby Diaz, a volunteer with anti-gun violence group Moms Demand.
Diaz was referring to a 2019 shooting at an El Paso Walmart that saw 23 people killed. In June 2021, Abbott signed a law that permits Texans to carry handguns without a license or training.
Democratic Representative Ritchie Torres also tweeted about the shooting, writing: "Greg Abbott, other than thoughts and prayers, what are YOU going to do about this?"
Gen-Z for Change, which describes itself as a collective using social media to "to drive progressive change," referred to an earlier shooting at the Michigan State University (MSU) campus, where three students were killed and five others injured.
"It's been three minutes since we posted a Tweet about the shooting at Michigan State University, only to learn about this shooting in El Paso. Shame on you, Gov. Abbott. The blood is on YOUR hands," the group tweeted.
Nonetheless, the governor did enjoy some support from social media users on Twitter.
"Thank you Gov!" tweeted Lady In the Texas Hill Country in response to Abbott, sharing a quote from former President Ronald Reagan that begins: "You won't get gun control by disarming law-abiding citizens."