Greg Abbott Slammed After Saying Rape Victims Can Take Plan B Pill
Texas Gov. Greg Abbott has been slammed after defending the state's strict abortion ban by saying rape victims can take Plan B to prevent pregnancy.
Texas' trigger law banning abortions went into effect in August following the U.S. Supreme Court's overturning of Roe v. Wade in late June. The law makes it a felony to perform an abortion in the state, with no exceptions for rape or incest.
Abbott said victims of such crimes can take Plan B—emergency contraception also known as the "morning after pill" that is intended for use within 72 hours after unprotected sex—to prevent pregnancy in an interview with KXAS-TV and The Dallas Morning News that will air on Sunday.
"We want to support those victims, but also those victims can access health care immediately, as well as to report it," Abbott said, the newspaper reported.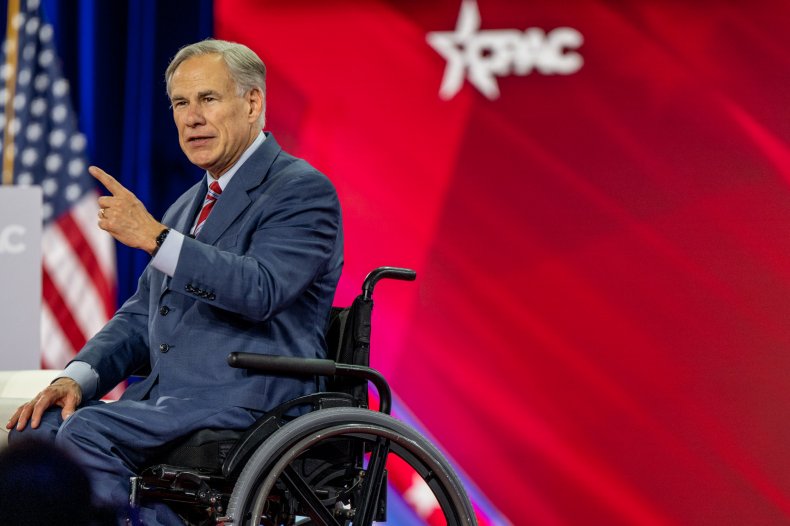 "By accessing health care immediately, they can get the Plan B pill that can prevent a pregnancy from occurring in the first place."
The Republican governor's comments sparked a backlash on social media.
Beto O'Rourke, a Democrat running against Abbott for Texas governor, tweeted: "We are going to end Greg Abbott's career on November 8 and the women of Texas are going to lead the way."
O'Rourke also referenced Abbott's past comments that he would "eliminate all rapists from the streets of Texas" while defending a Texas law that bans abortion after about six weeks of pregnancy
"Under Greg Abbott, Texas leads the country in rape offenses while the rate of arrests for rape in our state has dropped by nearly HALF since he became governor," O'Rourke wrote. "What happened to him eliminating rape?"
Olivia Julianna, a Texas-based activist, wrote: "It is so uniquely cruel to force pregnancy on people in a state with the worst access to prenatal and maternal healthcare in the country, and then to say rape victims should just take Plan B to prevent pregnancy.
"But of course @GregAbbott_TX is a special type of evil."
Singer Ricky Davilla wrote: "Corrupt scumbag Greg Abbott once stupidly said he was going to end all rape in Texas, now he's blaming rape victims for being raped by saying they should be on Plan B to avoid getting pregnant. Texas, is this the soulless evil misogynistic a**hole you want to still represent you?"
Joey Palomino said Abbott "is so out of touch with the people, what rape victim wants to go the pharmacy right after? Sickening."
Democratic strategist Sawyer Hackett tweeted: "Wow. Greg Abbott says rape victims can access Plan B instead of getting abortions.
"Meanwhile...Texas leads the nation in the number of rape incidents—and the arrest rate has fallen by half since he took office."
Newsweek has contacted the Abbott's campaign for comment.