Greg Abbott Surges in Texas Poll Over Beto O'Rourke After Uvalde Shooting
Texas Governor Greg Abbott has a substantial lead over Democrat Beto O'Rourke in the race to lead the state as the nation is still grieving a deadly school shooting in Uvalde, Texas.
A new poll published on Monday found that Abbott, a Republican, leads O'Rourke by 19 points among likely Texas voters but also found widespread support for new restrictions on gun purchases.
The BluePrint Polling survey found that 48.5 percent of respondents said they would definitely vote for Abbott, while 7 percent were leaning toward the Republican. A further 32.9 percent said they would definitely vote for O'Rourke and just 4.3 percent said they were leaning toward the Democrat.
While 7 percent of those surveyed said they were unsure who they would vote for, the figures show aggregate support for Abbott now stands at 56 percent and O'Rourke enjoys just 37 percent support—a gap of 19 points.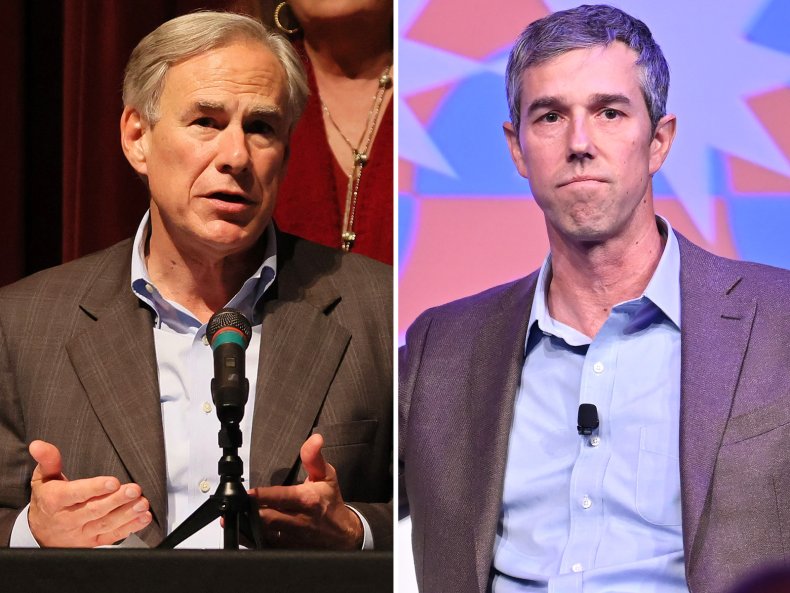 The poll was conducted from June 8 to 10 among 603 voters and had a margin of error of +/- 3.99 percent.
The mass shooting at Robb Elementary School in Uvalde took place on May 24 and left 19 children and two teachers dead. O'Rourke has strongly criticized Abbott over the shooting, confronting him during a press conference and highlighting the fact that the governor has previously eased the state's gun laws.
However, Abbott's poll numbers appear to have improved since the shooting. Though polling in the governor's race has been relatively limited so far, a survey from the University of Texas at Tyler conducted from May 2 to 10 showed the Republican leading O'Rourke with 46 percent support to the Democrat's 39 percent.
That poll surveyed 1,232 registered voters and had a margin of error of +/- 3.1 percent. It was conducted before the deadly mass shooting at Robb Elementary School.
The BluePrint Polling survey also found that 61.6 percent of respondents supported "more restrictive gun purchase laws," while 31.2 percent said the laws in Texas were "about right." Just 7.2 percent supported less restrictive gun purchase laws.
Support for universal background checks was even higher, with 80.9 percent of respondents supporting new laws that would require those checks for all firearms purchases, 12.3 percent opposed and 6.8 percent unsure.
It was a similar picture when Texas voters were asked about raising the minimum age to buy a gun to 21, with 76.9 percent of poll respondents expressing support, 17.8 percent opposed and 5.2 percent unsure.
O'Rourke, a former member of the U.S. House of Representatives, is facing an uphill battle in the red state where no Democrat has been elected governor since 1990. Abbott is seeking a third term in November.
Newsweek reached out to the Abbott and O'Rourke campaigns for comment.