Greg Gutfeld Is King of Late Night as His Fox News Show Beats Colbert, Kimmel, Fallon
The Fox News Channel is claiming a huge victory: its snarky, comedic and conservative host Greg Gutfeld is the new king of late-night television, joining the likes of Johnny Carson, Jay Leno and David Letterman, all of whom have held the title in the past.
And Fox News has the Nielsen data to back up its assertion.
For the first time in a full week (August 16-22), the show dubbed Gutfeld! scored a larger audience than Jimmy Fallon on NBC, Jimmy Kimmel on ABC and Stephen Colbert on CBS.
It's not an exact apples-to-apples comparison, as Gutfeld! airs at 11 p.m. Eastern while the others begin at 11:30 p.m. or 11:35 p.m. On the West Coast, Gutfeld has the advantage of airing at 8 p.m. Despite the time differences, it's a significant milestone nonetheless since the others air on the free broadcast networks rather than cable.
Gutfeld's program also doesn't attract the huge numbers as former kings like Carson, Leno and Letterman given the fragmentation of the TV landscape since those comedians ruled the roost, but neither do Colbert, Kimmel or Fallon.
For the week, Gutfeld's show scored 2 million viewers nightly and 405,000 in the key demographic for advertisers, which is adults 25-54, while Colbert was next best at 1.89 million with 395,000 in the key demo. Fallon was third and Kimmel was fourth.
Gutfeld launched his show on April 5 and made no secret that he was gunning for the same audience that typically tuned in to see the hosts on the big three networks. At least two of those, Colbert and Kimmel, have made their bones bashing former President Donald Trump and conservatives in general, while Gutfeld has done the opposite, thus offering an alternative for late-night audiences looking for a comedic take on world events.
"If you cannot tell the other late-night shows apart, join the club," Gutfeld said just before his show debuted in April. "They're as bland as string cheese and not nearly as appetizing. It's the same jokes, the same assumptions, probably the same writers, all reading the same columns from the same hacks in the New York Times. So we aren't going to be like them."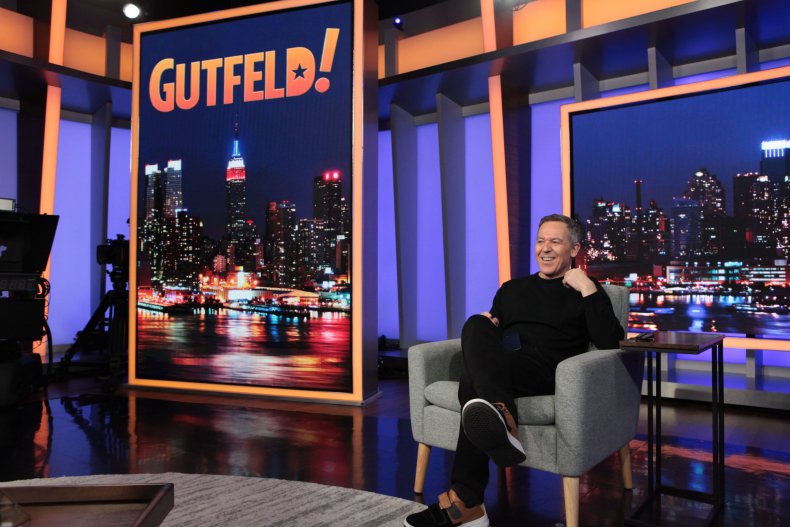 Coverage of the coronavirus emergency has been one large point of differential. Kimmel, for example, ended a May interview with Dr. Anthony Fauci with, "Don't listen to those maniacs; everybody loves you," while a month later Gutfeld called the doctor "Grouchy Fauci" and "Professor Know-it-All" while pointing out alleged inconsistencies in his messaging about mask-wearing and the origin of the virus.
"Those hosts, sadly, are just different slices of the same white bread," Gutfeld told Newsweek on Tuesday, referring to Colbert, Kimmel and Fallon. "Gutfeld! is just so different from them that when viewers discover it, it's like a blast of refreshing cool air on a grossly humid, hot day."
Gutfeld also said that eschewing Hollywood stars as guests actually gives him an advantage over the broadcast hosts.
"Our ratings success is pretty amazing, given the size of our staff being a mere fraction of theirs, and our complete disinterest in celebrity means we don't try to attract viewers with various stars and starlets pushing assorted banalities," he told Newsweek. "Also, I'm just better looking, so there's that."
Gutfeld's ratings victory came in the same week that Fox News bested the broadcasters in primetime, presumably boosted by its coverage of the U.S. military pulling out of Afghanistan. For the week, Fox News attracted 2.98 million total viewers nightly in primetime, compared to 2.68 million for NBC, 2.49 million at CBS and 2.37 million for ABC, according to Nielsen.