Gregg Popovich Calls Out Police Brutality, Slams NBA Owners Who 'help Maintain Status Quo'
San Antonio Spurs head coach Gregg Popovich has called out police brutality following the death of Daunte Wright and has questioned whether some NBA owners were complicit in maintaining "the status quo".
A 20-year-old Black man, Wright was shot dead by police on Sunday in Brooklyn Center, Minnesota, after his vehicle was stopped over an alleged traffic violation.
On Monday, Brooklyn Center Police Department chief Tim Gannon said Wright's death was the result of "an accidental discharge" as officer Kimberly Potter threatened to use her Taser before opening fire and killing Wright.
"It just makes you sick to your stomach," Popovich said during his media availability on Monday, as per Mike Finger of the San Antonio Express-News.
"How many times does it have to happen? [...] That individual is dead. He's dead. His friends and family are grieving."
Wright was shot dead just over 10 miles north of where George Floyd died on May 25 last year while in custody of the Minneapolis Police Department.
A Black man, George Floyd was apprehended on suspicion of passing a counterfeit $20 bill at a store.
His arrest was caught on camera by a bystander, whose video showed officer Derek Chauvin kneeling on Floyd's neck for almost nine minutes.
The footage, in which Floyd can be heard saying "I can't breathe", went viral and sparked nationwide protests against racial inequality and police brutality.
Following Floyd's death, several NBA players joined demonstrations in support of the Black Lives Matter movement (BLM) and the league itself strongly condemned the incident.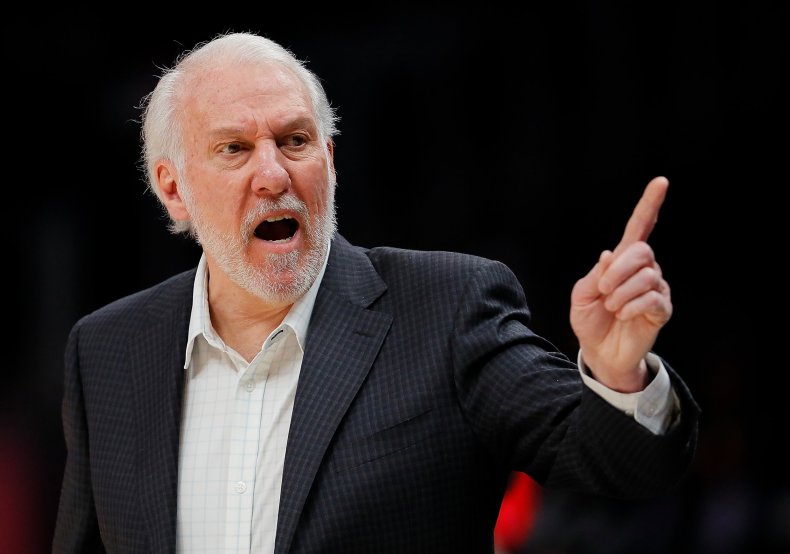 While it stopped short of directly supporting BLM, the NBA agreed to allow players to wear social justice messages on their jerseys and displayed the movement's logo on the courts.
Popovich, however, suggested several NBA owners were actively helping maintain the status quo the league called out.
"The people who continually fight to maintain the status quo are not good people. [...] It's deplorable," he continued.
"We need to find out who funds these people. I want to know what owners in the NBA fund these people who perpetrate these lies. Maybe that's a good place to start, so it's all transparent."
According to data from the Federal Election Commission, NBA owners donated a combined $14.9 million to Republican politicians overall in the 2020 election cycle.
Five owners, including the Spurs' Julianna Hawn Holt, contributed directly to Donald Trump's campaign.
Popovich was a staunch critic of Trump throughout his presidency and repeatedly called him out on social justice issues.
Speaking on Monday, the five-time NBA champion again blasted politicians who opposed campaigns to reform and, in certain cases, defund the police.
"How many young Black kids have to be killed for no fricking reason? How many? So that we can empower the police units?," Popovich said.
"We need to find out who funds these people. I want to know what owners in the NBA fund these people who perpetrate these lies. Maybe that's a good place to start, so it's all transparent."
A day after Wright's death, the Minnesota Timberwolves called off their home game against the Brooklyn Nets as a sign of respect.
"Yesterday's tragic event, involving the life of Daunte Wright, once again leaves our community mourning," the team said in a statement.
"After consultation with the League, and local and state officials, we believe postponing tonight's game versus the Brooklyn Nets is the best decision."
In a separate statement, the NBA added: "Our thoughts remain with the family and friends of Daunte Wright during this difficult time."