A Trump Nominee Advised White House on Russia Investigation, Travel Ban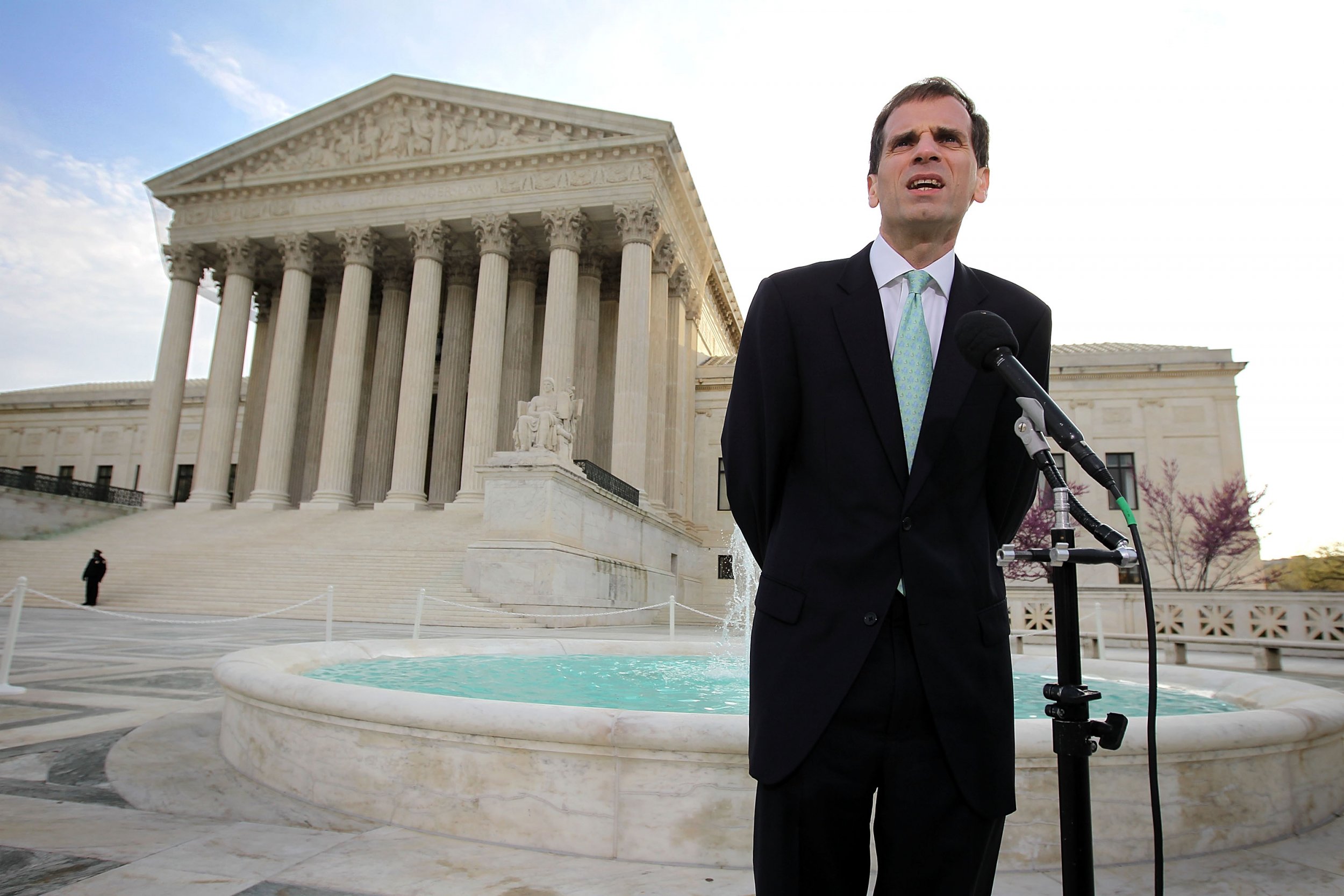 At his confirmation hearing Tuesday, Gregory Katsas said that if confirmed as a federal judge, he would be impartial. But he also said that in his current role at the White House, he has worked on executive orders and advised the administration on the ongoing Russia investigation.
Katsas is a deputy assistant to the president and deputy counsel to the president. In September, President Donald Trump nominated him for the U.S. Court of Appeals, as a District of Columbia Circuit judge. Because of its proximity to the White House, that circuit tends to hear cases involving the president.
Asked at the hearing on Tuesday about his role at the White House, Katsas explained that he works under Don McGahn, the assistant to the president and counsel to the president. He said he focuses on "legal questions arising out of executive branch agencies" and helps respond to lawsuits against the president.
But he told the committee that his White House experiences would not affect how he would rule in the courtroom. "Judicial independence is central to our constitutional structure," he said. "I believe it in my bones." He added, "I understand the role of the judge is to apply the law neutrally and fairly without regard for whatever president happened to nominate the judge."
Before joining the Trump administration, Katsas was a partner at Jones Day, a law firm with ties to the president. By one count, Trump has hired or nominated at least 14 people from the firm, including McGahn and Noel Francisco, the new solicitor general. Katsas also served in the Department of Justice from 2001 to 2009, including as assistant attorney general for the civil division and acting associate attorney general. He attended Princeton and Harvard Law School.
At Tuesday's hearing, Democrats questioned his involvement in White House matters. In response to a question from Senator Dianne Feinstein, the ranking member of the committee, he said he had worked on executive orders, including the one halting travel to the U.S. from several Muslim-majority countries, the one promoting religious liberty and the one ending the Deferred Action for Childhood Arrivals program.
Asked about his involvement in special counsel Robert Mueller's investigation into Russia's meddling in the 2016 presidential election and possible coordination with the Trump campaign, he said, "I have given legal advice on a few discrete legal questions arising out of the investigation." He declined to say what those questions were and said the special counsel had not interviewed him for the investigation or asked him to provide an interview.
He also said he does not work on issues related to national security, ethics compliance, personnel clearance, oversight or law enforcement. He said he did not work on matters related to the firing of former FBI Director James Comey ("I first learned of that dismissal when I saw it announced on television," he said); or to Paul Manafort, who was Trump's campaign manager; or to the June 2016 meeting between Donald Trump Jr. and a Kremlin-connected Russian lawyer.
Republicans praised the nomination. "You have an excellent reputation of being a true lawyer," Senator Orrin Hatch said at the hearing. "I think you're a tremendous nominee, and anybody that finds otherwise just isn't looking at the facts." Senator Ted Cruz described Katsas as a friend of more than two decades and, addressing Katsas's daughters in the audience, said, "He's going to be confirmed."
Federal Election Commission filings show Katsas has made campaign contributions to Cruz as well as to Senator Chuck Grassley, chairman of the Senate Judiciary Committee.
Responding to a questionnaire from the Senate Judiciary Committee, Katsas promised that if confirmed he would recuse himself from matters "in which during my government service I had participated as a counsel, adviser or material witnesses, or have expressed an opinion concerning the merits."
One such issue could arise in a lawsuit Trump is facing regarding the "emoluments clause" of the Constitution, which restricts gifts that American officials can receive from foreign governments. Senator Richard Blumenthal, a member of the Senate Judiciary Committee, is the leading plaintiff in that case. That case is now in a D.C. district court and if appealed could go to the circuit court. Katsas said he had advised the White House on the emoluments clause.
Trump is not the first president to nominate a judge to the D.C. circuit who had been a lawyer in his administration. Former President George W. Bush nominated Brett Kavanaugh, his staff secretary, who had been an associate White House counsel. The Senate confirmed that nomination. The precedent was brought up several times at Tuesday's hearing.