Greta Thunberg Accuses Canada and Norway of Violating Children's Rights by Prioritizing Economic Gains Over Climate Future
Greta Thunberg and 15 other young climate activists have accused Canada and Norway of violating children's human rights by refusing to move away from gas and oil production.
The group sent letters to Canadian Prime Minister Justin Trudeau and Nowegian Prime Minister Erna Solberg saying they cannot claim to be among the world's leaders in the fight against climate change while they are still so reliant on fossil fuels domestically.
The letter uses Canada's Trans Mountain pipeline project, which carries oil from Alberta to British Columbia, and the delayed Line 3 pipeline as two examples of the county's contradiction when it comes to its aim of reducing emissions.
"[Canada] must demonstrate how a major fossil fuels producer and exporter can transition away from these pollutants, blazing a trail for other fossil fuel-reliant economies to follow," the letter says, via law firm Hausfeld LLP, who are representing the activists.
"It must end the development and export of new oil and gas reserves, and set a plan to quickly phase out existing production fields. It must stop prioritizing short-term economic gains over the future of its children and all children around the world."
The Line 3 pipeline is expected to raise Canadian oil production by 10 percent to around 500,000 barrels per day. Canada is already the world's fourth largest producer and exporter of oil even before the proposed new pipeline.
A similar letter was sent to Norway, stating the country continues to support new fossil fuel production despite projections estimating Norway will miss its emissions reduction targets for 2020 and 2030.
The activists state that Johan Sverdrup deepwater field, located in the North Sea around 140 kilometers (87 miles) away from the Norwegian coast, will alone increase Norway's oil output to 1.8 million a day by 2021.
Both countries are accused of "violating the rights bestowed on every child in the world" under the U.N. Convention on the Rights of the Child by increasing their oil production despite knowing about the climate emergency.
The graphic below, provided by Statista, shows nations that have signed and ratified the Paris climate agreement.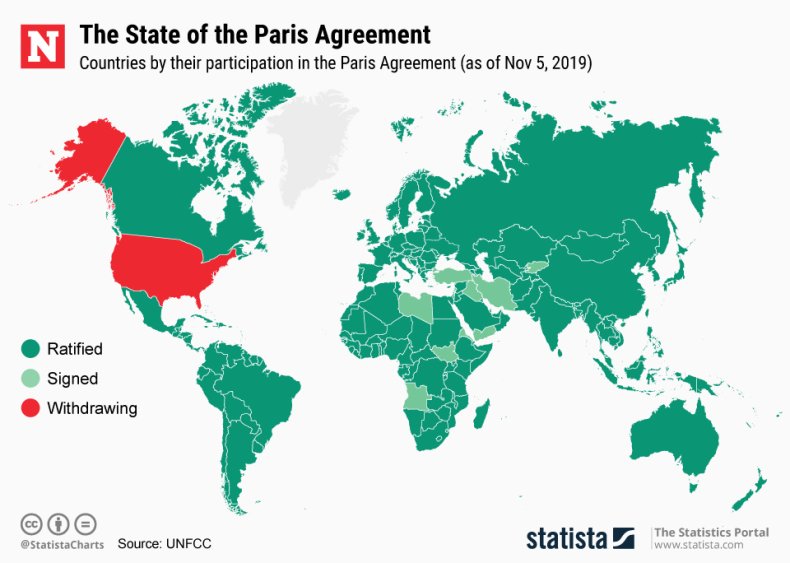 In September, five U.N. Human Rights Treaty Bodies issued a statement warning that members must act to reduce emissions or risk breaching human rights laws.
"Failure to take measures to prevent foreseeable human rights harm caused by climate change, or to regulate activities contributing to such harm, could constitute a violation of States' human rights obligations," the statement said.
The letter to Trudeau requested a reply within two weeks. In response, the office for Jonathan Wilkinson, Canada's Minister for Environment and Climate Change, said: "Young people and Canadians across the country are counting on us for accelerated action on climate change," reported The Post Millennial.
"We hear them, and all of the Canadians who sent a clear message this election, that continuing to fight climate change needs to be a priority. We know we need to make a transition to a cleaner economy and we know that this will not happen overnight. We are committed to taking thoughtful solutions with Canadians to ensure that the clean economy is affordable for everyone."
In September, the 16 activists filed legal complaints against Argentina, Brazil, France, Germany and Turkey, arguing they failed to act on lowering their emissions for decades despite knowing about the dangers of climate change.
"People who are older aren't paying as much attention because they will not be as affected," Ayakha Melithafa, a 17-year-old activist from South Africa, said at the time. "They don't take us children seriously, but we want to show them we are serious."
Norway's Ministry of Petroleum and Energy has been contacted for comment.
The letter was sent just prior to Thunberg being named Time's Person of the Year for 2019.
"The politics of climate action are as entrenched and complex as the phenomenon itself, and Thunberg has no magic solution," the magazine said.
"But she has succeeded in creating a global attitudinal shift, transforming millions of vague, middle-of-the-night anxieties into a worldwide movement calling for urgent change.
"She has offered a moral clarion call to those who are willing to act, and hurled shame on those who are not."