Greta Thunberg Mocks Putin Criticism with Twitter Bio: 'A Kind But Poorly Informed Teenager'
Greta Thunberg, the 16-year-old Swedish climate activist that gained worldwide notoriety for her weekly school strikes, has put another world leader in her crosshairs after Russian President Vladimir Putin dismissed her as a "poorly informed" girl.
Speaking at an energy forum in Moscow on Wednesday, Putin said he did not share "the common excitement" about Thunberg, adding, however, that he is "sure that Greta is a kind and very sincere girl."
Thunberg then took to Twitter to mock the Russian president, changing her bio to read: "A kind but poorly informed teenager."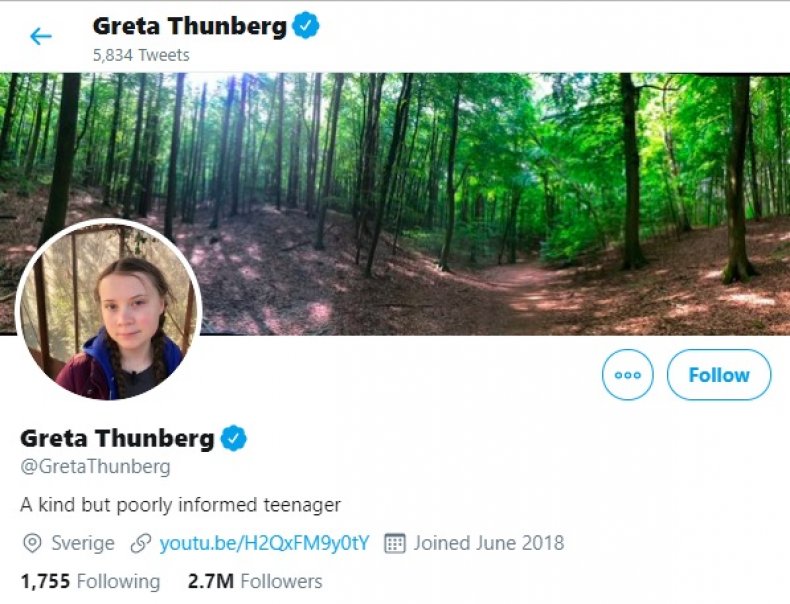 It follows a similar tact that she deployed against U.S. President Donald Trump after he made light of comments she made to the United Nations General Assembly, angrily telling the world: "How dare you?"
"This is all wrong," Thunberg told the U.N. "I shouldn't be up here. I should be back in school on the other side of the ocean yet you all come to us young people for hope. How dare you?"
"You have stolen my dreams and my childhood with your empty words," she said.
Following that address, Trump shared a clip of the video and said: "She seems like a very happy young girl looking forward to a bright and wonderful future. So nice to see!" and Thunberg changed her bio accordingly.
Putin's comments followed an invitation made to Thunberg by Vasily Vlasov, deputy of the State Duma, to speak in Russia's state parliament.
"I am aware of the Russian youth's concerns over global ecology problems," a letter from Vlasov to the Swedish Embassy said, according to the Moscow Times.
"I know how difficult it may be for adult politicians to find compromise even regarding such vitally important matters. We as the younger generation must not remain silent when it comes to our future, and we won't allow ourselves to be condemned to extinction."
Vlasov told Thunberg she was welcome to give a speech to young people in the State Duma "on any date convenient for you."
When asked about Thunberg at the climate forum, Putin said, according to Reuters: "I may disappoint you but I don't share the common excitement about the speech by Greta Thunberg.
"No one has explained to Greta that the modern world is complex and different and people in Africa or in many Asian countries want to live at the same wealth level as in Sweden."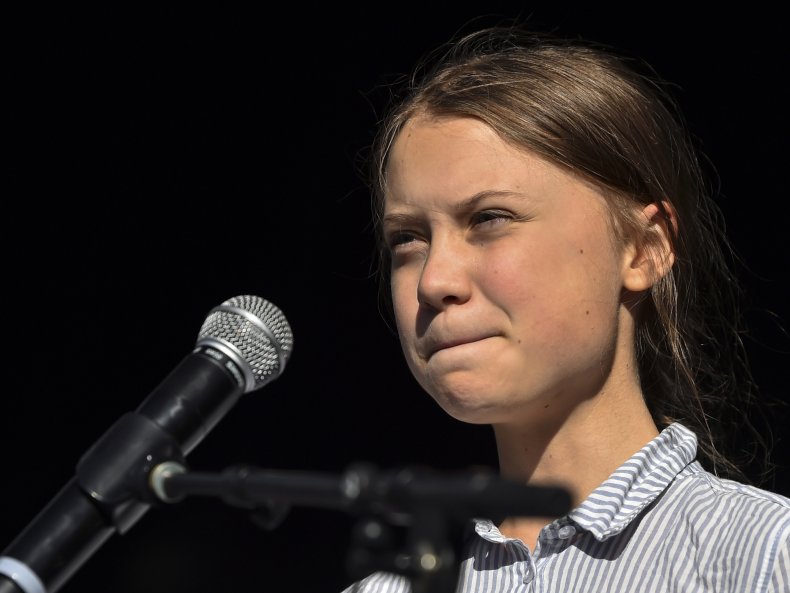 Putin added that young people who paid attention to environmental issues should be supported, adding: "But when someone is using children and teenagers in personal interests, it only deserves to be condemned.
"I'm sure that Greta is a kind and very sincere girl. But adults must do everything not to bring teenagers and children into some extreme situations."