Greta Thunberg Mural Defaced with 'This is Oil Country' Graffiti: 'She Should Go Back to Her Country and Try to Make Her Country Better'
A Greta Thunberg mural in Canada was defaced with a pro-oil message and a number of slurs two days after it was completed.
The artwork, depicting the 16-year-old Swedish climate activist, was initially spray-painted in downtown Edmonton by local artist AJA Louden on Friday.
But before the end of the weekend the words "Stop the lies!! This is oil country!!!" were scrawled across the teenager's face. Later, Thunberg's eyes were blacked out with black graffiti and her image was further defaced with insulting phrases.
A CBC journalist happened to be present at the time of the initial defacing and spoke to the man responsible who identified himself as James Bagnell.
"This is Alberta," he said. "This is oil country. My father has worked in the oil industry. We don't need foreigners comin' in and telling us how to run our business, support our families, put food on our tables."
Bagnell told the reporter that as soon as he saw photos of the mural on social media, he decided to "deal with it," stating that his father, who died recently, would have been "disgusted" to see the artwork.
"I think it's absolutely intolerant of them to tell us how to change our lives and our people," Bagnell added. "She should go back to her country and try to make her country better."
Bagnell's comments come after Thunberg was in Alberta for a climate change rally on Friday.
"We are doing this because our future is at stake," Thunberg told the crowd who gathered outside the provincial legislature.
"We will not be bystanders. We are doing this because we want the people in power to unite behind science."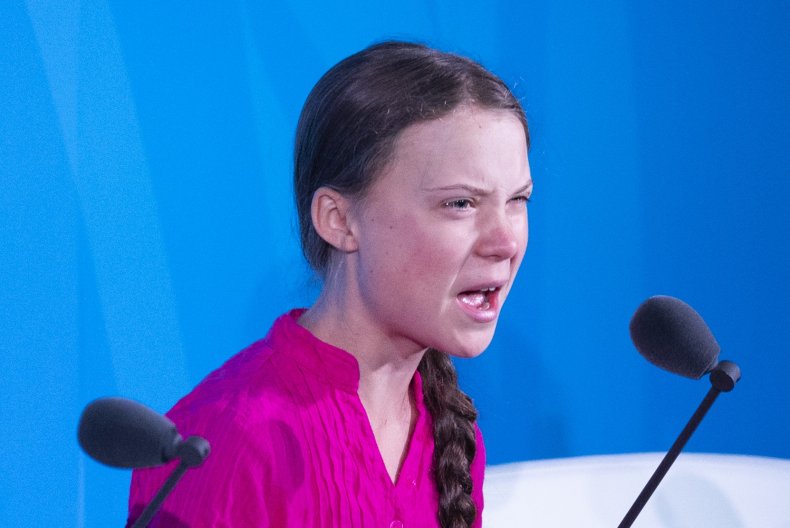 The rally was met with a number of counter-protesters who work in the oil and gas industries, however, who said Thunberg's proclamations did not offer practical solutions.
"We care for the environment, of course we do," one counter-protester told Canadian reporters.
"What they need to understand is that we're hurting and we also need to care about Alberta jobs.
"Albertans and Canadians are practical people. They like real world solutions. Calling for the end of the modern industrial economy, advocating to put millions of people out of work is not a real-world solution."
Bagnell, the man who first defaced the mural, also told CBC he was not opposed to becoming more eco-friendly, but said that Thunberg offered no solutions.
"Just shut up until you have solutions," he said.
Louden, whose representation of Thunberg was inspired by her memorable speech at the United Nations last month, said he was not upset that his mural had been defaced. It was painted on a "free wall" which runs along a bike path in the city center and anyone is welcome to spray paint what they want.
"Nothing lasts forever," Louden wrote to CBC in an email. "One of my favorite things about that wall is that anyone is allowed to express themselves there, so I'm not upset at all.
"I haven't seen what went over it, but if anyone is upset about what was painted over the portrait, they can just paint back over it, it's not a big deal at all."