A Greta Thunberg Nobel Peace Prize for Climate Activism Would Have Been at Odds with Norway's Huge Carbon Footprint
The Nobel Committee has surprised oddsmakers by not picking 16-year-old Greta Thunberg to win the 2019 Nobel Peace Prize.
The five-member Norwegian panel instead announced on Friday that Ethiopian Prime Minister Abiy Ahmed had won the award, "for his efforts to achieve peace and international cooperation, and for in particular his decisive initiative to resolve the border conflict with neighboring Eritrea," a statement said.
Thunberg has become the figurehead of the youth climate movement after skipping school to protest outside the Swedish Parliament in August 2018, inspiring the waves of student strikes that followed.
Over the last year, she has (among other things) led a Global Climate Strike spanning 150 countries, graced the cover of Time Magazine as a 'Next Generation Leader' and sailed across the Atlantic Ocean in a yacht to speak to lawmakers in Washington and New York.
"Greta Thunberg has become a household name, elevating the climate conversation both globally and generationally," Gregory Wetstone, president and CEO of the American Council on Renewable Energy, told Newsweek.
"Every nation can benefit from heeding her advice and accelerating the transition to a renewable energy economy."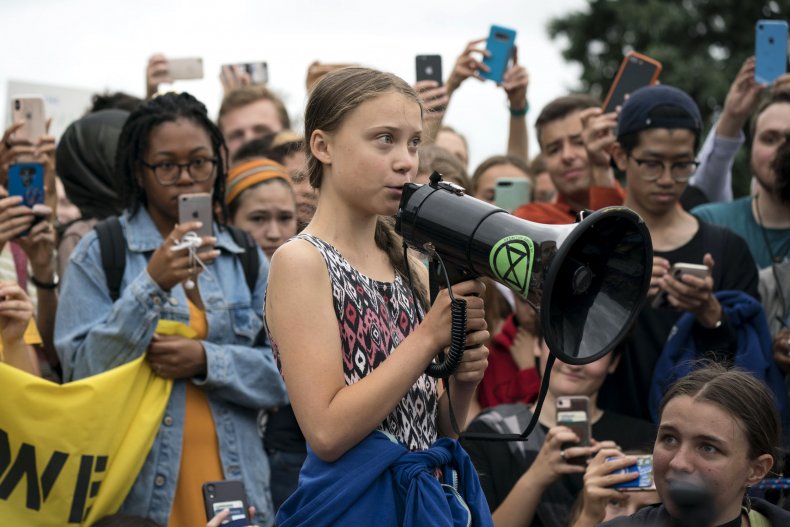 One of those countries is the nation that effectively decides who wins the Nobel Peace Prize each year—Norway, where the five members selected to serve on the committee are chosen by the Norwegian parliament. The country has a complex relationship with greenhouse gas-emitting fossil fuels, which historically have been (and arguably continues to be) a major source of Norway's wealth.
"Norway has benefitted from oil and gas production in multiple ways, but primarily from the security and economic advantages they have derived from exporting energy to other parts of the world," Michael Webber, Josey Centennial Professor in Energy Resources at the University of Texas at Austin and Chief Science & Technology Officer at ENGIE, told Newsweek.
"That has earned them phenomenal wealth (divided amongst a small population) and security (because they do not need to rely on other countries for their energy)."
While it strives to be a "low carbon society" by 2050—committing to the goal in legislation—and pushes for environmental policy, it remains one of the world's largest exporters of oil and natural gas. The Nobel committee awarded the 2007 Peace Prize to Al Gore and the Intergovernmental Panel on Climate Change for their environmental work, but according to the CIA, Norway is the world's third-largest natural gas exporter, behind Russia and Qatar.
Somini Sengupta, writing in the New York Times in 2017, calls this conflict between "climate leader" and "oil giant" a "Norwegian Paradox."
"Norway has for the last 50 years or so developed its dependency on oil, which has also given us a wealth other countries can barely dream of," a spokesperson from Greenpeace Norway told Newsweek. "We are in a climate crisis, and the world can't afford Norway to keep its double standards the way it does now."
Indeed, the latest figures from the U.S. Energy Information Administration (EIA) show Norway was producing 1,864 thousand barrels of oil a day in 2018. This made it the fifteenth largest producer worldwide. In 2017, the country generated 4,375 billion cubic feet of natural gas, making it the seventh largest producer globally.
The bulk of this energy is exported outside the country—1,395 thousand barrels of oil a day in 2017 and 4,244 billion cubic feet of natural gas in 2016. According to the European Commission, the executive branch of the European Union (EU), Norway is in the global top five exporters of crude oil, with the oil and gas sector making up approximately 22 percent of Norwegian GDP and 67 percent of the country's exports.
"Even though the Labour party is slowly starting to talk about a more climate friendly industry, and most of the youth parties, except the far right ones, now want to end oil, the debate on this is going very slowly," said Greenpeace Norway. "We need a systemic change that the Norwegian government in no way takes responsibility of."
At the same time, the government is taking some steps to a renewable future including a push to electric vehicles. One initiative is to ensure all new cars sold by 2025 are electric or hydrogen-fueled (and thus, zero-emission). Indeed, for the first time in its history, in March 2019, electric cars were sold in higher numbers than gas and diesel cars, CNN reported.
What's more, the country's electricity generation is almost entirely renewable. In 2017, 96 percent was produced by hydropower. Another 2 percent was produced by wind power, reports The Climate Action Tracker—an independent science-based analysis of government action on climate produced by Climate Analytics and the NewClimate Institute.
"They are actively looking at the post-oil world," said Webber. "For example, the state-owned oil company, formerly known as Statoil, has changed its name to Equinor and expanded its scope to include major offshore wind projects. They also lead the world on carbon sequestration (coupled with their oil production in the North Sea)."
The Norwegian wealth fund's divestment from oil and gas exploration (worth billions), announced earlier this year, is a further example of this.
"Many significant institutional or individual actions that are striving for an ideal exist in the tensions between the contradictions of today and better future aspirations," Chris Bacon, Associate Professor of Environmental Studies and Co-founder of the Environmental Justice and Common Good Initiative, told Newsweek.
"However, the recent decision of Norway's leadership to start moving their sovereign wealth fund's investments away from fossil fuel-only companies contributes to reducing the contradictions."
Pete Erickson, a senior scientist at the Stockholm Environment Institute, who co-wrote a 2017 report highlighting the stark difference between Norway's climate goals and their investment in the fossil sector, says these actions are not enough.
The disconnect between fossil fuel production and emissions goals is more evident in Norway than just about anywhere, said Erickson, because they produce 10 times more oil than they burn in-country.
"The wealth fund divestment from fossil fuels, while notable, is nowhere near enough, because it doesn't affect what Norway has the most control over—its own oil production," he told Newsweek.
"If Norway wants to be seen as a climate leader, it can't just push electric vehicles and other measures to reduce its emissions in-country. It needs to create a plan to phase out its oil and gas production. And it hasn't."
Thunberg herself may not have wanted a prize for her contribution to the climate change movement but for many, Norway's decision to give the award to a climate activist would have been an important symbolic gesture.
"We could all do more," said Webber. "But Norway is more aggressive with their shift to a post-oil world than every other major oil-exporting country.
Choosing Thunberg to be this year's winner of the Nobel Peace prize would have been "a handy symbolism to match their actions," he added.
The article has been updated to include Pete Erickson's comments and to note the 2007 award to climate activists.
Correction 10/13, 11:00 p.m. The headline of this story has been changed to better reflect the focus of the story and to remove an inaccurate reference to the Nobel prize committee "snubbing" Thunberg. Newsweek regrets the error.