Greta Thunberg Teams Up With The 1975 For New Song on Climate Change
In an occasion of perfect timing on Wednesday, environmental activist Greta Thunberg teamed up with the popular U.K. band, The 1975, to release a new song in which she calls for mass civil disobedience relating to greenhouse gas emissions. The release coincided with a week-long climate change-induced heat wave across Europe.
Swedish 16-year-old Thunberg has become the recognizable frontman of a movement of youth climate activists after her weekly protests inspired student strikes across the globe.
The song, entitled "The 1975," features the activist reading an essay over ambient music, urging listeners to join a popular rebellion against climate change. This will be the first track on the band's forthcoming fourth album to be released sometime in 2020, Notes On A Conditional Form.
"Everything needs to change. And it has to start today," she says in the song, released July 24. "Solving the climate crisis is the greatest and most complex challenge that homo sapiens have ever faced...To do your best is no longer good enough. We must all do the seemingly impossible."
Lead singer Matt Healy said on Twitter that meeting Thunberg had been, "such an inspiration." The 1975 have already stated that proceeds from this track, on Thunberg's request, will go towards activist group Extinction Rebellion.
Thunberg spoke at the Extinction Rebellion climate protests in London in April, which brought the UK capital to a standstill.
The environmental group released a statement on the collaboration: "Music has the power to break through barriers, and right now we really need to break through some barriers if we are to face this emergency."
The track release follows Thunberg's address to French politicians on Tuesday, in which she urged them to "unite behind the science" of climate change. After rightwing legislators said they would not attend her appearance at the National Assembly, she said youth climate activists have become "the bad guys" for saying "uncomfortable things".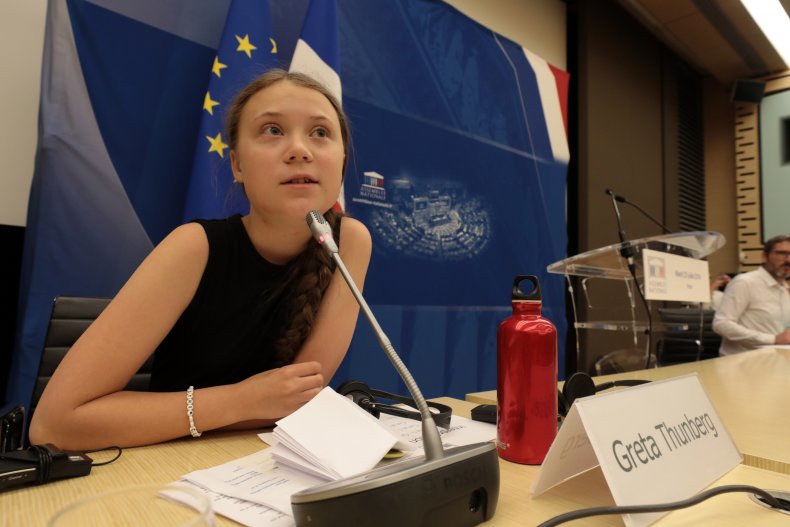 Thunberg ended her spoken word essay with these words:
"So, we can no longer save the world by playing by the rules, because the rules have to be changed. Everything needs to change, and it has to start today. So, everyone out there, it is now time for civil disobedience. It's time to rebel."