Greta Thunberg has revealed her younger sister has been bullied and harassed over her sibling's public profile and role in the climate strike movement.
The 16-year-old activist told Swedish news outlet Dagens Nyheter that people had made threats towards her 13-year-old sister and the rest of their family, adding that everything was reported to police.
Thunberg also said her sister was being "constantly discouraged" by abuse and told supporters the best way to back her would be to support her sister.
Speaking to Dagens Nyheter, which translated its interview from Swedish to English, Thunberg said: "The one who suffers is my sister. She is 13 years old and she has been subjected to systematic bullying, threats and harassment."
"The people who write threats and hate to me do it to the whole family, even to her," she added. "The difference between me and the people who are left at home is that I am always traveling, inaccessible."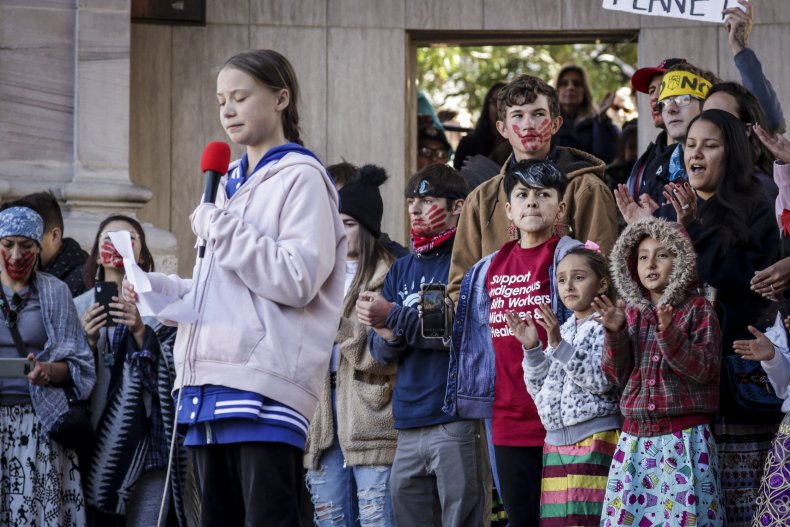 Thunberg also noted that, while people would often offer her assistance, her sister had "no support whatsoever." When asked what support could be offered, the activist said: "The best way to help me at the moment is supporting my sister. Not because she is my sister, but because she is a wonderful and strong person."
She later told Dagens Nyheter that she "never" had people say negative things to her when they spotted her on the street, but said that a few people had shouted at her during the first few days of the climate strike movement.
Alexandra Ursiman Otto, the Dagens Nyheter reporter who spoke with Greta and has spent a lot of time with the climate activist, said it was "very upsetting" that both Thunberg and her sister had been targets of abuse.
Speaking to Newsweek, the reporter said: "Of course, you can't not get upset, even though I was aware of this problem already, [it was] not to the extent I know now."
Asked if she had ever seen Thunberg receive abuse while spending time with her in the U.S. and elsewhere, Otto said: "What she tells me in the interview, which is interesting from a bigger point of view, is that she never receives any of that while she's out on the streets.
"When we walked around with her in different parts of the U.S.—we travelled through four states with her and went to the countryside and cities—wherever we went people came up and said: 'Hi, how are you? I follow you and I stand behind you.'"
But she recognized that some of the comments Thunberg gets online are "completely different."
News of Thunberg's family being subjected to abuse because of the 16-year-old's role in climate activism comes after an Iowa teacher was put on leave earlier this month after he said he "Don't have my snipe rifle" in a Facebook comment about Thunberg visiting Iowa City.
Fox News also apologized last month after network guest Michael Knowles called Thunberg "a mentally ill Swedish child," a comment that sparked a fight between him and fellow guest Chris Hahn.
Hillary Clinton loss strengthened climate movement
Speaking about politics, Thunberg also told Dagens Nyheter that Hillary Clinton losing the 2016 presidential election to Donald Trump had made the climate movement stronger.
The activist told the Swedish news outlet that the growing movement would "definitely not be as strong as it is today" had Clinton found her way into the White House.
Thunberg also said that the election of Trump was one of many "tipping points" that contributed to a "slow awakening" on the issue of climate change.
She said: "The climate movement would definitely not be as strong as it is today if Hillary Clinton would have won.
"There are so many social tipping points that contribute to a slow awakening. I might be wrong, but I believe that we will look back on the election of him [Trump] as a turning point."
Thunberg is one of the women profiled in the new "Book of Gutsy Women" co-authored by Clinton and her daughter Chelsea.