Gretchen Whitmer Sues to Overturn Michigan's 176-Year-Old Abortion Ban
Michigan Governor Gretchen Whitmer filed a lawsuit Thursday to overturn a 176-year-old abortion ban in the state that could take effect again should the U.S. Supreme Court overturn Roe v. Wade.
The lawsuit, filed in Oakland County, targets prosecutors in 13 Michigan counties that have abortion clinics, the Associated Press reported. In a statement, Whitmer said she used her executive authority to ask the Michigan Supreme Court to immediately decide whether the state Constitution protects the right to an abortion.
Michigan banned abortion, except in cases where the mother's life is at risk, in 1846, only nine years after it became a state. The ban was modernized in 1931, becoming a formal law that made abortion punishable as felony manslaughter. There are no exceptions for rape or incest, the governor's statement pointed out.
Whitmer's move comes as the U.S. Supreme Court is weighing how much states can regulate abortion, leading to speculation that its landmark Roe decision that legalized abortion nationwide in 1973 could be struck down. If that were to happen, Michigan's ban would resume.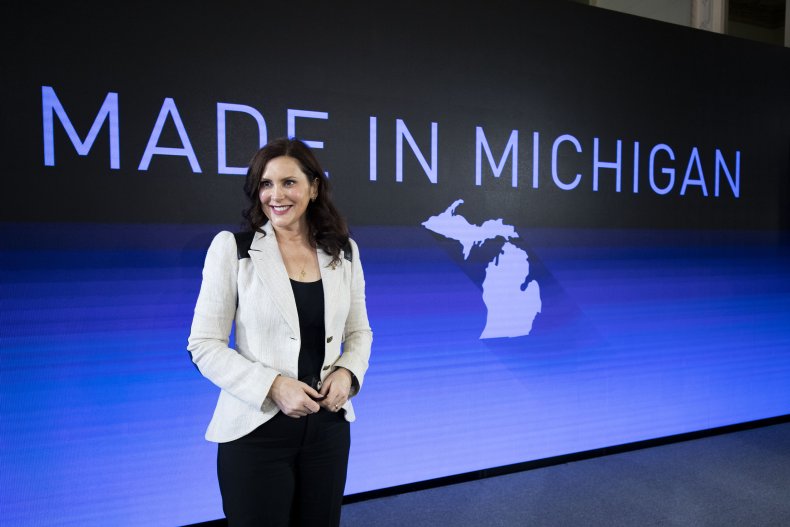 In her statement, Whitmer said overturning Roe would affect almost 2.2 million women in Michigan.
"A woman must be able to make her own medical decisions with the advice of a healthcare professional she trusts—politicians shouldn't make that decision for her," the governor said. "No matter what happens to Roe, I am going to fight like hell and use all the tools I have as governor to ensure reproductive freedom is a right for all women in Michigan."
The statement said that most Michigan residents support having the right to an abortion, citing a poll from Detroit's WDIV-TV. The survey, published in January, found that 67.3 percent of Michigan voters wanted Roe to stay in place, while 19.1 percent were in favor of overturning it.
Asked whether abortion should be regulated by law, 77.2 percent of Michigan voters said the decision to get one should be left to a woman and her doctor. The poll also said that 65.7 percent of voters were in favor of repealing the revised 1931 law.
In a joint statement, prosecutors for Michigan's Oakland, Ingham, Washtenaw, Genesee, Wayne, Marquette and Kalamazoo counties said they supported the lawsuit, calling the 1931 law "archaic" and "unconstitutionally and dangerously vague."
"As Michigan's elected prosecutors, we are entrusted with the health and safety of the people we serve," the prosecutors said. "We believe that duty must come before all else. For that reason, we are reassuring our communities that we support a woman's right to choose and every person's right to reproductive freedom."
Michigan abortion providers and ob/gyns also voiced their support for Whitmer's move. One of them, Dr. Lauren Owens, said in a statement that decisions surrounding abortion "should be made between people who can get pregnant and their doctors, without the influence of politicians."
"Forcing Michiganders to carry unwanted pregnancies to term can be harmful and even deadly, particularly for Black, Indigenous, and other people of color, who face more barriers to health care and higher maternal mortality rates," Owens said. "We must use every tool in the toolbox to protect the legal right and access to abortion."
While states like Michigan and Colorado are moving toward protecting abortion rights, other states have been restricting the procedure, with the Oklahoma House recently passing a bill that would put doctors who perform abortions at risk of a felony conviction. Other restrictive bills have been passed in states like Kentucky, Florida and Texas, leading abortion rights activists to say the "walls are closing in" on safe abortions.
"If the U.S. Supreme Court refuses to protect the constitutional right to an abortion, the Michigan Supreme Court should step in," Whitmer said. "We must trust women—our family, neighbors, and friends—to make decisions that are best for them about their bodies and lives."
Update 4/8/22, 4:45 p.m. ET: This story was updated with additional information and background.